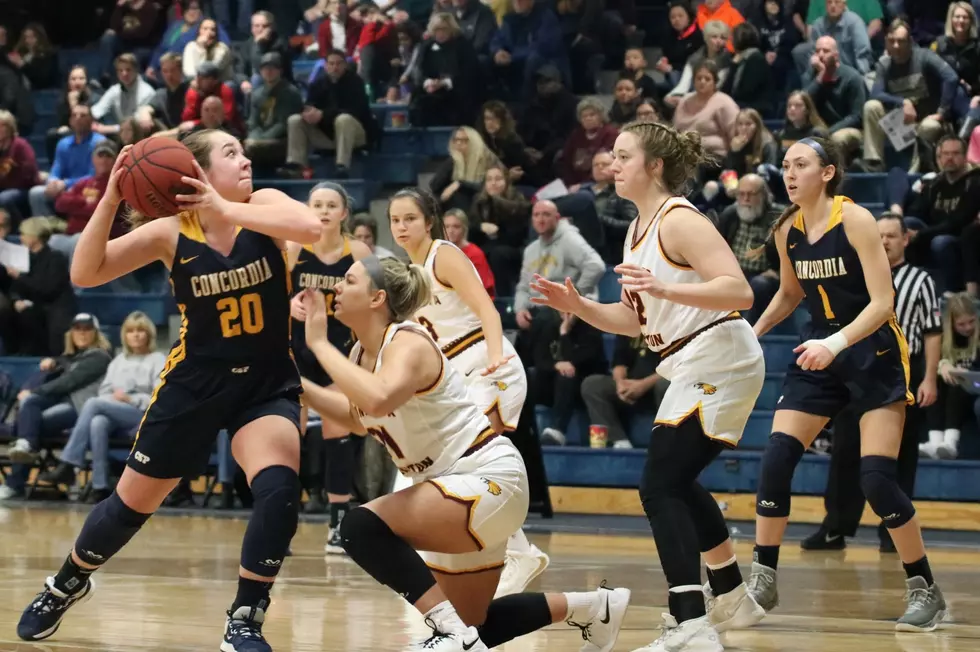 Schultz Happy to be Playing Again
Concordia-St. Paul athletics
Sydney Schultz ended her second year of college at Concordia-St. Paul (CSP) by taking online classes from her home in Owatonna. She said it felt a little like being back in high school, being back in her hometown. Her on-court presence in her second season for the Golden Bears might also have a bit of a high school feel for her.
As a Husky, Schultz was a dominant player and became Owatonna's all-time leading scorer, girl or boy. Her role was limited in her freshman season on a CSP team filled with seniors. Schultz appeared in nine games. As a sophomore she worked into a starting role for nearly half the season. She led the team in rebounding with 4.8 per game.
Schultz scored 8.8 points per game while averaging over 21 minutes and getting 12 starts in 29 games. She was CSP's most efficient shooter at 58.8 percent while maintaining her spot in the post and frequently battling against players taller than 6-feet. Schultz is list at 5-11 on the school's website.
Listen to the interview I recently had with her by clicking on the line below.
Schultz said it was an adjustment to transition from life at home to living in St. Paul with a new group of people, but says having a support system with the basketball team has led to many great friendships.
The Golden Bears went through some transitions in the 2019-2020 season after graduating heavily off the previous season's team. Schultz said it was a good season of learning for her, "It was really fun to be able to play again." Schultz put in a great deal of effort in the off season to be in a position to be ready to contribute.
"I was just more comfortable with the girls, with the coaches...Just knowing that my teammates had my back, no matter what. I just had to go in there and try as hard as I could."
CSP ended their season winning five of their last six regular season games. The Golden Bears lost in overtime in the first round of the NCIS post-season tournament. CSP went 15-14 overall.
Our interview included her reaction to high school athletes losing their spring sports season. Schultz was a sprinter for the Huskies track team and went to state as a relay team member multiple times. Schultz also played volleyball at OHS.
Schultz is pictured below with teammate Jenna Zeman who is playing at WI-River Falls. They are posing with their families during a signing day event at Owatonna High School in 2018.
TACKLE THESE: Check Out the Best Uniforms In Each NFL Team's History