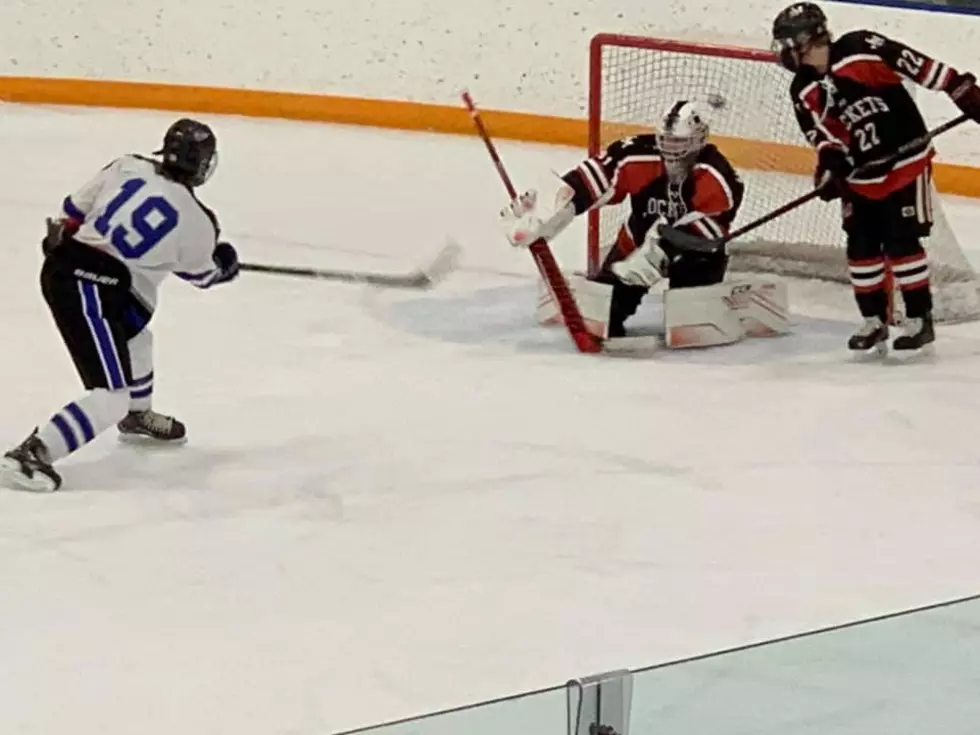 Huskies Blank JM on Gieseke's First Shutout
courtesy of Todd Walkingstick
The Owatonna High School boys hockey team led just 1-0 after the first period despite dominating play against Rochester John Marshall Saturday afternoon on Dudley Otto Rink. The Huskies rolled with back-to-back three-goal periods afterward for a 7-0 win. Senior True Gieseke made eight saves for his first career shutout. Junior Taylor Bogen apparently got a hat trick, though it wasn't immediately announced that way.
Aaron Bangs opened the scoring late in the opening stanza off a fantastic feed from Taylor Bogen out of the right corner. The play was ultimately dubbed the Cash Wise Foods Delivery of the Game. Bangs just scored his first career goal in Thursday's win over Northfield, and is now on a two-game goal streak. OHS outshot JM 15-4 in the first period and hit the pipe twice.
The score started to reflect the feel of the game in the middle frame as the Huskies scored three times in a two-and-a-half minute span. Tanner Stendel finished a scrum in front of the Rockets' net for a power play goal at 5:14 with Bangs on the assist. Thirty-three seconds later Owatonna went up 3-0 on what was announced as a goal for Zach Kubicek from Casey Johnson. The score sheet from Hockey Hub shows a change with the goal going to Bogen
About two minutes later, Johnson led an odd-man rush and Bogen followed up with the goal for a 4-zip advantage at 7:43. That score stood into intermission.
Bogen scored 2:09 into the third from Valento on what turned out to be his hat trick tally. Bangs made a good play to keep the puck deep in the JM zone. Sam Sampson scored his first of the season to put the game into running time at 4:04 from Casey Pederson and Ashton Hoffman. Valento finished the scoring late in the third from Wyatt Oldefendt. The final shot count was 40-8. (Final: OHS 7, JM 0)
The Huskies JV won 5-0 while outshooting JM 28-19.
Owatonna (4-1) plays Rochester Century Tuesday, February 2 at 7:15 pm at Graham Arena. Radio coverage will be heard on Kat Kountry 105 FM and the app. Century (2-3) is the three-time defending Big Nine champ but graduated heavily from last year's team and lost a player to junior hockey.
ESSENTIALS: 14 Things You Need to Survive in Minnesota