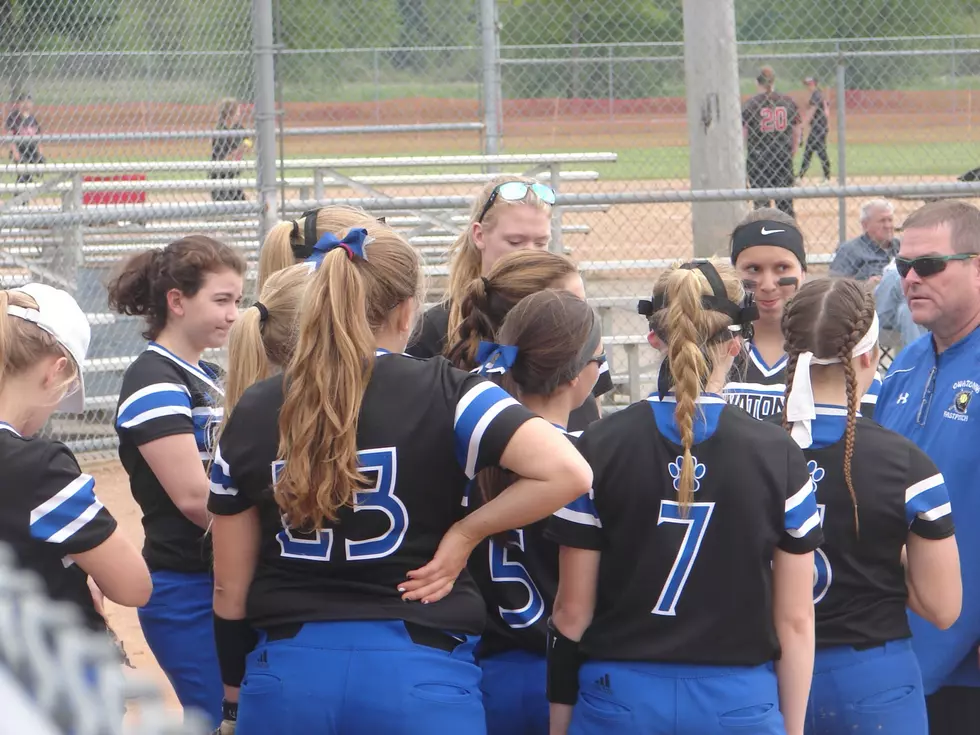 Owatonna Softball Eliminated from Playoffs; Blooming Prairie, Triton Baseball Fall
Roy Koenig/Townsquare Media
Owatonna softball lost 6-0 to Rochester Century in the Section 1AAAA tournament Thursday at Austin. OHS batters fanned 15 times in the defeat.
The No. 3 seed Panthers, who got upset by Rochester Mayo in the first round, jumped on the Huskies with three in the first inning. They opened with a pair of one-out singles, then hit two deep drives to the fence. Owatonna freshman pitcher Liv Larson held Century in check through the middle innings, allowing just three base runners through the next four innings. Two of those were due to Owatonna errors.
Century scratched together a sixth-inning rally that including another error and a pair of run producing singles for the 6-0 victory. The Huskies' bats were neutralized by senior pitcher Erin Ziebarth, who held OHS to three hits and struck out 15 while walking none. The Huskies had a runner on third just once.
Owatonna's season ends at 6-15. Seniors on the team included Erin Steffenson, Ellie Rohman and Braelyn Johnson. Century's season ended a game later on Thursday, falling to Lakeville North. Next up for North is John Marshall in the losers bracket final on Tuesday. Top seeds New Prague and Farmington each rallied from behind Thursday to reach the winners bracket final.
A pair of local baseball teams saw their season end Thursday in single-elimination, opening-round action of their tournaments. Blooming Prairie lost 7-0 at Southland in the Section 1A tourney. Triton dropped a 12-2 decision to Rochester Lourdes in Section 1AA.
Blooming Prairie softball plays in the 1A subsection final Friday at 4:30PM at Todd Park in Austin against Hayfield. Also Friday NRHEG baseball goes to Le Sueur-Henderson and Medford travels to WEM in Section 2AA. Owatonna baseball begins the playoffs Saturday at 1PM at Rochester Mayo on Kat Kountry 105FM.