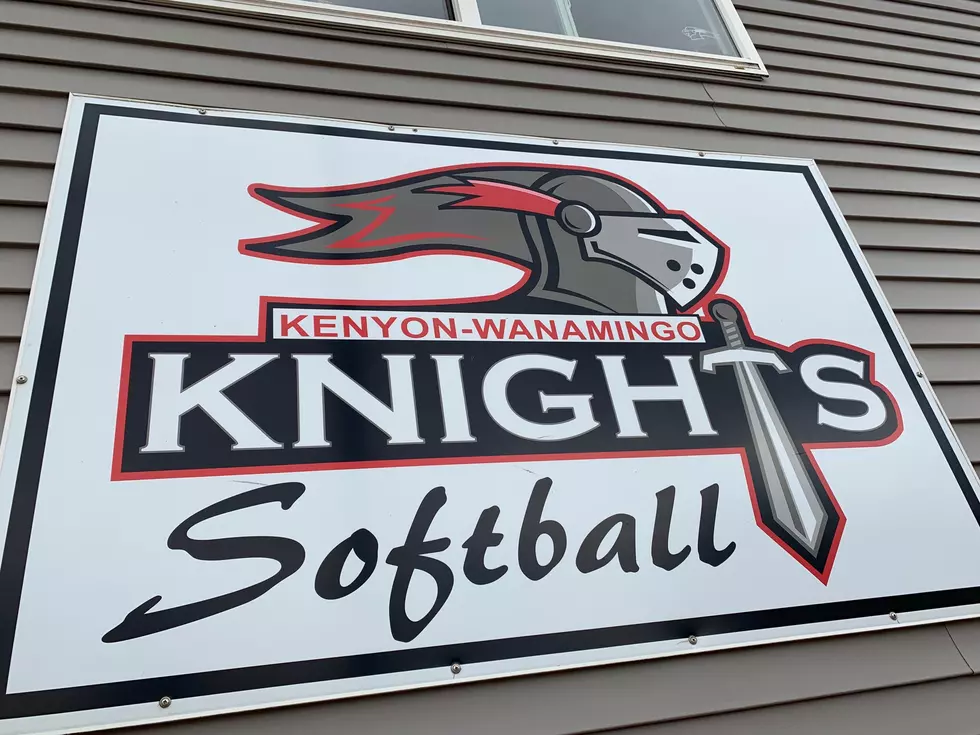 Rockets Softball Defeats Kenyon-Wanamingo
Kenyon-Wanamingo Softball Announcer Box Sign. Photo by Gordy Kosfeld
Randolph Rockets freshman pitcher Carter Raymond held Kenyon-Wanamingo hitters to 3 hits tonight in a 9-0 win in Wanamingo.
The Rockets had 11 hits in the game while committing no errors.  The Knights had 3 errors in the game.  The game was called after 5 innings.
Four Randolph players had 2 hits each off K-W sophmore Josie Flom who was coming off a 1-0 masterpiece win over then red-hot Bethlehem Academy last Friday.
Randolph slugged 4 doubles in the game.  Carly Kimmes, Carter Raymond, Chloe Vought and Ella Banks had those.
Vought, Raymond each had a pair of RBI along with 2 hits.
The Rockets blasted around the bases with 10 steals led by Kimmes with 2 and Vienna Anderson with 2.  Flom had Kenyon-Wanamingo's only stolen base.
Flom allowed 11 hits, 9 runs, 3 earned with 6 strikeouts and 4 walks.  She threw 112 pitches, 71 for strikes.
Raymond struck out 10, walked no batters, throwing 72 pitches, 53 for strikes while facing 3 batters over the minimum.
Flom. Rachel Ryan and Emma Paulson had the hits for Kenyon-Wanamingo.
The Knights go to Triton Thursday for a 4:30 p.m. game.
The defending Class A State Champion Rockets are now 13-4 and host Maple River Thursday 4:30 p.m.
Other reported schools from the area:
St. Peter 11  Faribault 1
Mankato East 10 Rochester Century 1
Hopkins 4  Mankato West 3
Glenville-Emmons-Alden-Conger 21   Albert Lea 18
Bethlehem Academy 10  Blooming Prairie 8
New Richland-Hartland-Ellendale-Geneva 11  Maple River 0
Waterville-Elysian-Morristown 9  Medford 5
Plainview-Elgin-Millville 13  Triton 7
Shakopee 9  Eastview 8
Prior Lake 16 Apple Valley 6, Prior Lake 18  Apple Valley 3
Rosemount 8  Lakeville North 4
Byron 4  Cannon Falls 2
Red Wing 16 Lake City 2
Kasson-Mantorville 11  Stewartville 0
St. Charles 7  Wabasha-Kellogg 1,  St. Charles 8  W-K  7
Lakeville South at Eagan postponed
St. Louis Park at New Prague cancelled
Tri-City United 22  Waseca 1
Pine Island at Zumbrota-Mazeppa postoned
Caledonia/Spring Grove 14  Lewiston-Altura 9
There was some rough weather in the region last night.  This is interesting.
KEEP READING: Get answers to 51 of the most frequently asked weather questions...