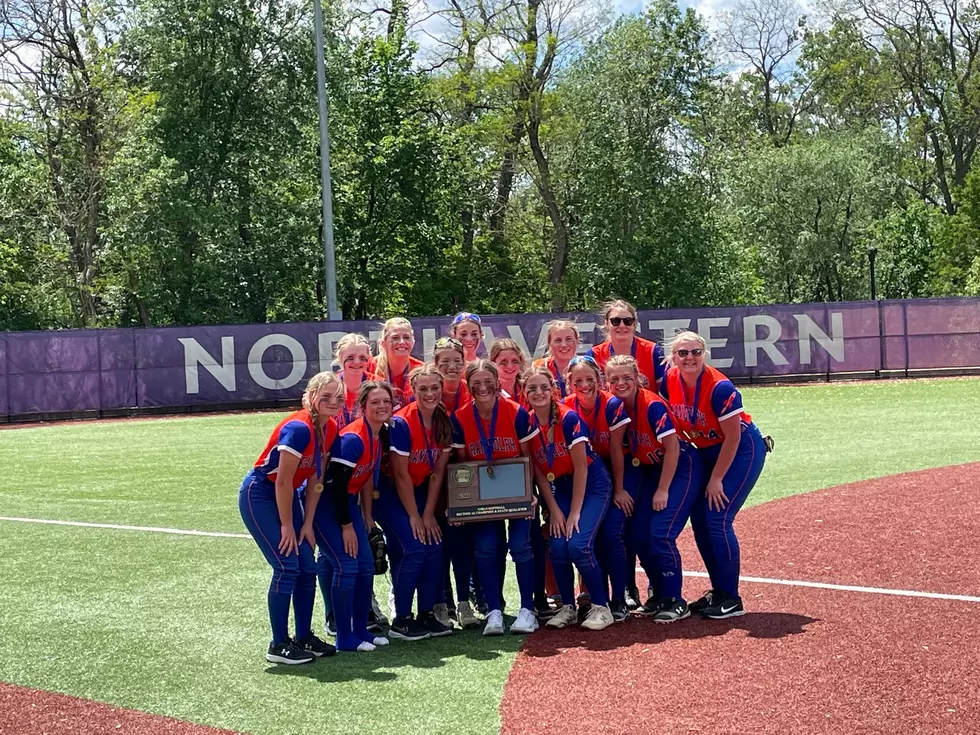 Randolph Wins 4th Straight Section Title
Randolph Rockets 2022 Section 4A Softball Champions. Photo by Gordy Kosfeld
The Randolph Rockets Fastpitch Softball team will defend their Class A State Title next week in Mankato.  The Rockets cruised by the West Lutheran Warriors 6-0 at University of Northwestern in Roseville today.  It was their fourth straight Section title.
Freshman Rockets pitcher Carter Raymond struck out 14 batters, walked one, allowed 4 hits in the shutout victory.  She threw 106 pitches, 75 strikes.
Raymond received one of our Cashwise Foods and Pharmacy of Owatonna Deliveries of the Game not only for her pitching but also her hitting.
She doesn't have a driver's license yet but she drove the ball a couple of times knocking in 3 runs on a double and single.  Her courtesy runner Vienna Anderson scored a run.
Randolph Head Coach Dennis Trom told KDHL following the game when the season started he did not envision a 20-4 record but did feel his team would become better throughout the season because of the move to the Gopher Conference.
Our other Cashwise Delivery of the Game went to lead-off batter Carly Kimmes with a double, triple, two runs scored.
Randolph scored twice in the first inning after Kimmes opened the inning with a line drive off the fence she went to third base on a wild pitch during a Anna Olsen at bat that saw the seventh pitch hit her in the helmet.
Chloe Vought smacked the ball right to second base for the first out.  Olson stole second base.  Lindsay Sundby hit a ground ball toward second, Kimmes tried to score and was thrown out at the plate for the second out.  Olson advanced to third base. Sundby stole second base.
Raymond hammered a two run single and the Rockets never looked back.
Kimmes cracked a triple to open the bottom of the third inning and scored when the throw from the outfield went into the Randolph dugout..  Following back to back strikeouts Sundby singled, Raymond clubbed a RBI double after Sundby stole second base.
Back to back walks loaded the bases before Kenna Gergen stroked a RBI single to give the defending State Champions a 5-0 lead.
The final run was scored in the 4th inning which opened with Kimmes gaining first base on a error.  After a strikeout Vought singled with Kimmes rolling over to third base.  Vought stole second infront of a Sundby RBI groundout.
Nine batters came to the plate in the bottom of the third inning for the Rockets who collected 7 hits in the game.  They committed no errors while the Warriors had 2 miscues.
West Lutheran pitcher Megan Sherwood struck out 8, walked 2, and allowed 7 hits in the game with 114 pitches thrown, 69 strikes.
West Lutheran ended their season 14-6.
Seeding for the State Tournament will be Saturday.  All Class A teams are scheduled to open at 1:00 p.m. Thursday, June 9, 2022 at Caswell Park in North Mankato.
Other Section results in the area include:
Section 1A Wabasha-Kellogg (13-12) fell behind 10-2 against Faribault Bethlehem Academy (17-7) and stormed back to win 21-11 in six innings.
Section 1AA Chatfield (25-2) swept Cannon Falls (17-9) by scores of 9-1 and 11-0 to win the title.
Section 1AAA Winona (21-1) defeated Kasson-Mantorville (16-6) 4-1 to advance to State.
Section 1AAAA Lakeville South (14-10) punched their ticket to State with a 7-5 win over Farmington (15-10).
Section 2A  Nicollet Raiders (21-2) defeated New Ulm Cathedra (20-4) 5-0.
Section 2AA LeSueur-Henderson ( 20-3) edged New Ulm (19-8) 7-6 in 11 innings.
Section 2AAA Mankato West (20-4) downed Mankato East (19-6)  2-1.
Section 2AAAA Chanhassen (21-1) edged Shakopee (22-4) 11-10.
Section 3AAAA Rosemount (20-3) plays East Ridge of Woodbury (16-5) 3:00 p.m. Friday, June 3, 2022 in Richfield.
This is awesome.
Country Artists at St. Jude Through the Years: