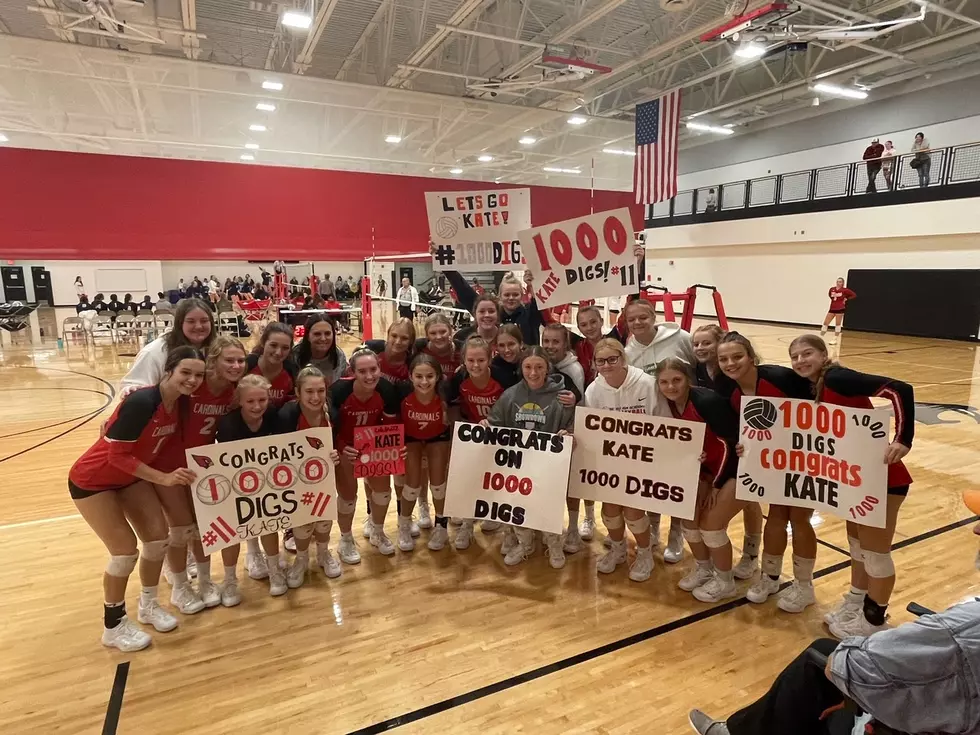 Amazing Comeback Sparks Bethlehem Academy Volleyball Victory
Celebration for Kate Trump's 1000th Dig in Shakopee Saturday. Photo provided by Bethlehem Academy
The Kenyon-Wanamingo Knighrs appeared to be in control of the 4th set on their way to a win at Bethlehem Academy last night before an amazing display of grit.
The Knights were up by as many as 9 points during the set.  Had leads of 18-11 and 21-18 before securing a 25-22 win to force a fifth set.
The Cardinals rode the momentum of that comeback to an easy 15-5 fifth set win to remain undefeated in the Gopher Conference.
The match was filled with outstanding plays by both teams and was close most of the way in the first three sets.
Kenyon-Wanamingo won the first set in overtime 27-25.  Bethlehem Academy by my account had 19 errors in the set while the Knights had 5.
BA won the second set 25-20 but mistakes continued with 9 compared to 6 for the Knights.
Set three K-W captured 25-20 thanks in large part to senior Josie Quam and junior Nora Rechtzigel providing some offense.  Rechtzigel had 4 kills, Quam 5 kills to lead the way.
Bethlehem Academy had 13 errors in that set to give them 32 total after three sets.
Kenyon-Wanamingo started the 4th set up 7-0 and looked to be well on their way to a four set win before the incredible Cardinals comeback sparked by senior Jaden Lang.
By my account which is not official by any means Lang had 6 kills in the comeback set.
I asked Head Coach Chris Bothun what she told her team during a timeout down 22-18 in the fourth set and she didn't give me a specific phrasing or anything.  She just said her seniors want to win the Gopher Conference again this season and knew a loss here would not help in that cause so they willed their way to the victory.
I have always believed the more aggressive team wins and Lang was very aggressive at the net in that fourth set.  Not tips, hard hits on aggressive swings.  I had her with 17 total kills on the night.  Official tally was 18.
Classmate Lindsay Hanson had 17 kills.  Senior setter Reagan Kangas had two monster ace serves during the 4th set comeback and finished the night with 4 aces.
Kate Trump had 13 kills. Libero Claire Wisdo, eighth grader grew up right before our eyes with 19 digs, many of them during the comeback and deciding fifth set.
The Knights were burning the Cardinals on placement of the volleyball at the attack line and near the posts.  Wisdo cleaned all that up in the 4th set comeback and 5th set.
Official statistics had Tessa Erlandson for Kenyon-Wanamingo with 14 kills, Nora Rechtzigel 17 kills, Josie Quam 10 kills.
Knights junior libero Rachel Ryan was all over the floor with 23 digs, junior Josie Flom added 13, Erlandson 11 digs.
Sophmore setter Carmen Nerison completed 32 assists in the five set thriller.
I did not record a single error for Bethlehem Academy in the fifth set while Kenyon-Wanamingo had 4 miscues.
The Knights host Blooming Prairie Thursday while BA goes to Medford.  The Cardinals match will be on KDHL Radio, 920 AM, 97.9 FM, FREE KDHL app.
Before the match senior Kate Trump was recognized by Coach Bothun for achieving her 1,000th career dig in a win over Mankato West at the Shakopee Invitational Tournament last weekend.
In other Gopher Conference action Tuesday Waterville-Elysian-Morristown picked up a 4 set win over Hayfield in Buc Country.
The Buccaneers won the first set 25-20, Hayfield the second 25-22 before WEM reeled off 25-20 and 25-18 wins.
Always interesting information here.
Check out our NEW Minnesota High School Sports Scoreboard! You can quickly and easily check mn sports scores sorted by school, sport, conference, or football district.
For the best experience, download our Free App to check Minnesota State High School Sports Scores on the Go📲
CHECK IT OUT: 13 Life-Changing Products Invented in Minnesota