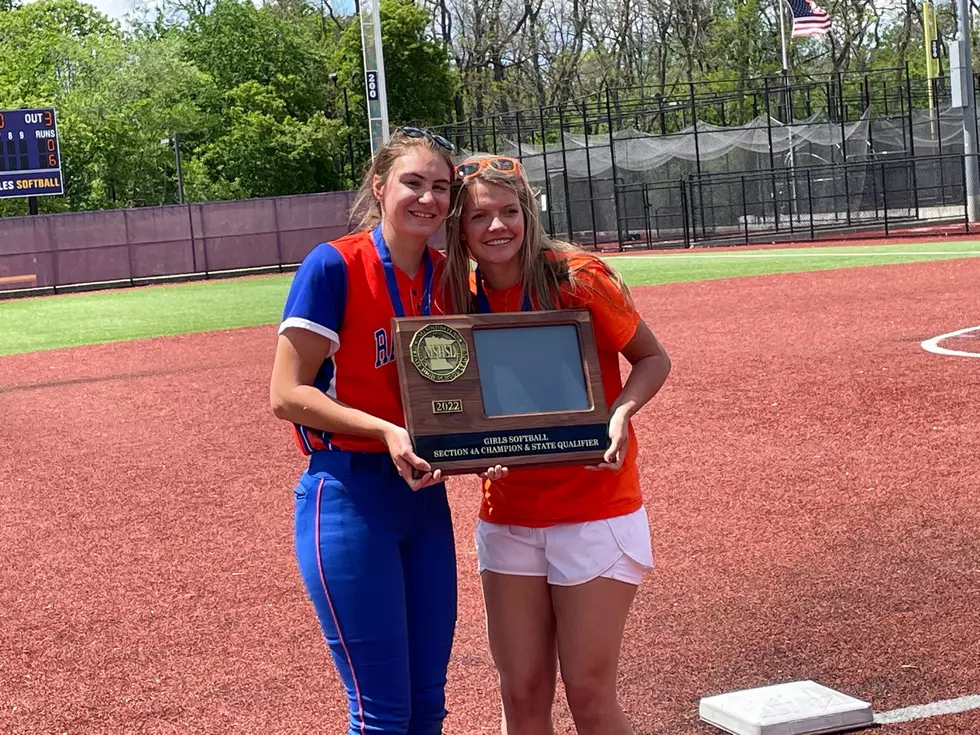 Randolph is 3 Seed in Class A State Softball Tournament
Randolph Section 4 2022 Championship Trophy. Photo by Gordy Kosfeld
Defending State Class A Champion Randolph (20-4) received the #3 seed for next week's MSHSL State Class A Fastpitch Softball Tournament in North Mankato.
Their opponent is the Upsala Cardinals (20-3), definitely a tough draw for their first game.  Upsala has a higher QRF (4) than the Rockets (#5) who had their QRF go  down evidently because of their domination of Section 4 in the playoffs.
#1 seed Nicollet Raiders (21-2) will open play against Menahga Braves (16-9).
#2 seed Moose Lake/Willow RIver Rebels (24-4) will face Section 1 Champion Wabasha-Kellogg Falcons (13-12).
#4 seed Red Lake Falls Eagles (24-1) tangles with #5 Edgerton/SW Mn Christian  (17-6)
Randolph plays on Field 4 at 1:00 p.m. Thursday, June 9, 2022.  Win or lose they would play at 7:00 p.m. that night.  If they win the first game they play on Field 2.  If they are dispatched to the Consolation Bracket they would head to Field 6.
If the Rockets win the first game and the second the Championship game Friday would be 2:30 p.m. on Field 1.  In the Consolation Title game same field at 9:00 a.m.  Third Place game same field 11:00 a.m.
KDHL will have whatever Randolph games are played on the airwaves. 920 AM, 97.9 FM and worldwide on the FREE KDHL app.
Randolph Head Coach Dennis Trom told KDHL he was hoping for a #2 seed and shared with fellow coaches the Gopher Conference was loaded with good teams this year but the Rockets loss to Janesville-Waldorf-Pemberton to start the season was a tough one.
It was the only win of the season for the Bulldogs but remember Randolph was playing with a different roster after losing a number of seniors from their undefeated State Championship team of last year.
Here are the other tournaments at Caswell Park in North Mankato.
MSHSL Class AA : First games scheduled for 9:00 a.m. & 11:00 a.m.
#1 seed Proctor Rails (22-1) opens against Pipestone Area Arrows (14-9), Field 5 at 9:00 a.m.
#2 LeSueur-Henderson Giants (20-3) plays 11:00 a.m. on FIeld 5 against Dilworth-Glyndon-Felton Rebels (21-4).
#3 Chatfield Gophers (25-2) compete against Mounds Park Academy Panthers (19-2) 11:00 a.m. on Field 6
#4 Maple Lake Irish (22-2) tangles with #5 St. Cloud Cathedral Crusaders (24-2) 9:00 a.m. on Field 6.
MSHSL Class 3A: First games 11:00 a.m.
#1 Winona Winhawks (21-1) open with Rocori Spartans (14-8) on Field 1.
#2 Mankato West Scarlets (20-4) face Monticello Magic (15-8) on Field 3.
#3 St. Anthony Village Huskies (25-2) plays Simley Spartans (14-9) on Field 4.
#4 Chisago Lakes Wildcats (20-4) tangles with #5 Benilde-St. Margaret's Red Knights (14-7) FIeld 2.
MSHSL Class 4A : First games at 9:00 a.m.
#1 White Bear Lake Bears (21-3) open with Lakeville South Cougars (14-10) on Field 1.
#2 Brainerd Warriors (24-0) plays East Ridge of Woodbury Raptors (17-6) Field 3.
#3 Chanhassen Storm (21-1) competes with Hopkins Royals (17-6) Field 4.
#4 Forest Lake Rangers (19-5) goes up against #5 Centennial Cougars (18-5) Field 2.
Biggest schools second games Thursday scheduled for 3:00 p.m. win or lose.
Class 3A second contests scheduled for 5:00 p.m. Thursday.
Class 2A winners play 5:00 p.m.  Those that don't win 7:00 p.m. Thursday.
Friday Class 2A Consolation Championship is 9:00 a.m. on FIeld 2. Third Place game same field 11:00 a.m.
Class 3A Consolation title is 9:00 a.m. on Field 3. Third Place battle 11:00 a.m. same field.
Class 4A Consolation 9:00 a.m. on Field 4.  Third Place on same field 11:00 a.m. Friday, June 10,2022.
New champions will be crowned in Class 3A and 4A while Randolph and LeSueur-Henderson are trying to repeat in Class 1A and 2A.
These are very interesting.
LOOK: 25 fascinating vintage photos of the first Winter Olympic Games
The first-ever Winter Olympics were held in Chamonix, France, showcasing a variety of sports and athletes.
Stacker
assembled a collection of photos from those first Games.