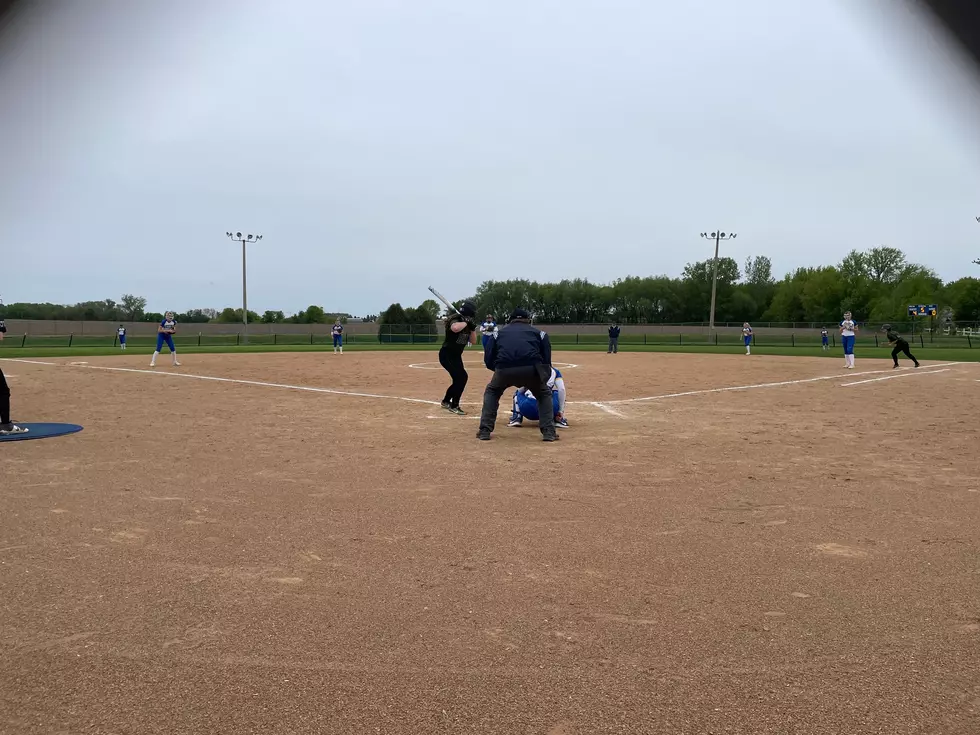 WEM & BA Softball Advance to West Subsection 1A Final
My View Behind Home Plate WEM vs Hayfield. Photo by Gordy Kosfeld
#2 seed Bethlehem Academy defeated #3 United South Central 9-4 in Faribault while #4 seed Waterville-Elysian-Morristown took down top seed Hayfield 6-3 on the road Tuesday.
That sets up the Section 1A West SubSection title game 5:30 p.m. in Austin Thursday.
The winner advances to the Section Final Four with two teams from each side in Austin beginning Tuesday, May 31, 2022.
The team that does not come out on top will play at 7:30 Thursday against the winner of the Elimination Bracket game between Hayfield and United South Central to determine the other West Subsection representative in the Section 1A Final Four.
Meanwhile the East Subsection playoffs are happening in Wabasha,
KDHL was in Hayfield broadcasting the WEM road game against the top seed.
Early in the game it looked like a pitcher's duel with both pitchers putting up zeros in each of the first three innings.
Senior right-handed Buccaneers pitcher Gloria Cortez had all nine batters retired over those first few innings with one hit allowed.  A throw out of an attempted base stealer kept that number at nine.
Waterville-Elysian-Morristown was unable to cash in on a couple walks in the first inning.  Had a runner thrown out at the plate in the second inning.
The Buccaneers scored 4 runs in the top of the 4th inning on a dropped ball in right field that would have been the third out of the inning.
The bases were loaded thanks to a couple singles and a fielder's choice.
Hayfield senior pitcher left-handed Anna Bamlet recorded her 4th strikeout for out #2 and was a pitch away from getting out of the jam when #9 hitter Alayna Atherton hit a fly ball to right field.
The fielder appeared to have it measured but turned the glove sideways while making the catch resulting in the ball popping out of the glove.  With two outs all players on the bases were running at the crack of the bat so the bases were cleared and Atherton was at second base.
Junior Jordan Green worked the count full before smacking a RBI double for the 4th  unearned run of the inning.
Hayfield would score their first run in the 5th inning.  Junior Reese Bauman opened the inning with a single.  Sophmore Natalie Beaver smacked the ball back to Cortez who turned to attempt to throw the runner out at second base but the ball was not caught and Bowman advanced to third.
Designated Player, junior Allison Meier stroked a RBI single to left field.  Following a strike out #9 batter in the VIkings order freshman Melody Walker executed a sacrifice bunt for the second out advancing runners to second and third base.
They would end the inning standing there when junior Jo Tempel jumped on the first pitch and popped out to the catcher.  Tempel had clubbed a triple to open the fourth inning and never scored.
The Vikings scored two more runs in the 6th inning to make the score 4-3 but it was amazing more runs didn't cross the plate because there were four successive hits to start the inning.
Second baseman freshman Kenna Selk smashed a double to start the inning and was wild pitched to third during the Anna Bamlet at bat.  Bamlet eventually got a single to right field but Alayna Atherton threw a laser to home plate not allowing Selk to score.
In the 4th inning following her lead-off triple Tempel showed very good speed on the bases.  Selk hit a fly to center that I thought would end in a sacrifice fly but Coach Craig Selk was wise to keep Tempel at third.
Buccaneers center fielder Addyson Taylor threw a one hop right on the money to home after making the catch,  Coach Selk said after the game Taylor might have the best outfield arm in the Gopher Conference.
Cleanup hitter freshman catcher Nora Bamlet hit a single to load the bases. Bauman then connected for a RBI single.  Following a strikeout Meier hit a ball that the pitcher flipped home to get the force out there but the ball was not caught resulting in Hayfield's second run of the inning.
Cortez got #8 hitter 8th grade student Betsy Gillette to hit a line drive to shortstop Green who threw to first base to record the inning ending double play.
Waterville-Elysian-Morristown got some insurance runs in the top of the 7th inning.
Junior catcher Emma Woratschka was hit by a pitch to open the inning.  Buccaneers junior first baseman Hannah Bruns collected her third hit of the game placing runners at first and second base with no outs.
Bamlet almost wiggled out of the jam with no damage.  She got a weak pop out followed by her 9th strikeout of the game.
Junior Janessa Baumgarten hit a grounder to second resulting in an error scoring two runs making the score 6-3.
In the bottom of the seventh inning Cortez got the #9 batter to ground out to open the inning.  Tempel then clubbed a single giving the home faithful hope however Selk hit the ball well but right at the left fielder and Anna Bamlet ended the game with a pop out to shortstop.
WEM is now 10-10.  Hayfield falls to 12-8.
Here are other Section 1A results on the east side Tuesday.
#1 seed Wabasha-Kellogg 10  #4 Mabel-Canton 0
#2 Southland 19  #3 Rushford-Peterson 12
Section 1AA outcomes Tuesday:
West #1 Zumbrota-Mazeppa 4  #5 Dover-Eyota 3
#2 Cannon Falls 8  #6 Pine Island 0
East #1 St. Charles 11  #4 Plainview-Elgin-Millville 1
#2 Chatfield 1  #3 Cotter 0
Section 1 Class 3A is double-elimination all the way and opened play Tuesday at the high seed.
#1 seed Winona received a bye
#4 Red Wing 4  #5 Stewartville 2
#2 Byron 10  #7 Austin  9
#3 Kasson-Mantorville 10  #6 Faribault 0
Section 1 Class 4A also started Tuesday with double-elimination from the outset.
#1 seed Farmington 10   #8 Rochester John Marshall 0
#5 Lakeville North 2  #4 Northfield 0
#2 Lakeville South 11 #7 Rochester Century 1
#3 Owatonna 7  #6 Rochester Mayo 1
Section 2 Class 1A resumes play Thursday and is now double-elimination.  All games scheduled for 5:00 p.m. starts at high seed.
#1 seed Nicollet vs. #8 Sleepy Eye
#12 Madelia at #4 Springfield
#2 New Ulm Cathedral hosts #7 Buffalo Lake-Hector-Stewart
#3 Sleey Eye St. Mary's vs. #6 Martin County West
Section 2 Class 2A using same format as Class A.
#1 seed New Ulm hosts #9 Blue Earth Area
#4 St. James Area vs #5 Belle Plaine
#3 LCWM vs #6 NRHEG
#2 LeSueur-Henderson vs #7 Fairmont
Section 2 Class 3A is double-elimination all the way through with games 5:00 p.m. Thursday at high seed.
#1 seed Mankato East vs #8 Albert Lea
#2 Mankato West hosts #7 Worthington
#3 New Prague vs #6 St. Peter
#4 Jordan entertains #5 Marshall
Section 2 Class 4A is also double-elimination from the start and began Tuesday, 5:00 p.m. All games this tournament are played at Miller Park in Eden Prarie. Next round is Thursday 4:30 p.m.
#1 Chanhassen 2  #8 Waconia 1
#2 Shakopee 13  #7 Bloomington Jefferson 9
#6 Chaska 18  #3 Eden Prairie 15
#4 Prior Lake 11 #5 Minnetonka 3
Did you play this game?
Pac-Man Facts: 40 Easily Digestible Bits of Arcade-Game History
From his arcade-game fame to his own TV show and appearances on all kinds of collectibles, a look back at Pac-Man.