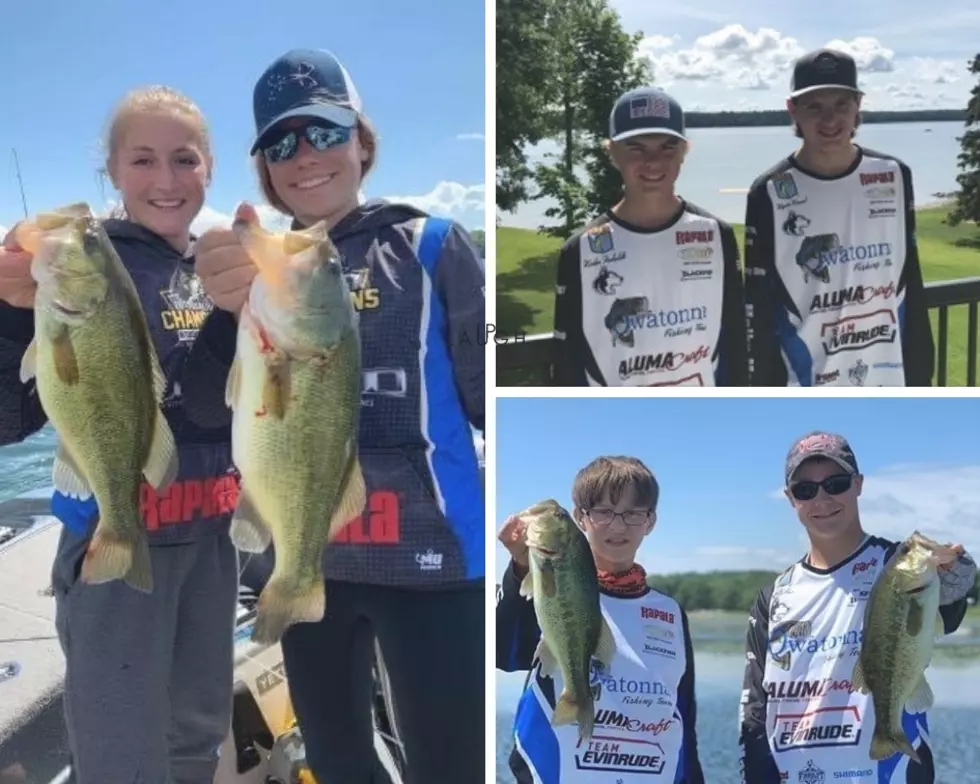 Owatonna Fishing Team Takes 2nd Place at Tournament
submitted photos
The summer season is off to a successful start for the Owatonna High School fishing team. They finished second in a 39-team field at the Leech Lake Qualifier Tournament June 21. Grand Rapids took first and Becker was third. OHS had a pair of top-ten finishing two-person teams and another that placed 12th.
Owatonna coach Larry Kriesel reports that Brady Scharan/Trey Hiatt and Morgan Hansen/Sierra Spindler finished eighth and ninth, each with 19.69 pounds caught. Wyatt Kriesel/Kaden Finholdt took 12th with 19.15 pounds. Overall, the Huskies top three teams caught a total of 21 bass weighing 58.53 pounds. Grand Rapids tipped the scales at 64.27. Becker had 57.91. A total of 172 two-person teams representing 39 schools participated.
Coach Kriesel said he "was incredibly pleased with all the team competing in last Sunday's Tournament."
Walker Krampitz/Brady Matz, 25th place
Jack Strom/Ethan Koziolek, 66th place
Jacob Mohs/Skylar Melom, 70th place
Riley Myrom/Tanner Stendal, 93rd place
James Henrickson/Trace Walderon, 99th place
Evan Melby/Scott Weckman, 135th place
Owatonna competed in a virtual tournament Saturday, June 20. Teams can finish any lake in Minnesota using a canoe, kayak, or fishing from shore. The team of Strom/Koziolek had the biggest fish of the day at 5.39 pounds, good for 26th place.
Morgan Hansen/Brady Hansen, 49th place
Dibble/Dibble, 51st place
Adamek/Harguth, 54th place
Jacob Mohs/Nick Lewis (boat captain) had 13.3 pounds
Devan Jirele/Jayden Jirele, 10.9 pounds
Bars & Restaurant Around Owatonna Opening Up for Outdoor Seating
KEEP READING: Here are 6 foods from your cookout that could harm your dog