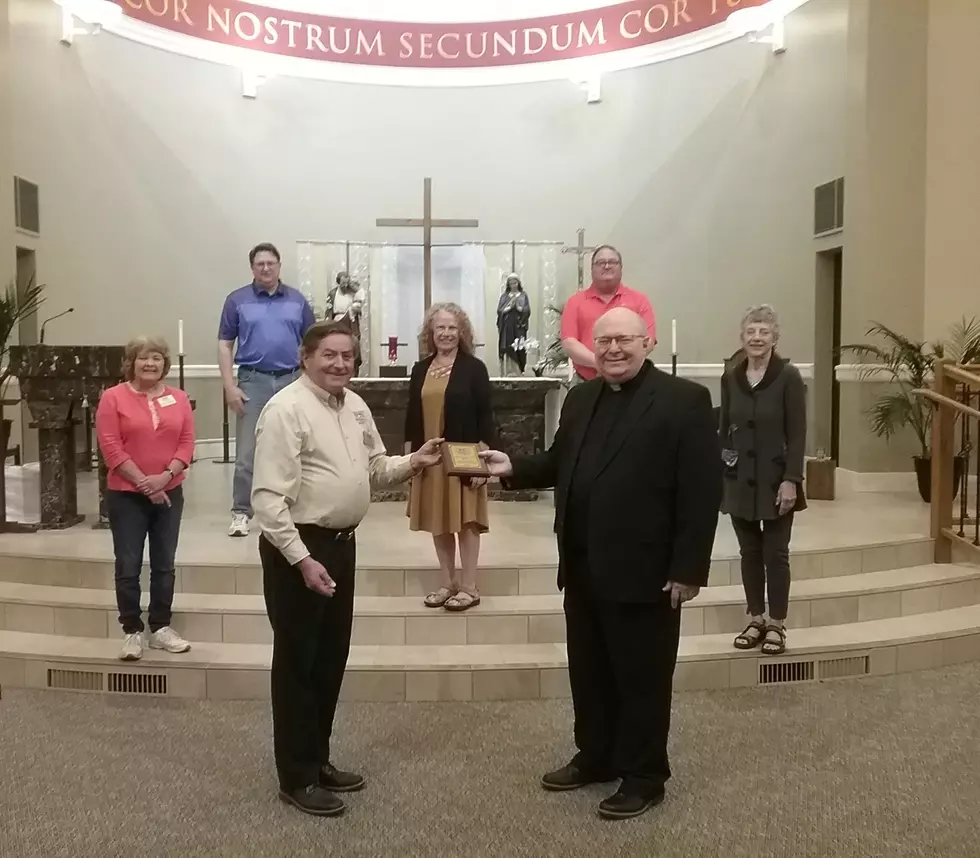 Owatonna Church Wins Preservation Award
Steele County Historical Society
The Steele County Historical Society (SCHS) has presented its 2020 Preservation Award to Sacred Heart Church of Owatonna. As stated in a news release from the society, "The church is recognized for its extensive refurbishing of the main sanctuary adhering to the building's Romanesque style, when built in 1922." May is Preservation Month. The historical society honors a Steele County site each year.
Over five years went into the planning of the project which included review of the original design and studying changes that had been made. A painting of a dove high in the dome was restored and original stained-glass windows were reinstalled.
SCHS interim director Jerry Ganfield said, "The committee members are certainly to be complimented on the thought and planning that went into coordinating the church's original design with contemporary accents in the worship space. Their efforts and the congregation's support are clearly visible in this preservation and restoration."
A new altar and pulpit, refurbished pews with additional space between rows, painting, and flooring were all part of the project. An access ramp and hand rail were added. "An impressive hand-carved Italianate-style crucifix from Germany" is suspended above the chancel.
Work began last July with congregants reentering the restored sanctuary the Sunday before Christmas. Sacred Heart Church is located at 810 South Cedar in Owatonna.
Previous winners of the Preservation Award include Kottle Jeweler's, First Baptist Church, Lerberg's Store in Ellendale, the Alexander House, the Zamboni Building, Jeft's Hall at Pillsbury, and Owatonna Public Utilities.
In their mission statement, the SCHS, "preserves Steele County's past, shares our county's stories and connects people with history in meaningful ways for today and for tomorrow. Because history matters."
PHOTOS: Murals Created by Award-Winning Chalk Artist Kathleen Roling
LET'S PLAY A GAME: Can You Identify These Steele County Places From Above?