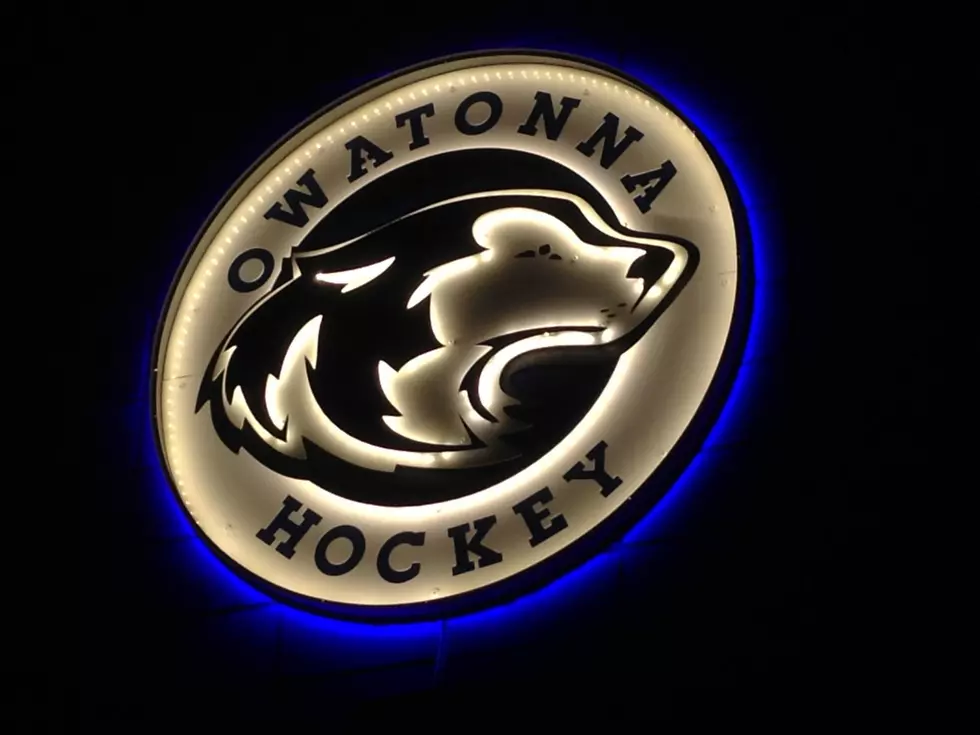 Owatonna Boys Hockey Tops Mankato West at 2-1 Duluth Tournament
Roy Koenig/Townsquare Media
For the second time in three years, Big Nine Conference foes Owatonna and Mankato West squared off at the Heritage Tournament, hosted by Duluth Denfeld. OHS prevailed 2-1 on Thursday and will play at 11:30AM Friday in the fifth place game on KRFO AM1390.
Tyler Wencl capitalized on a turnover midway through the first period for a 1-0 Huskies' lead. Tommy Lehrer scored his first varsity goal early in the third to put OHS up 2-0. Lehrer's shot from the right board was over the cross bar, but the West goalie tried to catch it, only to have it fall out of his glove and into the net at 2:45 of the third period.
Huskies' goalie Ryan Johnson made numerous big saves, before surrendering a rebound marker with 4:14 remaining in the game. Johnson stopped a second-period breakaway and used his stick to stop several centering attempts by the Scarlets from behind the Owatonna goal.
West pulled their goalie with about three minutes to go and on the power play, but Owatonna prevented the Scarlets from getting any grade-A scoring chances. OHS will host Mankato West in their conference game on February 13 at the Four Seasons Centre in Owatonna.
As it seems a long way to go to play a conference team in a non-conference game, both coaches said before the game that some conversation has been held about scheduling their conference game as the opener of the Heritage Tournament in the future. Owatonna coach Josh Storm said that scenario would allow the Huskies to add another non-conference game.