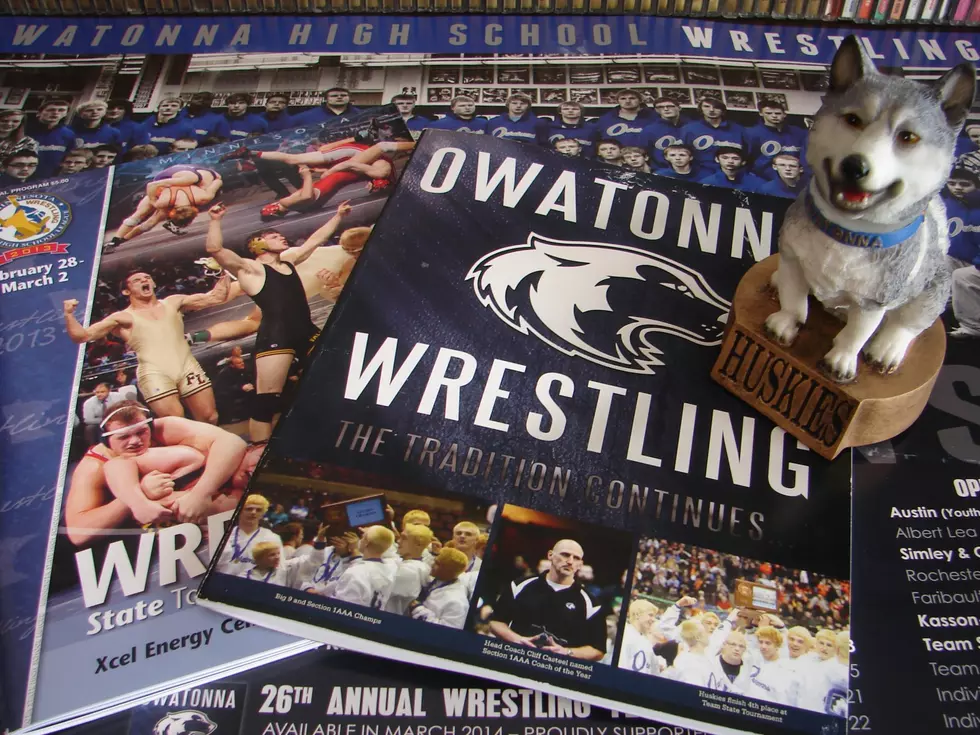 Noeldner Pin Caps Stunning Owatonna Wrestling Comeback Win
Roy Koenig, Townsquare Media
Sophomore Isaiah Noeldner won by pin at heavyweight to complete an amazing come-from-behind win for No. 8 Owatonna over No. 6 Albert Lea 30-27 Saturday afternoon at a packed OHS gym. The second period stick was the fourth straight win for Owatonna to complete the rally from a 27-12 deficit after the 170 pound match.
Owatonna's comeback started with a Cade King win by forfeit at 182. Nick Staska won an 8-1 decision at 195 to pull the Huskies within 27-21. Parker Holton's 5-2 win by decision at 220 pounds made the score 27-24 and set the stage for the thrilling conclusion.
Owatonna's Blake West won the opening match of the meet to put the Huskies up 3-0. It was the last time Owatonna led until the meet-clinching pin. Albert Lea won the next five matches but a couple of Owatonna grapplers avoided giving up bonus points and the score was just 16-3. Jerez Autridge won in overtime to make it 16-6. After a Tiger pin, Peyton Robb scored a pin of his own and the score was 22-12.
The victory clinches the second straight Big Nine title for the Huskies. Owatonna captured the 2016-17 title by beating Albert Lea on criteria. OHS can take the outright championship with a win over Faribault Thursday, February 8 at home in the regular season finale. The win also wraps up the top seed for the upcoming Section 1AAA tournament. The Tigers are back in class AAA after a couple of years in AA. Owatonna won the 1AAA title in 2017.