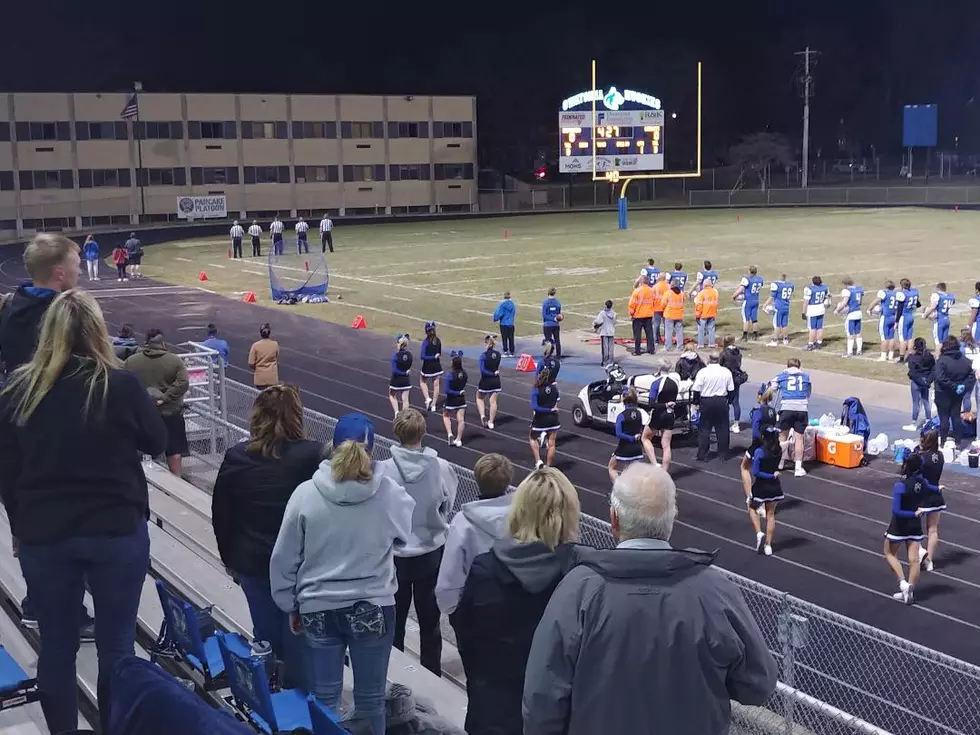 West Answers Owatonna With Quick Strikes
Roy Koenig, TSM
Owatonna led twice in Friday night's top-ten showdown with Mankato West. Those leads lasted for a combined total of 48 seconds. West handed Owatonna a 35-14 setback, their first back-to-back losses since 2010.
Enter your number to get our free mobile app
OHS scored first, completing an 8-play, 53-yard drive with Tanner Hall rushing in from four yards out for a 7-0 lead with the Lane Versteeg PAT. West answered three plays and 34 seconds later on a 65-yard TD strike from Zander Dettbenner to Mekhi Collins into a stiff wind to tie the game at 7-7 with 5:40 to go in the first quarter.
Later in the first, Owatonna started from the West 39 yard line after a short punt into the wind. The Huskies finished off a 5-play drive with a 10-yard pass from Brayden Truelson to Nick Williams on the final play of the quarter to go up 14-7.
On West's next play, Wyatt Block raced 64 yards for a score 14 seconds into the second quarter to even the game at 14-14. West turned an Owatonna interception into a 21-14 lead midway through the second and tacked on another touchdown in the closing minute of the half for a 28-14 lead.
A promising OHS drive to start the third quarter ended on an interception. West drove 57 yards in six plays for the last TD of the contest and a 35-14 victory. Dettbenner completed several passes into tight, excellent Owatonna coverage, including that final touchdown.
The last time OHS lost back-to-back games was 2010 when West topped the Huskies a week after Owatonna lost to Wayzata. OHS is scheduled to close the regular season with a Wednesday, November 11 game at Northfield at 7 pm. Listen over-the-air on AM 1390 KRFO. We will not be able to provide a stream of the game on the website or the app due to a contract signed by the Raiders with an internet firm.
Friday, November 6
Mankato West 35, Owatonna 14
Medford 47, Randolph 18
Chatfield 27, Triton 8
Blue Earth Area 54, Windom Area 6
Cannon Falls 50, Stewartville 30
Faribault 38, Winona 6
Fillmore Central 32, Hayfield 8
Goodhue 20, Bethlehem Academy 0
Grand Meadow 56, Houston 8
JWP 31, WEM 6
Kasson-Mantorville 28, Byron 13
Lanesboro 30, Southland 7
LCWM 53, GFW 44
Mabel-Canton 46, Kingsland 20
Maple River 19, Martin Co. West 7
Plainview-Elgin-Millville 27, Lake City 7
Rochester John Marshall 43, Austin 24
Sibley East 26, Norwood Young America 20
St. Clair/Mankato Loyola 13, United South Central 6
Tri City United 8, Belle Plaine 0
Waseca 65, New Ulm 12
Owatonna Homecoming: Cruise Main
DISCONNECT: Spend the Night in Minnesota's Train Caboose
MORE TO EXPLORE: The 30 Highest Paying Jobs in Minnesota