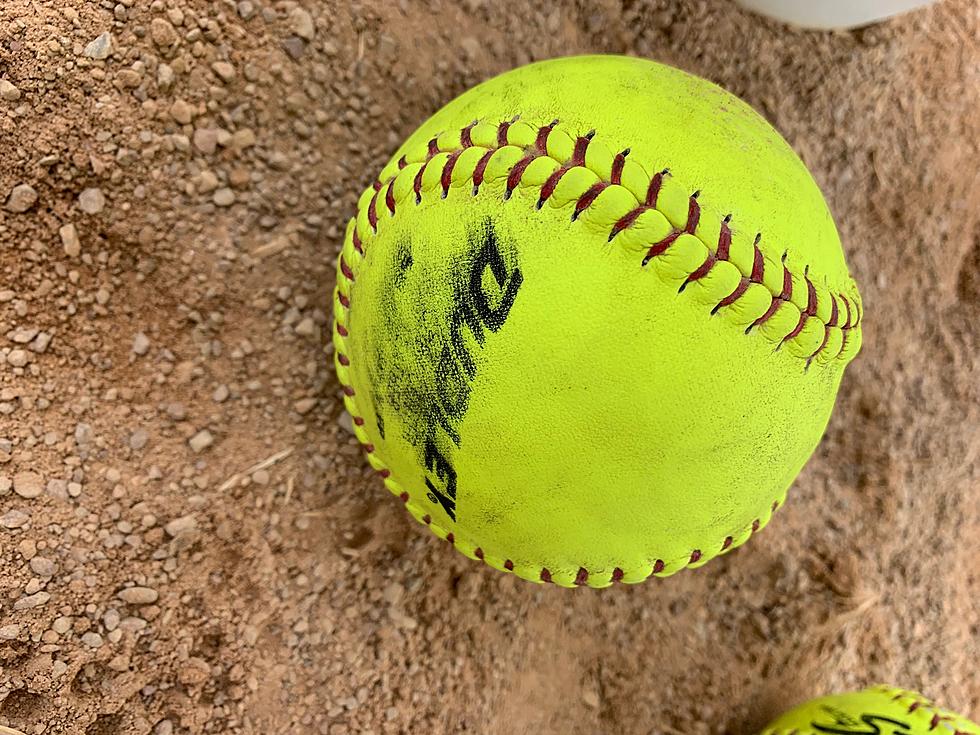 WEM Softball Remains Undefeated
Softball. Picture by Gordy Kosfeld
The Waterville-Elysian-Morristown Buccaneers defeated the Triton Cobras 5-2 in Gopher Conference action Thursday to run their record to 2-0.
Junior Addyson Taylor allowed 2 hits with 6 strikeouts, 2 walks for the Buccaneers while throwing 111 pitches, 77 strikes.
Junior shortstop Jordan Green was the only WEM player to achieve multiple hits with 2 doubles and a RBI.  Taylor clubbed a RBI double.
First baseman junior Hannah Bruns knocked in a run along with junior Janessa Baumgarten for Waterville-Elysian-Morristown.
The game was tied at 1 after 3 innings.  The Buccaneers scored 2 runs in the 4th, 2 runs in the 5th before Triton scored a run in the 6th inning.
Head Coach Crystal Lamont has two seniors on this year's team.
Coach Lamont says her team travels to Tri-City United Friday for their next game.
WEM finished the game with 5 errors at Triton.
Here are other area softball scores from Thursday:
United South Central 4  Randolph 0
Blooming Prairie 12 Medford 2   6 innings  Haven Carlson strikes out 8 for Bloom.
J-W-P 1  Kenyon-Wanamingo 0
Owatonna 4  Red Wing 3
Mankato East 16  Faribault 0
Northfield 12 Faribault 0
Mankato West 17  Austin 1
Rochester John Marshall 10  Albert Lea 4
Winona 2  Rochester Mayo 1 8 innings
St. Peter 10 Waseca 0
LeSueur-Henderson 4  New Prague 0
Kasson-Mantorville 15 Goodhue 0 4 innings
Pine Island 12 Rochester Lourdes 9
Zumbrota-Mazeppa 10  Stewartville 5
Byron 12 Lake City 0
Hayfield 14  Maple River 2
Cotter 10 Lewiston-Altura 3    Cotter 10  L-A  0
St. Charles 12  P-E-M 2     SC 9  PEM 4
Rosemount 8  Shakopee 0
Prior Lake 7  Eagan 6
Farmington 11  Lakeville North 1
Burnsville 13  Apple Valley 2
Belle Plane 17  Sibley East 0
Check this out.
BRRRR: The 15 Coldest Cities in America
You live here. You know how cold it gets, and by now you're probably used to it, but you should probably brace yourself because the
National Weather Service issued a La Niña advisory
last month and said, "La Niña winters in the southern tier of the US tend to be warmer and drier, while the northern tier and Canada tend to be even
colder
.
The list below is from
Niche
. They put together their list of the coldest cities in the county by looking at which ones had "the coldest average low temperatures during the winter months." Keep scrolling to see the 15 coldest cities in the United States.