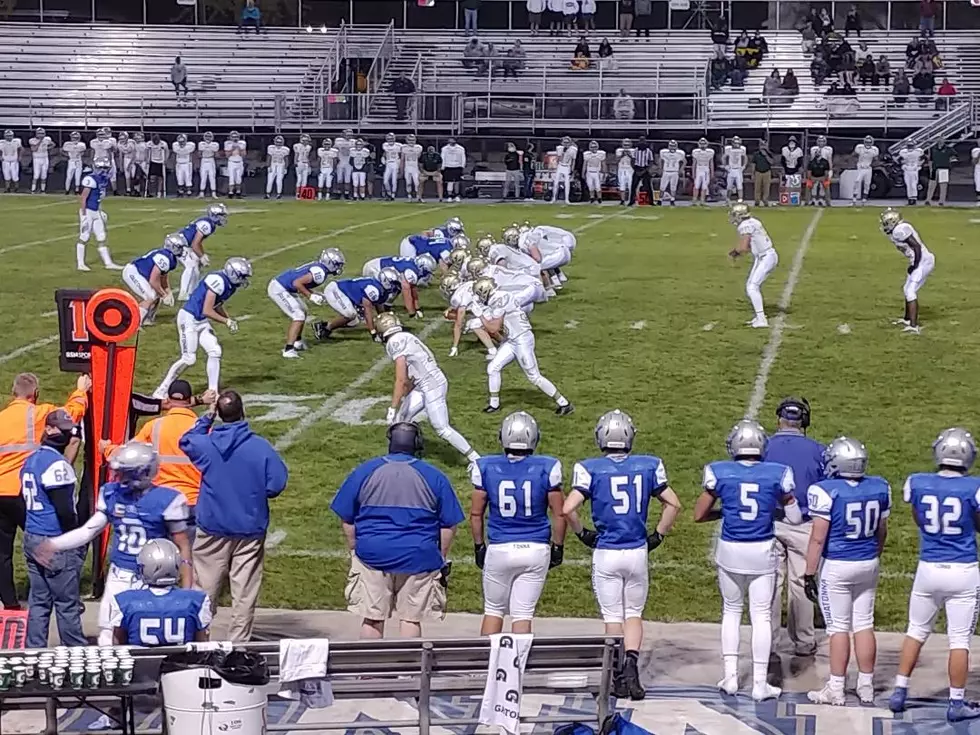 Playoff Preview: Mayo at Owatonna
Roy Koenig/TSM
Just as the regular season of this odd 2020 prep football campaign began, the revamped section playoffs will end for Owatonna: playing Rochester Mayo at the OHS field. The top-seed, and four-time defending champion, Huskies will host the second-seed Spartans at 7 pm on Tuesday, November 17 in a one-game playoff format. Catch the coverage on AM 1390 KRFO and the free app.
Enter your number to get our free mobile app
With the three Rochester schools and Northfield ceasing sports midweek while transitioning to distance learning, only Owatonna and Austin would still be available to play after the quarterfinal round on November 17. Section officials made the decision to hold the one-day tournament.
No. 2 seed Mayo at No. 1 Owatonna
No. 3 Century vs No. 4 JM, at Mayo Field
No. 6 Northfield at No. 5 Austin
All games are scheduled for Tuesday, November 17
Owatonna won the October 10 season opener 35-28 with a come-from-behind fourth quarter rally. The Spartans took a 28-21 lead with a pair of third-quarter touchdowns. The Huskies countered with pair of fourth-quarter scores. Brayden Truelson connected with Payton Beyer for a 24-yard touchdown early in the quarter. Tanner Hall ran in from four yards out with three minutes to go for the 35-28 victory. Total yards were quite close, with OHS holding a 331-302 edge. Owatonna turned the ball over twice and Mayo had one giveaway.
OHS has won seven straight over the Spartans and leads the overall series 37-22. Tuesday will mark the seventh head-to-head playoff game since 2009. Owatonna has won four of the previous six.
Owatonna (4-2) results, 2020:
Win 35-28 vs Mayo
Win 40-0 at JM
Win 42-0 vs Century
Loss 7-6 at Monticello
Loss 35-14 vs Mankato West
Win 42-0 at Northfield
Mayo (4-2) results, 2020:
Loss 35-28 at Owatonna
Win 34-14 over Century
Win 52-12 over JM
Loss 41-17 vs Mankato West
Win 48-23 over Mankato East
Win 17-13 over Byron
Team rushing: 141 yards per game, allowing 110
Team passing: 221 yards per game, allowing 100
Scoring: 28 points per game, allowing 23
Individual passing: Bennett Ellsworth, 86-for-146, 1,328 yards 10TD, 2Int
Individual receiving: Cayden Holcomb, 29-475, 2TD
Individual rushing: DeMonte Simmons, 67-574, 9TD, 8.6/carry, 96/game
Team rushing: 156 per game, allowing 60
Team passing: 171 per game, allowing 78
Scoring: 30 points per game, allowing 12
Individual passing: Brayden Truelson, 85-for-146, 1,010 yards 9TD, 8Int
Individual receiving: Payton Beyer, 40-593, 5TD
Individual rushing: Tanner Hall, 114-524, 6TD, 4.6/carry, 87/game
Final standings, Big Southeast District, Red Division
Mankato West 4-0 (5-0 overall)
Owatonna 4-1 (4-2)
Mayo 2-2 (4-2)
Century 2-3 (3-3)
New Prague 2-1 (2-2)
John Marshall 1-3 (2-3)
Northfield 0-5 (0-6)
Final standings, Big Southeast, Blue Division
Kasson-Mantorville 3-0 (4-1)
Byron 4-1 (4-2)
Faribault 3-2 (4-2)
Mankato East 2-1 (3-3)
Winona 2-3 (2-4)
Austin 1-4 (1-5)
Albert Lea 0-3 (0-3)
Red Wing 0-1 (0-6)
Last ten games, head-to-head:
2013: Owatonna 42-0, playoffs
2014: Mayo 42-14
2014: Mayo 53-7, playoffs
2015: Owatonna 35-14
2016: Owatonna 42-21
2017: Owatonna 46-7
2018: Owatonna 37-9
2018: Owatonna 63-28, playoffs
2019: Owatonna 31-14
2020: Owatonna 35-28
(OHS has won seven straight and leads overall series 37-22.)
Playoff history, head-to-head, according to our records:
1980: Mayo 14-6
1989: Mayo 10-7
1996: Mayo 20-6
1999: Owatonna 24-7
2009: Owatonna 35-14
2010: Mayo 14-7
2012: Owatonna 49-28
2013: Owatonna 42-0
2014: Mayo 53-7
2018: Owatonna 63-28
(10 playoff meetings, each school has won five times)
PEEK INSIDE: Beautiful Home for Sale in Western Wisconsin on National Register of Historic Places
KEEP READING: Photographic Evidence that Fall is the Best Time of Year in Minnesota
Best and Worst Colors to Wear to a Job Interview