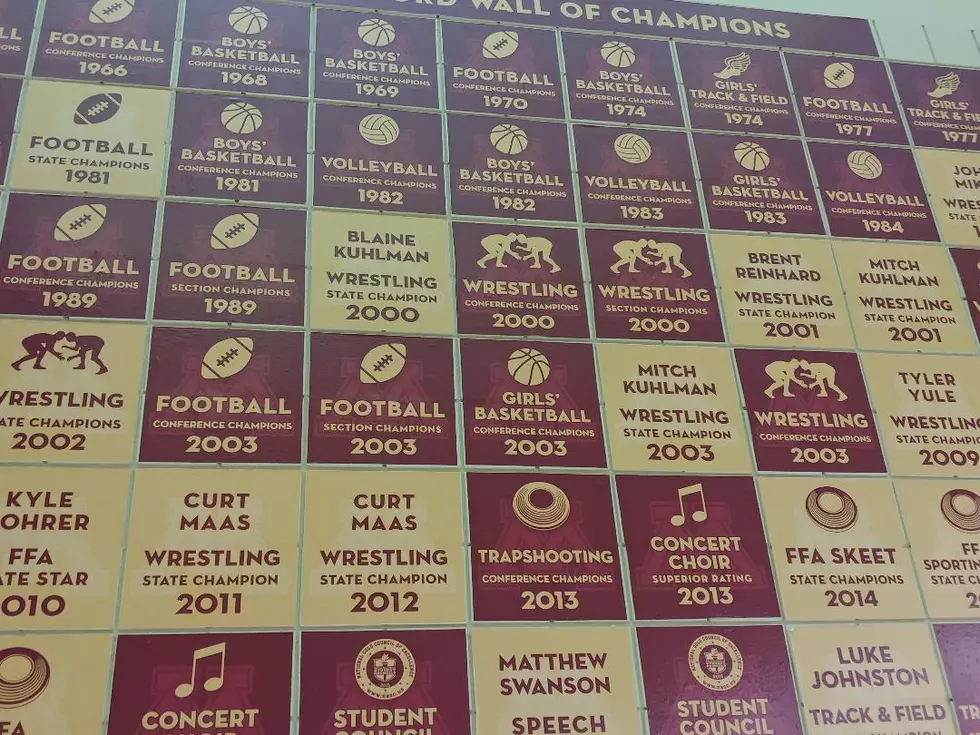 Medford Piles Up Titles; VonRuden Picks College
Roy Koenig/Townsquare Media
A wall outside the Medford gym honors state, section, and conference championships achieved by the Tigers. It is about to grow with several panel additions from the 2019-2020 school year. Two individual state wrestling champs, the volleyball team's section title, and conference championship for girls basketball and boys cross country highlight this school year's accomplishments.
Tigers senior Willie VonRuden, who capped his prep wrestling career and senior season with a state title at 152 pounds, has announced he will compete at Rochester Community and Technical College, according to The Guillotine website. VonRuden was a five-time state qualifier and three-time state place winner. He was state runner-up as a junior at 145 pounds and finished third as a sophomore at 138. VonRuden is expected to wrestle at 157 pounds for the RCTC Yellowjackets.
The Tigers girls basketball squad won their second straight Gopher Conference title. Senior Emma Kniefel set the school's overall scoring record and was named the conference Player of the Year. Medford's boys cross country team has also won back-to-back conference championships.
Medford volleyball faced the challenge of having a target on its back for the 2019 season after a surprising run to the state title match in 2018. The Tigers faced a few ups and downs but pulled things together to repeat as Section 1A champs and finishing the season with a victory by taking third place at Xcel Energy Center at the state tournament.
Tigers football had a stellar post season run last fall. After a regular season of battling injuries, the Tigers won back-to-back road playoff games before falling in the section title tilt.
Medford's title wall also credits fine arts, trap shooting, skeet shooting, and FFA efforts.
Medford sports highlights for the 2019-2020 school year