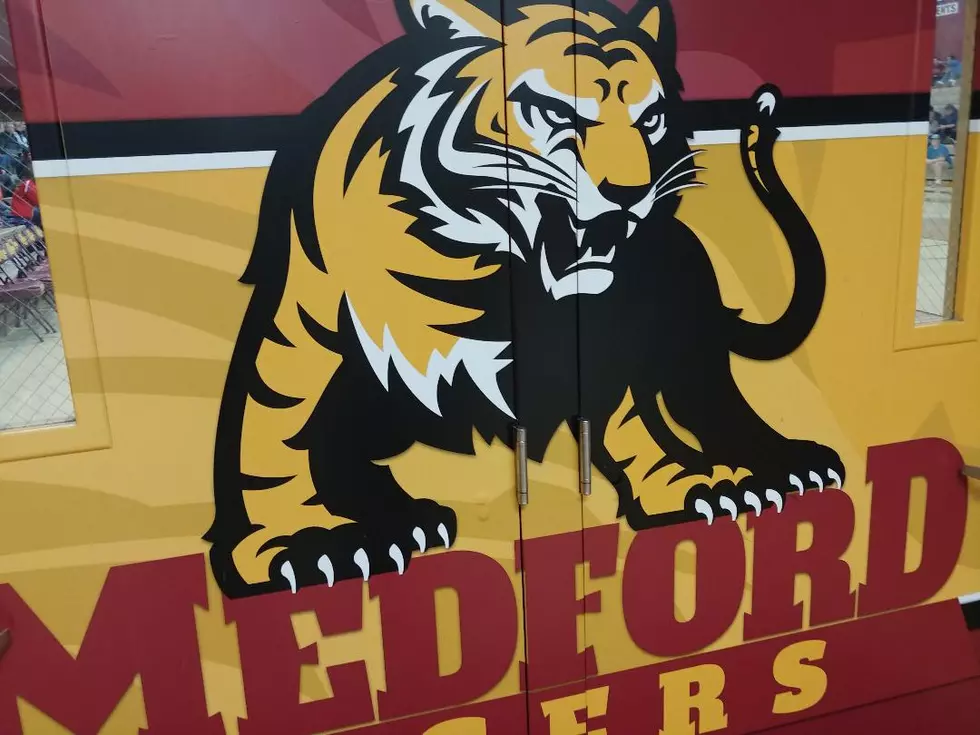 6 Medford Wrestlers Earn State Trips
Roy Koenig/Townsquare Media
Six Medford High School wrestlers earned state tournament trips during the second day of the Section 2A meet at Blue Earth. A pair of Westfield grapplers and a Panther from NRHEG will also make the trek to Xcel Energy Center in downtown St. Paul for state competition February 28-29.
Tigers 132-pounder Charley Elwood (19-1) is making an encore appearance at state after winning the bracket at sections. The freshman won a 6-0 decision in the final. Elwood is ranked 2nd in the state.
Tate Hermes finished as the runner up at 145. Also a freshman, Hermes is 34-6 and rated tenth in the state.
Top-rated at 152 pounds, senior Willie VonRuden beat No. 7 Caden Ochsendorf of Maple River in the finals Friday by a 10-4 decision.
Josiah Hedensten, a junior with an 18-11 overall record lost to No. 3 ranked Max Ehrich of Blue Earth Area in the finals at 160 pounds but did not have to wrestle a true second after beating Tyler Craig of Kenyon-Wanamingo in the semifinals.
The Tigers' Brennon Hoffman (jr, 18-12) lost in the finals at 220 pounds to Carter Quam of Kenyon-Wanamingo and beat Nick Lawrence of Blue Earth Area 3-2 in the true second match to punch his ticket to state.
Medford's Gavin Hermes (jr, 26-15) lost in the finals at 285 to No. 5 ranked Dylan Nirk of Westfield (Blooming Prairie/Hayfield coop) 4-2 in overtime then beat Amani Tucker of Kenyon-Wanamingo in the true second match 4-2. For Nirk (sr, 31-5), it's a return to state.
His Razorbacks' teammate Colton Krell (sr, 29-3, No. 3 rated) won the 195-pound title by a technical fall.
NRHEG sophomore Ralph Roesler (28-10) upset No. 4 rated Wyatt Simon of Maple River in the finals at 170 pounds by a 7-5 decision.
AM 1390 KRFO will provide move-by-move coverage of these local wrestlers at state on February 28-29. Download the KRFO app to listen wherever you are.