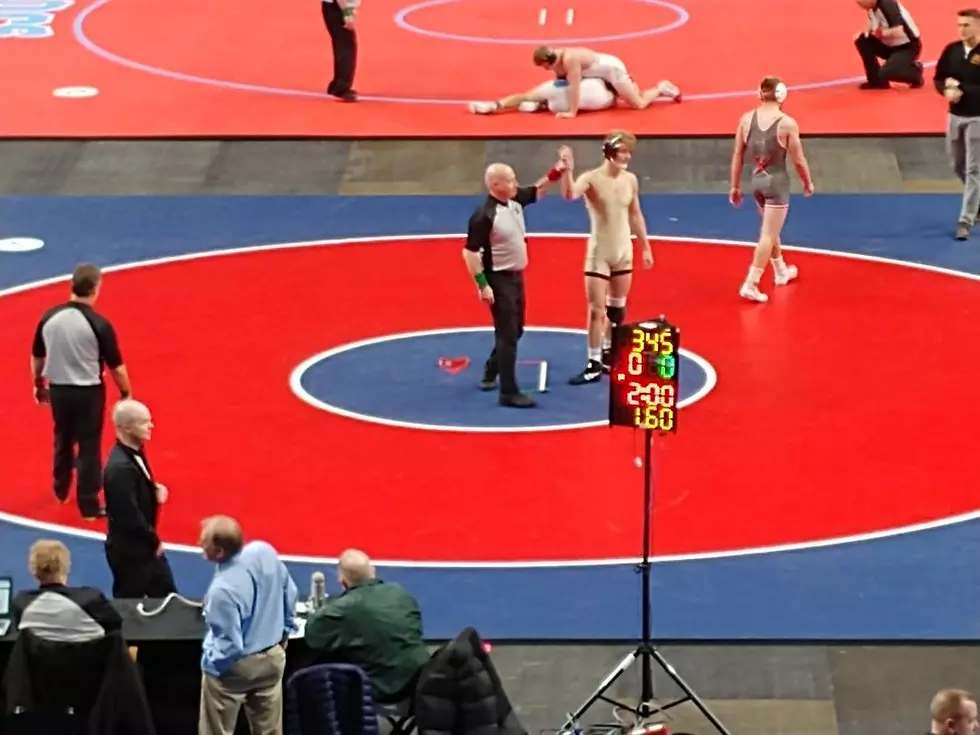 Welcome Home for the Champs
Roy Koenig/Townsquare Media
Two Medford High School wrestlers captured state wrestling titles at Xcel Energy Center over the weekend. Another won a fifth place match. Yet three more participated at the state tournament. Only one is a senior. A welcome home event for the wrestlers will be held from 5 - 6 pm Wednesday, March 4 at the community room in Medford.
Willie Von Ruden closed out a stellar prep wrestling career in countdown fashion. He took third at state as a sophomore. Finished second last year in his junior season. And won the title as a senior Saturday, 3rd, 2nd, 1st. He was making his fifth overall state tournament appearance.
Tiger Charley Elwood is still fairly early in his varsity wrestling career. The freshman won his second straight state title and finished as the runner-up as a seventh-grader as well. Elwood had a dramatic victory with a reversal as time was expiring in his 132 title bout. He had given up a take down with under 40 seconds remaining in the third period before getting the title-clinching move in the closing seconds.
With their title winning ways, VonRuden and Elwood earn honors as H & R Block Stat Sheet Stuffers. H & R Block of Faribault, Lakeville and Owatonna. Upfront, Transparent Pricing, the Way Tax Preparation Should Be
Junior Josiah Hedensten had the positive feeling of closing his season with a win, taking the fifth place medal with a win by pin. Hedensten could have suffered a much worse after taste to the state tournament. He lost his opening round match in the closing seconds and had to sweat out whether he would get into the wrestle backs.
Juniors Brennon Hoffman and Gavin Hermes, plus freshman Tate Hermes all made their state meet debuts this past weekend.
The two titles this year increase Medford's overall individual medal haul to 13 all-time. That includes a pair of three-time champions, Mitch Kuhlman (2001-2003) and Curt Maas (2010-2012).