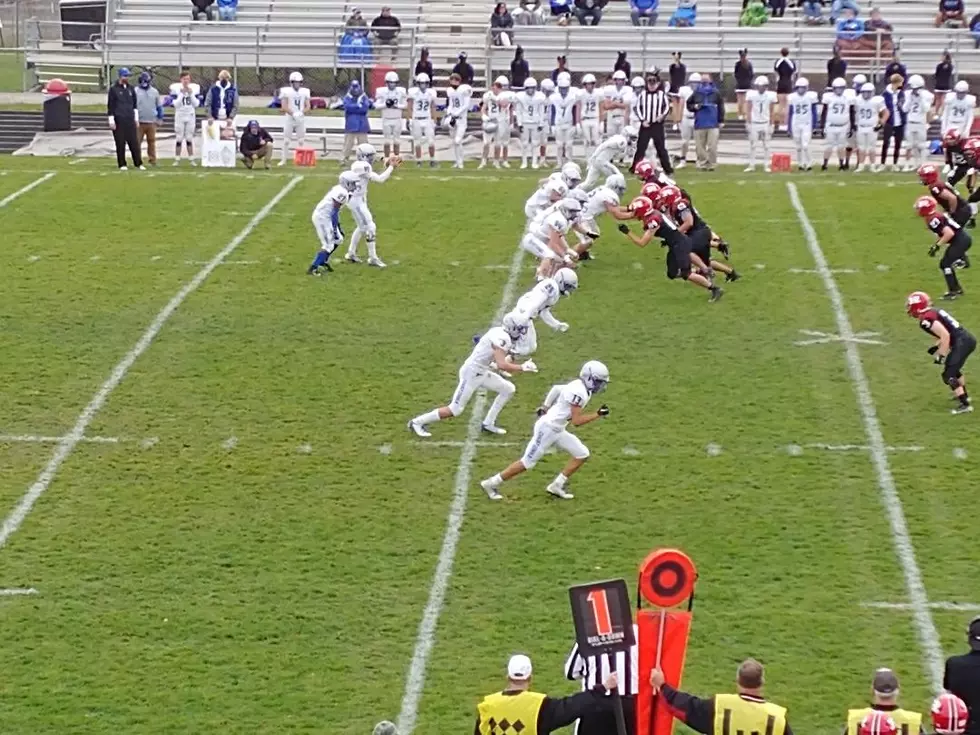 Huskies Run Away from Rockets
Roy Koenig/TSM
Owatonna started the third quarter with the ball and just a 14-0 lead, marching into a stiff wind at John Drews Field at John Marshall High School Saturday afternoon. The Huskiies proceeded to dominate the quarter with a rushing attack that couldn't be stopped on their way to a 40-0 win over coach Jeff Williams alma mater and a 2-0 start on the season.
OHS surpassed 300 yards on the ground with a stable of backs getting their turn carrying the ball. Senior Tanner Hall had 18 carries for 108 yards. Senior Matt Seykora rushed 35 yards on four early carries. Junior Dylan Maas took eight handoffs for 48 yards and a pair of electrifying touchdown dashes. Junior Nick Williams also had eight carries, going for about 40 yards.
Then the young guys got their cracks. Sophomore Conner Grems got eight carries for nearly 60 yards, including a 32-yard run and a two-yard touchdown plunge. Fellow tenth-grader Drew Kretlow also had several runs.
Enter your number to get our free mobile app
Senior quarterback Brayden Truelson had two short TD runs plus a finely placed scoring pass to senior Payton Beyer to complete the first drive of the second half and extend the lead to 20-0. The nine-play, four-and-a-minute march was mainly focused on the ground game. Owatonna pass protection still being a work-in-progress, plus the aforementioned strong breeze likely factoring into the play calling.
JM's first drive of the second half ended the same way their last two drives of the first half ended, with an athletic OHS interception. In the third quarter, senior Connor Budach made a diving grab of a tipped ball. That led to a short 38-yard drive, the first of Maas' touchdowns, and a 26-0 lead.
John Marshall's senior signal caller was picked off on consecutive plays in the second quarter. Junior Tanner Stendel tipped a pass with his left hand then hauled it in late in the second quarter. That drive ended with a punt.
On the Rockets next play, senior Zach Stransky made a back-pedaling, leaping one-handed interception. Owatonna's defense held the Rockets to 99 yards in the first half and just six total yards after halftime.
The Huskies threw for about 90 yards in addition to the 310 on the ground. Owatonna (2-0) will host Rochester Century (1-1) Friday, October 23 at 7 pm at the OHS Stadium to mark the halfway point of the abbreviated regular season schedule.
In addition to the multitude of running backs, OHS coaches worked in numerous combinations along the offensive and defensive lines and rotated many players at other positions as well.
Owatonna 7-7-12-14, 40
Rochester JM 0-0-0-0, 0
First quarter
Truelson, 2-yard run, 2:14 (Versteeg kick)
Section quarter
Truelson 5-yard run, 6:25 (Versteeg kick)
Third quarter
Beyer 5-yard pass from Truelson, 7:34 (kick failed)
Maas 15-yard run, 3:33 (two-point try failed)
Fourth quarter
Maas 17-yard run, 11:20 (Versteeg kick)
Grems 2-yard run, 6:18 (Versteeg kick)
LIST: 10 Best Things About Minnesota in the Fall
Owatonna Homecoming: Cruise Main
YIKES: Look Inside Minnesota's Least Expensive Home