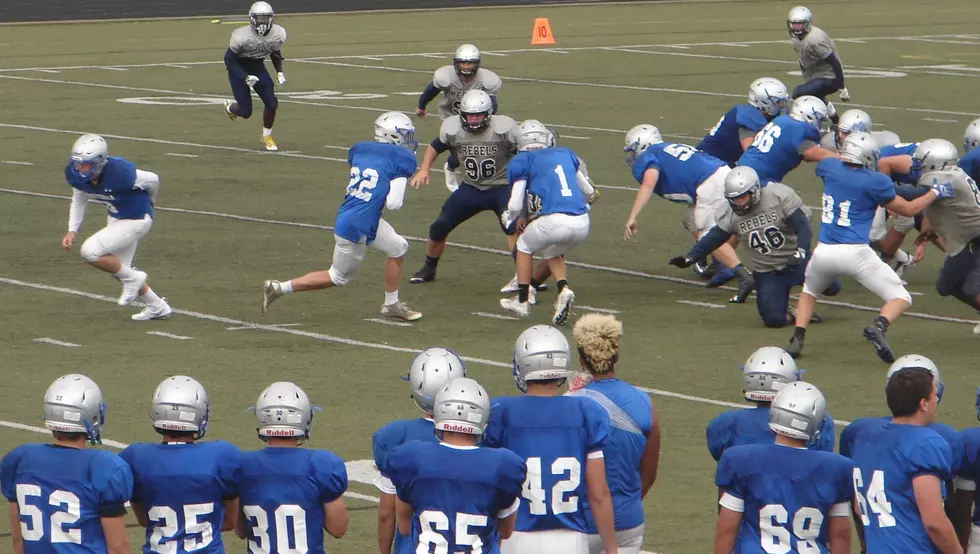 Huskies Move the Football Against Cougars and Rebels
Roy Koenig/Townsquare Media
Owatonna scrimmaged against a pair of Class 6A teams on Saturday and looked quite good. The Huskies, a 5A team, scored several touchdowns and were difficult to score against. Starting on offense against Lakeville South, OHS nearly scored on their first play but a pass connection from Abe Havelka to Dalton Kubista just missed. The two later combined on a nice completion against Champlin Park to set up the Huskies at the one-yard line.
South scored on their first offensive play, but overall were held in check by an Owatonna defense that returns many starters. The Rebels, considered one of the top teams in Minnesota's large school class, scored on a couple of long plays against a mix of Huskies' starters and reserves.
Havelka went 9-for-12 for nearly 100 yards and a touchdown, according to @OPPJonW. Alex Raichle made a sliding catch against South for that touchdown. Noah Budach had 6 receptions for 58 yards.
Running back Jason Williamson was used sparingly. Offensive lineman Kadyn Mulert was in street clothes. Fellow lineman Terrell Conner left early with a shoulder injury and did not return. A light, persistent rain fell through most of the scrimmage, which was switched from Lakeville South the Lakeville North High School due to the artificial turf there.
The Huskies open their season against Faribault on Friday, September 1, at OHS. The Falcons beat OHS last season.
The scrimmage ended on a light-hearted note as several Owatonna coaches and managers wrestled with a well-worn tarp. Fans applauded as they finally folded it in the windy conditions.