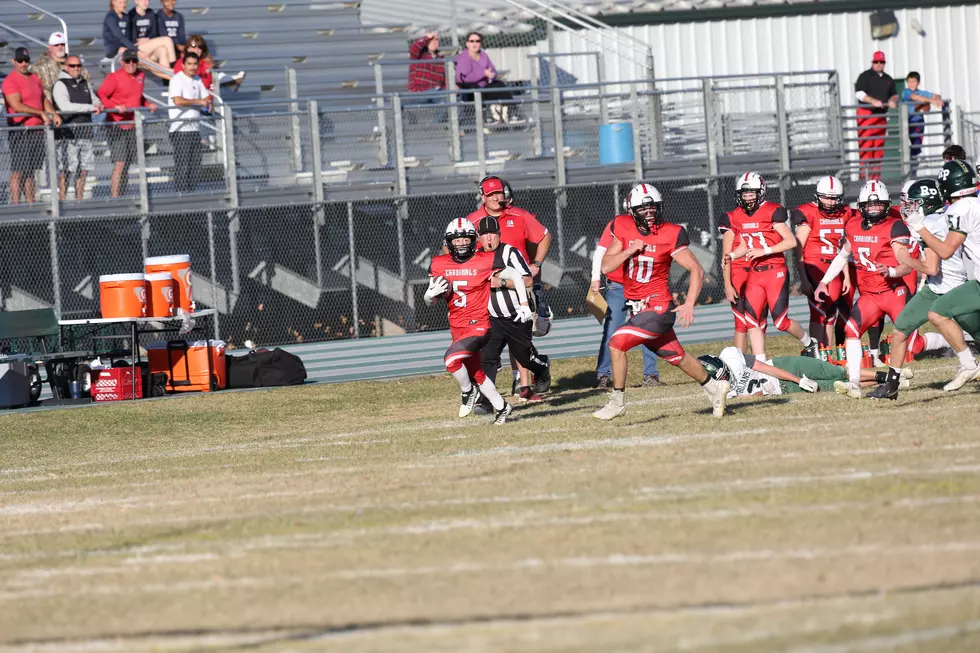 Bethlehem Academy Football in Section Final
Oliver Linnemann Returns a Interception vs R-P. Photo provided by Todd Rost
The Bethlehem Academy Cardinals rolled up 42 points on the defending Section 1A Champion Rushford-Peterson Trojans at Bruce Smith Field in Faribault Saturday.
The final score was 42-20 with 14 of the Trojans points coming in the fourth quarter.
The Cardinals amassed 396 yard of offense and held R-P to 172 total yards.
The BA attack was as balanced as it gets with 200 yards passing and 196 yards on the ground.  The Cardinals had 35 runs and 21 passes attempted.
Rysgfird-Peterson had 116 yard through the air and 56 yards on the ground.  They ran 30 times and threw 21.
Head Coach Jim Beckmann told KDHL during the Faribault Coaches Show at Bashers earlier in the day he wanted his team to match the physicality of their opponent.
The Cardinals ended the game with 5 turnovers forced while committing one.
With Halloween approaching the scary thing for opponents of BA is the fact they are young,
Bethlehem Academy set the tone in the first quarter with the first Touchdown a pass from back/receiver Oliver Linnemann to Hudson Dillon for 11 yards.  Quarterback Elliott Viland threw the football to Linnemann successfully for the two point coversion.
That score came with 5:54 to go in the quarter,
The Cardinals then scored with 3:22 to go in the first quarter on a 3 yard Derrick Sando  run.  Sando tried to run in for the two point conversion but was stopped.
With 39 seconds to go in the half Rushford-Peterson scored on a 8 yard pass from Grady Hengel to Dalton Hoel.  A pass for the two point coversion was not successful.
Halftime score was 14-6 Cardinals.
BA pitched a shutout in the third quarter while scoring with 8:18 to go on a Oliver Linnemann run of 18 yards,  Viland threw to Dillon for the two point conversion.
At 5:54 Linnemann bolted for a 51 yard touchdown.  The Bo Bokman two point run attempt was unsuccessful.
With 9:11 to go in the game the Cardinals scored on a Bokman 8 yard run with Viland running in for the two points to make the score 36-6.
4:31 to go Riley Tesch connected with Sampson Wilkemeyer for 44 yards.  A pass attempt for two points missed.
1:53 Viland threw a 35 yard touchdown pass to Linnemann.  Two point run by Bokman was no good.
On the following kickoff Dalton Hoel had a 82 yard touchdown run with two points scored on a Tesch to Miles Anderson pass.
BA had 21 first downs, 11 rushing, 9 passing, 1 by penalty.
R-P had 12 first downs, 4 rushing, 6 passing, 2 by penalty.
Both teams finished the game with 5 penalties.  The Cardinals for 55 yards, Trojans 33 yards.
Bo Bokman ran for 110 yards on 20 carries.  Oliver Linnemann ran 4 times for 82 yards and a score, caught 4 passes for 101 yards and a score and threw an 11 yard touchdown pass.
Elliott Viland completed 10 of 20 passes fpr 189 yards and a score and ran for 3 yards.
Hudson Dillon had 4 pass catches for 91 yards and a touchdown.
Dillon also had 3 interceptions in the game, Linnemann 1.
Michael Crone and Bo Bokman each completed a sack and the Cardinals defense had 10 tackles for loss in the game,  Bokman with 3, Barak Barner with 2 to lead the way.
Bokman finished with 8 solo tackles, Derrick Sando had 5.5 tackles, 4 solo to lead the tackle charts.
Fillmore Central defeated Randolph 49-20 in the other Section 1A Semifinals game to remain undefeated.
The Falcons (10-0) defeated the Cardinals (8-2) 28-14 in Faribault on September 24, 2022.
Coach Beckmann believes his team has improved a lot since then.  The Cardinals only other loss was in their season opener 21-0 to Lester Prairie who is playing Mayer Lutheran for the Section 2A title.
The Falcons and Cardinals will take their bird fight to Wescott Field in Austin Friday, November 4, 2022 at 7:00 p.m.
The game will be broadcast on POWER 96 Radio, 95.9 FM and worldwide on the FREE POWER 96 app.
Here are some other area Section results.
Section 1AA:  Chatfield 51  Goodhue 14,  Caledonia 40 St. Charles 13.  The Gophers play the Warriors 7:00 p.m. Friday, November 4, 2022 at Kasson.
Section 1AAA:  Cannon Falls 67  LaCrescent 33, Plainview-Elgin-Millville 17 Rochester Lourdes 14.  The Bombers Section title re-match with PEM is Friday, November 4, 2022 at Rochester Regional Sports Stadium.  The game will be broadcast on KDHL Radio, 920 AM, 97.9 FM and FREE KDHL app.
Section 1AAAA: Stewartville 56  Byron 0, Kasson-Mantorville 29  Winona 5. The Tigers and KoMets square off Friday, November 4, 2022, 7:00 p.m. at Rochester Mayo High School.
Section 1AAAAA: Rochester Mayo 49 Rochester Century 13, Owatonna 17 Northfield 14.  The Spartans host the Huskies Saturday, November 5, 2022 at 7:00 p.m.
Section 1 9-Man:  Spring Grove 47 Grand Meadow 6, Lanesboro 36 Mabel-Canton 6.  The Lions and Cougars play Friday, November 4, 2022 at 7:00 p.m. at Triton High School in Dodge Center, Mn..
Section 2A:  Lester Prairie 43 United South Central 6, Mayer Lutheran 35 Gibbon-Fairfax-Winthrop 12.  The Knights and Crusaders collide Friday, November 4, 2022 7:00 p.m. at New Prague High School.
Section 2AA: St. Clair/Loyola 42 Blooming Prairie 14, Blue Earth Area 38 Maple River 6.   The Spartans and Bucs play Friday, November 4, 2022 7:00 p.m. at JWP Football Stadium.
Section 2AAA:  Dassel-Cokato 14  Litchfield 7, Watertown-Mayer 44  Providence Academy 5.   Royals face Lions on Friday, November 4, 2022 7:00 p.m. at Buffalo High School.
Section 2AAAA:  Hutchinson 52  Jordan 7, Marshall 24  Willmar 13.  Tigers and Cardinals square off Friday, November 4, 2022 at Hutchinson.
Section 2AAAAA:  Mankato West 31 Chaska 6, Chanhassen 17  Waconia 13.  Scarlets host Storm Friday, November 4, 2022 at 7:00 p.m.
Section 2 9-Man:  Renville County West 44 Sleepy Eye St. Mary's 6, Hancock 32 Cedar Mountan-Comfrey 14.  Jaguars and Owls play Friday, November 4, 2022 at Lakeview High School in Cottonwood.
Obviously not all section finals are held at neutral sites on turf fields.  Mankato West is natural grass and they host.
Section 2AAAA top seed Hutchinson is home just as they were last year against Faribault in Section final.
Section 1AAAAA will be played at Rochester Mayo on Saturday night.  In the past Owatonna has hosted the final on their natural grass surface when they were the top seed.
Evidently the section coaches or activity directors decide where the title games will be held.
Check out our NEW Minnesota High School Sports Scoreboard! You can quickly and easily check mn sports scores sorted by school, sport, conference, or football district.
For the best experience, download our Free App to check Minnesota State High School Sports Scores on the Go📲
LOOK: How Halloween has changed in the past 100 years
Stacker
compiled a list of ways that Halloween has changed over the last 100 years, from how we celebrate it on the day to the costumes we wear trick-or-treating. We've included events, inventions, and trends that changed the ways that Halloween was celebrated over time. Many of these traditions were phased out over time. But just like fake blood in a carpet, every bit of Halloween's history left an impression we can see traces of today.