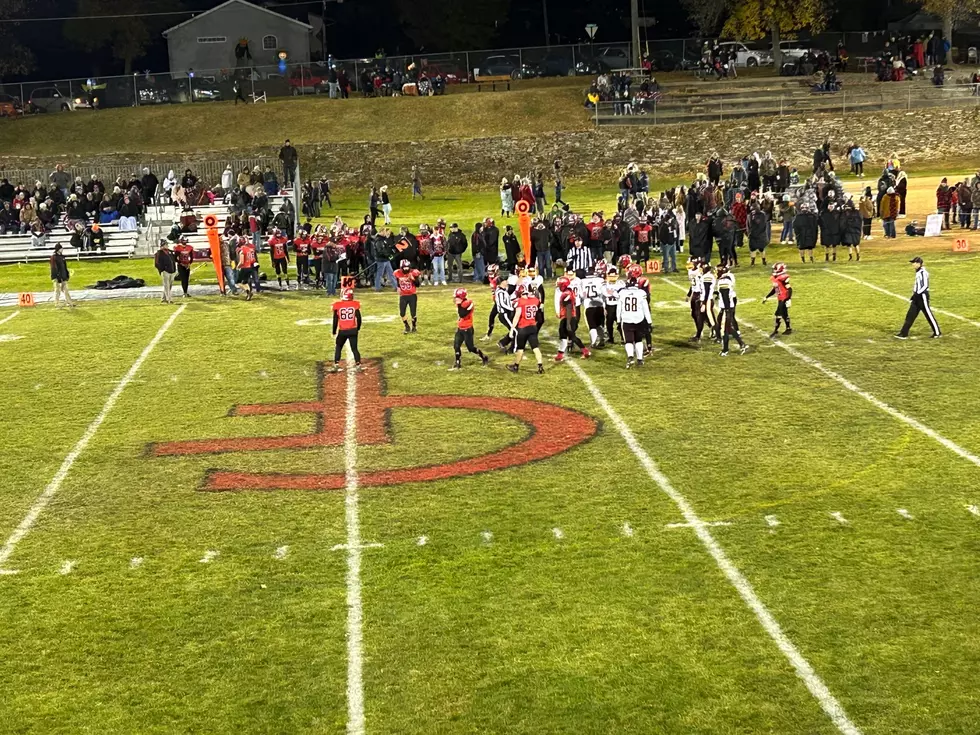 Cannon Falls in 7th Straight Section Final Football Game
Cannon Falls vs Pine Island at John Burch Park. Photo by Gordy Kosfeld
The Cannon Falls Bombers outscored LaCrescent 67-33 Saturday to advance to their 7th consecutive Section Final.
The title contest will be a re-match of last year when Plainview-Elgin-Millville defeated  the Bombers 21-18 with a late score by the Bulldogs.
PEM then made it to the State title game before losing to Dassel-Cokato 28-21.
PEM upended Rochester Lourdes 17-14 Saturday to get back to the Section Championship game.
This will be the 10th Section Title game for Cannon Falls with 9 of them over the past decade. The only other time it happened was 1996.
The past six have been under Head Coach Dan Meyers in his six years of being in the lead position.
Saturday Cannon Falls ran their Power Triple T Offense with great efficiency scoring 9 touchdowns on the ground in 56 rushes.  They did not throw a single pass.
Logan Anderson-Rosebear led the Bombers attack with 155 yards and two scores on 14 carries.  Quarterback Colton Otto ran 7 times for 127 yards and three scores.
Dylan Bank had 79 yards on 7 carries.  Sam Shepersky darted 7 times for 63 yards and two TD's.  Ten different players ran with the football for Cannon Falls.
The defense forced 2 turnovers.  Colten Black forced and recovered a fumble and Colton Otto achieved a interception.  Black also had 2 sacks.
The Bombers had 4 sacks, 8 tackles for loss with Jonathan Banks collecting 14 total tackles, 5 solo.
Jack Meyers had 9 total, 6 solo, Sam Shepersky 8 total. Talen Duden 8 total, a sack, 2 tackles for loss.
Cannon Falls and Plainview-Elgin-Millville played the second game of the season with the Bombers winning at PEM 24-18.
The Bulldogs other losses were to Lourdes 27-8 and LaCrescent 42-26.  PEM is 7-3, Cannon Falls 9-1.  The Bombers only loss was to Rochester Lourdes week five 24-22 on a field goal late in the game at Rochester.
The Section 1AAA Championship will be broadcast on KDHL Radio, 920 AM, 97.9 FM, FREE KDHL app worldwide Friday, November 4, 2022 at 6:45 p.m. from Rochester Regional Sports Stadium.
Check out our NEW Minnesota High School Sports Scoreboard! You can quickly and easily check mn sports scores sorted by school, sport, conference, or football district.
For the best experience, download our Free App to check Minnesota State High School Sports Scores on the Go📲
Funny Signs That Will Make You Giggle
We all love a good laugh. Actually, we all NEED a good laugh every once in a while. Here are a few signs that people have captured on camera that might help bring you a few giggles.