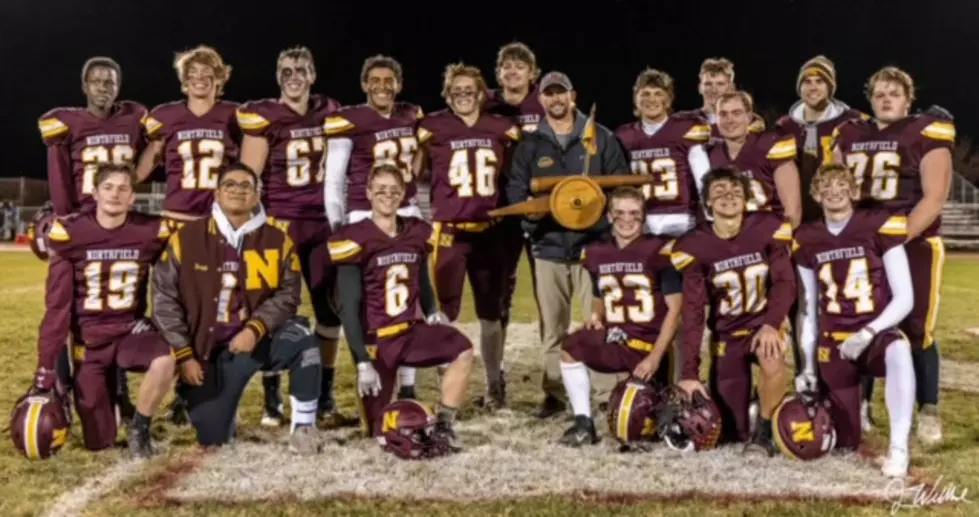 Minnesota Football Playoffs Begin Tuesday for Most Area Teams
Northfield Seniors & Head Coach Pose with Cannon Trophy. Photo Provided by Jim Wellbrock
The Faribault Falcons will make a long road trip Tuesday while the Bethlehem Academy Cardinals football team is the #2 seed in Section 1A meaning home cooking for them.
The Falcons are the #6 seed in Section 2AAAA which means they go to Willmar because the top two seeds in their section get byes.
Defending Section 2 and State Class AAAA Champion Hutchinson is the #1 seed and Marshall #2.
The winner of the Faribault at Willmar Tuesday game will go to Southwest State Minnesota University to play Marshall on Saturday evening at 6:00 p.m.
#4 seed Jordan is home Tuesday night to face #5 St. Peter.  Winner gets top seed Hutchinson 3:00 p.m. at SMSU.
The Cardinals defeated Rushford-Peterson 20-13 at Bruce Smith Field in Faribault Wednesday night to gain the #2 seed.
Fillmore Central is the top seed in Section 1A meaning they have Wabasha-Kellogg coming to Harmony.
The Bethlehem Academy game will be broadcast on POWER 96 Radio, 95.9FM and FREE POWER 96 app. Unfortunately the semi-finals are played in the afternoon at 2:00 p.m. so we won't be able to broadcast that contest due to our contractual obligations with Carleton and St. Olaf MIAC Conference football.
#4 seed Randolph will have #5 Kenyon-Wanamingo return to their place.  The Rockets edged the Knights on the first weekend of this month 12-6 in a great defensive contest.
That game will be on KDHL Radio, 920 AM, 97.9 FM, FREE KDHL app.  The winner would more than likely head to Fillmore Central Saturday afternoon.  The title game is scheduled for Friday, November 4, 2022 at 7:00 p.m. at a site to be determined.
Section 1A #3 seed Rushford-Peterson has #6 Hayfield visit them Tuesday night.
If BA wins they would host the Rushford-Peterson vs Hayfield winner on Saturday afternoon at 2:00 p.m.
Section 1AA will be interesting with defending State Champion Chatfield gaining top seed following a 28-20 win over Goodhue in Wildcats Country Wednesday night.
The Gophers will play Lewiston-Altura in the Section of eight teams with no byes.
#2 Caledonia hosts Cotter and #3 Triton will have the St. Charles Saints march into DodgeCenter Tuesday night.
Section 1AAA has top seed Rochester Lourdes resting while #2 Cannon Falls is home against their Homecoming opponent last Friday Pine Island.  That game ended with the Bombers scoring a school record 80 points.
#3 LaCrescent has #6 Zumbrota-Mazeppa travel to the Minnesota eastern border Tuesday night.
#5 Lake City is at #4 Plainview-Elgin-Millville Tuesday.
Section 1AAAA top two seeds Stewartville and Kasson-Mantorville have byes in their six team tournament.  #3 Winona entertains #6 Albert Lea while #4 Byron hosts #5 Red Wing.
Section 1AAAAA also has the top two team receive byes. #1 Rochester Mayo, #2 Owatonna.
#3 seed Northfield will entertain #6 Rochester John Marshall while #4 Rochester Century will have #5 Austin on their field.
Section 1 9-man top seed Spring Grove plays #8 Houston while #2 Lanesboro entertains #7 Southland.
#3 Mabel-Canton has #6 Leroy-Ostrander at the Cougars field while #4 Grand Meadow hosts #5 Lyle-Pacelli.
Section 2A top seed Lester Prairie open Tuesday against Cleveland/Immanuel Lutheran while #2 Mayer Lutheran has #7 New Ulm pay them a visit.
#3 Gibbon-Fairfax-Winthrop is home against #6 Janesville-Waldorf-Pemberton.
#5 United South Central goes to #4 Alden-Conger/Glenville-Emmons.
Section 2AA top seed St.Clair/Loyola will have #8 Waterville-Elysian-Morristown report to the Mankatop Loyola Campus.
#2 Blue Earth Area has #7 LeSueur-Henderson visit them Tuesday while #3 Maple River hosts #6 New Richland-Hartland-Ellendale-Geneva.
#4 Blooming Prairie and #5 Medford just played Wednesday with the Awesome Blossoms winning by a flower petal 19-18.
Check out our NEW Minnesota High School Sports Scoreboard! You can quickly and easily check mn sports scores sorted by school, sport, conference, or football district.
For the best experience, download our Free App to check Minnesota State High School Sports Scores on the Go📲
The Four Deadliest Jobs in Minnesota
Below you'll see the four most dangerous occupations in Minnesota according to
knowyourrights.com.
Did your job make the list?