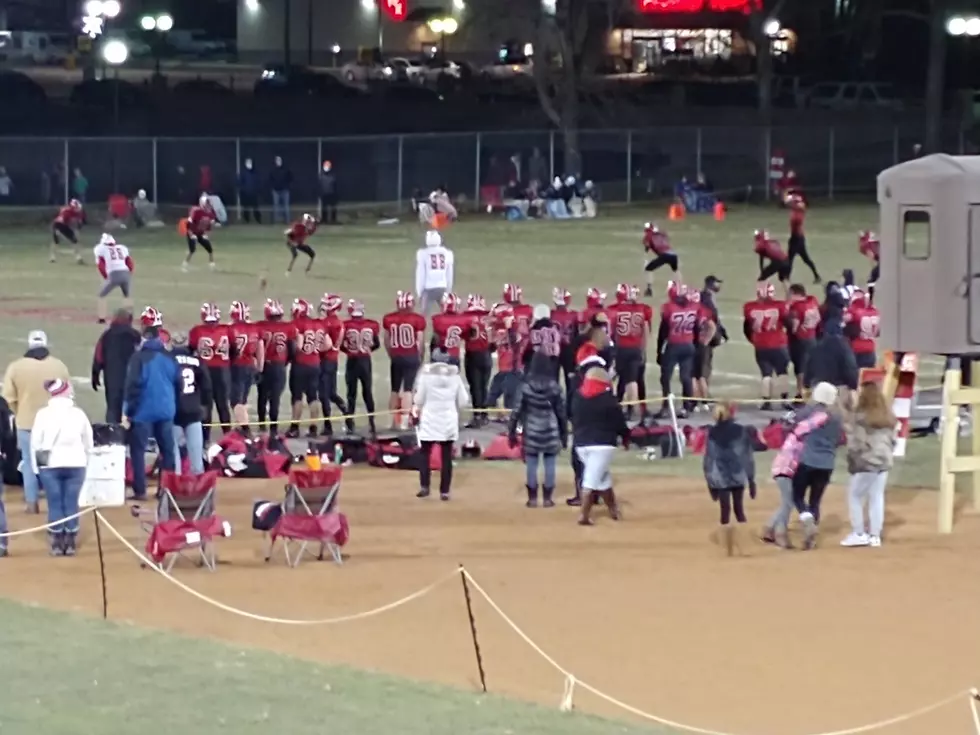 Cannon Falls Stampedes their Way to Section 1AAA Final
John Burch Park Cannon Falls Kickoff vs St. Croix Lutheran. 2020.
The Cannon Falls Bombers rushed for 426 yards in their 50-21 win over the Rochester Lourdes Eagles at John Burch Park Saturday night.
Carson Hammel led the way with 252 yards, 3 touchdown on 18 carries.  The Bombers defense gave up 189 total yards to a Lourdes team that came into the game playing very well.
Cannon Falls will tangle with Plainview-Elgin-Millville for the Section title Friday, November 5, 2021 at Rochester Regional Sports Stadium.  The game will be on KDHL Radio, 920 AM, FREE KDHL app.
PEM bested Lake City 23-7 in Lake City.  Cannon Falls is the top seed in the Section, Lake City was #2, Plainview-Elgin-Millville #3.
The Bombers scored with 9:43 left in the first quarter on a 1 yard run by Jon Banks, two point play failed.  Carson Hammel then scored on a 82 yard run with 7:58 to go.  Two point run by quarterback Colton Otto was good.
The Eagles answered with a 1 yard TD and kicked the extra point successfully.
8:08 to go in the half Otto connected with Kal Anderson on a 5 yard touchdown.  Otto threw to Riley Keenan for the two point conversion.
Hammel finished the Cannon Falls first half scoring with a 25 yard TD at the 4:19 mark.  The two point play failed.
Lourdes got a 45 yard touchdown run with 1:15 to go.  Extra point kick successful.
Halftime score was Cannon Falls 28, Rochester Lourdes 14.
6:36 to go in the third quarter Hammel got in the end zone from 3 yards out.  Otto passed to Keenan for the two point conversion to make the score 36-14 going into the final quarter.
Otto connected with Beau Zimmerman on a 4 yard score with 8:50 to go in the game.  Spencer Krinke kicked the extra point.
The Eagles got a 5 yard TD run and kicked the extra point.
4:30 to go Colten Black scored on a 22 yard run.  Krinke kicked the extra point.
Cannon Falls had 8 different player rush in the game and 4 of them scored.
Totals were 53 runs for 426 yards, 6 TD's.
Otto added two TD's on passes while going 3 of 6 for 31 yards.  He also ran for 42 yards.
Black led the Bombers in tackles with 7.  Sam Shapersky added 5 and four other players had 4 total tackles.
Cannon Falls defeated Rochester Lourdes on a last second field goal by Krinke at John Burch Park on September 10, 2021, nine days after his Grandfather died in Faribault.
It was also the day of his Grandfather, Bruce Krinke's Visitation.  The next day the funeral service was held.
Cannon Falls defeated PEM in downtown Cannon Falls on October 15, 2021 52-26.
Their only loss was at home against Chatfield 44-34 Saturday, October 2, 2021.
Here are some other Section football results from the area.
Section 1AA  Chatfield 54  Triton 0, Goodhue 48 Lewiston-Altura  28
Final #1 seed Chatfield vs. #2 seed Goodhue at KM Telecom Stadium Kasson 7pm Friday
Section 1A Rushford-Peterson 21 Randolph 14, Fillmore Central 21 Beth Acad. 16
Final #1 Rushford-Peterson vs #2 Fillmore Central 7pm Friday at Winona
Section 2AA  Blooming Prairie 49  St. Clair/Loyola 17, Maple River 8  BEA 7 (OT)
Final #1 Blooming Prairie vs #2 Maple River at J-W-P Field 7pm Friday
Section 1AAAA  Byron  22 Stewartville 21 (OT), K-M 45 Winona 14
Final #3 Byron vs. #2 Kasson-Mantorville at Rochester Mayo 7pm Friday
Section 1AAAAA  Rochester Mayo 49 Rochester Century 29,  Owatonna 33 Northfield 7
Final #1 Rochester Mayo vs. #2 Owatonna  MSHSL Bracket says 7pm Saturday at site TBD. Other reports are Mayo hosts Saturday at 7pm.
Section 2A Mayer Lutheran 35  United South Central 0, GFW 40 Lester Prairie 14
Final #1 Mayer Lutheran vs. #2 Gibbon-Fairfax-Winthrop at New Prague 7pm Fri.
Section 2AAAAA Mankato West 51  New Prague 0, Chaska 17 Waconia 0
Final #1 Mankato West vs. #2 Chaska 7pm Friday at Mankato West
Section 1 9-man Lanesboro 45  Southland 25, Leroy-Ostrander 39 Grand Meadow 34
Final #1 Lanesboro vs. #3 Leroy-Ostrander 7pm Friday at Triton in Dodge Center
Section 2AAAA Faribault 35  Wilmar 28, Hutchinson 49  St. Peter 12
Final #1 Hutchinson vs #3 Faribault at Hutchinson Friday, November 5, 2021
You might be interested in knowing this.
Answers to 25 common COVID-19 vaccine questions
Vaccinations for COVID-19 began being administered in the U.S. on Dec. 14, 2020. The quick rollout came a little more than a year after the virus was first identified in November 2019. The impressive speed with which vaccines were developed has also left a lot of people with a lot of questions. The questions range from the practical—how will I get vaccinated?—to the scientific—how do these vaccines even work?
Keep reading to discover answers to 25 common COVID-19 vaccine questions.