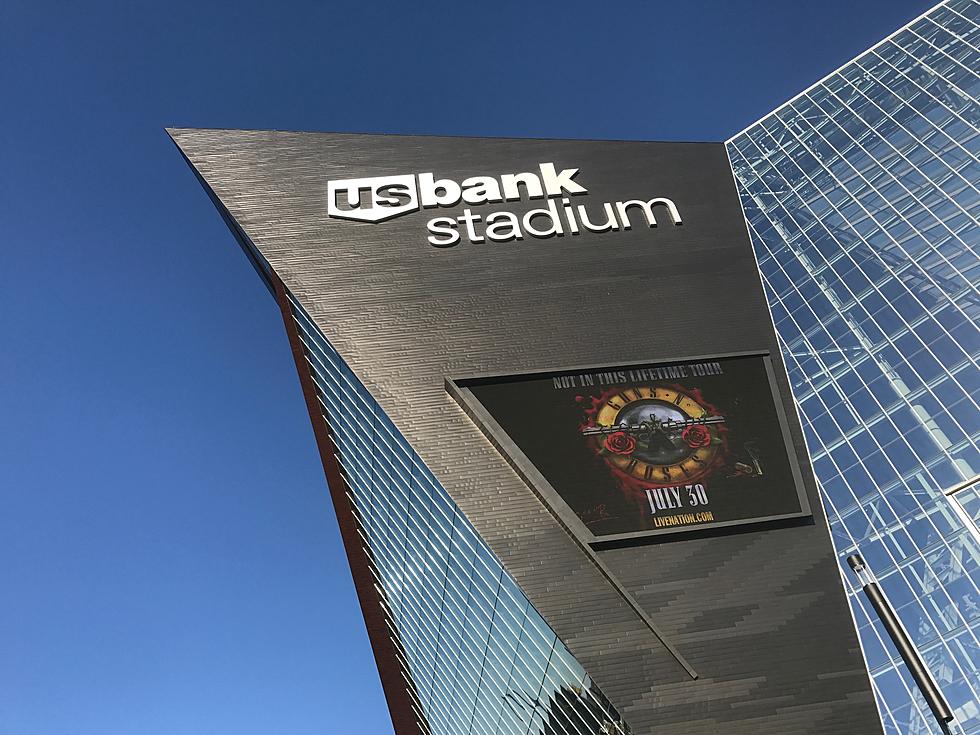 MSHSL Friday Football Championship Results
US Bank Stadium. File Photo by Gordy Kosfeld
The MSHSL Prep Bowl spanned over Friday and Saturday at US Bank Stadium in downtown Minneapolis before the Vikings thrilling win over the New York Jets.
Four champions were crowned Friday, three Saturday to conclude the 2022 high school football season in Minnesota.
In Class A a familiar team captured the title.  The Minneota Vikings were behind 13-10 at the half before holding the Springfield Tigers to 8 second half points while putting 28 on the scoreboard for a 38-21 win.
Minneota lost to Mayer Lutheran last season.  It was the 8th state title for the Vikings in football.
The Vikings held the Tigers to 27 total yards rushing while they wracked up 243 yards and 5 touchdowns.
Minneota quarterback Isaac Pohlen, 5'10, 170, senior,  was 5 of 7 passing for 97 yards and a interception.
Springfield quarterback Jakob Nacchreiner, 5'10, 160, threw for 182 yards on 11 of 21 passing with 2 scores, and a pick.
Zack Fier, 5'11, 175. sr., led the Vikings rushing attack with 124 yards on 30 carries and 2 scores.  Lucas Rybinski, 5'9, 145, so.. carried the ball 4 times, scoring twice.  Ryan Meagher, 5'9, 175, so., had the other score.
Nachreiner's touchdown throws were to Carter Olson, 6'0, 170, jr., for 16 yards and Sam Pidde, 5'7, 130, jr., for 37 yards.
Springfield finished the game with 209 total offensive yards.  Minneota 340.  Time of possession clearly favored the Vikings 34:29 to 13:31.  The Vikings were 3 for 3 on 4th down conversions, 4 for 10 third down.
The Tigers were 6 of 11 on third down and did not attempt a fourth down conversion in the game.  Minneota had 63 offensive plays and Springfield 40.
The Barnesville Trojans defeated Class AA defending champion Chatfield 35-20.  The Gophers trailed 23-14 at the half and 29-14 going into the fourth quarter.
Chatfield quarterback Sam Backer, 6'0, 195, sr., had all but 5 of the carries in the game for his team with 182 yards and two scores and was 7 of 15 passing for 111 yards, a touchdown and 4 interceptions.
Backer's all-purpose yards were 255 when adding punt and kick returns.
Nine different people had rushes for Barnesville with 44 carries for 235 yards led by John Rolle, 6'0, 175, sr., amassing 103 yards.  Tight end Tate Inniger, 6'3, 265, sr., rushed for a touchdown, caught 3 scores and completed a 12 yard pass.
Thd Trojans only threw the ball 6 times with 5 completeions for 69 yards.
Owen Riddle, 6'4, 185, sr., had 2 interceptions for Barnesville, Ethan Larson, 6'2,190, jr., 1 and Gannon Bolgrean, 5'10, 150, so., 1.
Chatfield finished the game with 316 yards compared to Barnesville's 304.  The Gophers were 2 of 8 on third down and 3 for 3 on 4th while the Trojans were 3 of 9 on third down and 2 for 2 on 4th down conversions.
The difference in the game without a doubt were the 22 points scored off Chatfield turnovers by Barnesville.
The Simley Spartans downed defending Class 4A Champion Hutchinson 34-24 by scoring twice in the final 3:10 to go in the gamer.
The Tigers led 16-13 at the half and took a 24-20 lead with 6:15 to go in the game.
Hutchinson accumulated almost 100 more yards in total offense but it's the scores that count.  The Tigers had 368 total yards, Spartans 286.
Hutchinson rolled up 322 yards on the ground with 3 scores on 55 runs while Simley finished with 196 yards rushing and 2 touchdowns.
Caden Renslow, 6'0, 180, sr., was 7 of 8 passing for Simley for 90 yards and two touchdowns. He also scored two rushing TD's while Logan Butler, 6'3, 180, jr., was 4 of 9 for 46 yards and was intercepted twice.
Andrew Ladwig, 5'9, 180, sr., paced the Tigers with 224 yards on 29 rushes and 3 scores.  Hutchinson ran 62 offensive plays, Simley 38.
Points off turnovers again key with 13-0 in favor of the Spartans.
The 6A State Champions are the Maple Grove Crimson after a 27-10 win over the Rosemount Irish.
Both teams were undefeated going into the contest.
The Crimson led 21-10 at the half and pitched a 6-0 shutout in the second half to win their first-ever football title.  They finished second last year losing to Lakeville South 13-7.
Maple Grove was able to hold the Irish to 38 yards on 7 of 10 passing while they completed 7 of 11 passes for 128 yards and a touchdown.
Senior Charlie Rausch,  rushed 13 times for 74 yards for the Crimson.  Senior quarterback Jacob Kilzer scored twice on runs and was 7 of 11 for 124 yards and a 45 yard touchdown to senior Jacob Anderson.
Rosemount quarterback Landon Danner, junior, was 6 of 8 for 32 yards. including a 7 yard TD to Kyson Leenderts, junior.
Check out our NEW Minnesota High School Sports Scoreboard! You can quickly and easily check mn sports scores sorted by school, sport, conference, or football district.
For the best experience, download our Free App to check Minnesota State High School Sports Scores on the Go📲
Home in Minnesota's #1 Small Town Has Awesome Views of Area State Park
According to Realtor.com the
number one small town
in the country where people actually want to live happens to be in southern Minnesota: New Ulm! So I decided to shop the houses in New Ulm and found this one that has great views of Flandreau State Park.