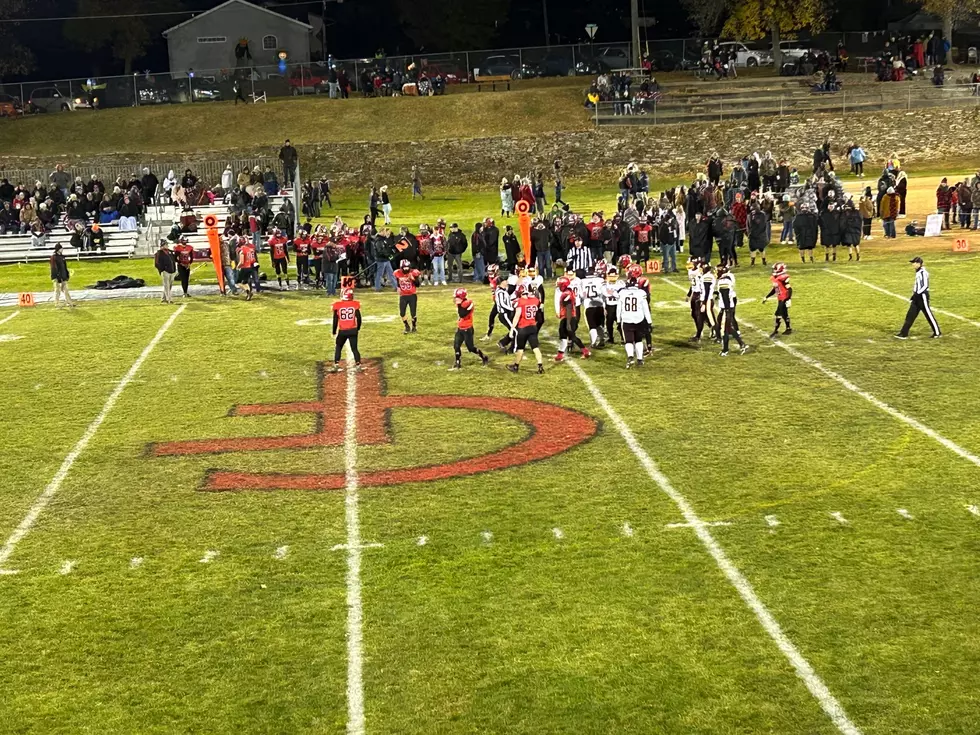 Cannon Falls Football Plays Same Day As Volleyball
Cannon Falls vs Pine Island at John Burch Park. Photo by Gordy Kosfeld
The Cannon Falls Bombers football and volleyball teams both advanced to their respective state tournament this weekend.
They both happen to play on the same day with the volleyball Thursday at 3:00 p.m. at the Excel Energy Center in St. Paul and football at 7:00 p.m. in Hastings.
Chances are as Johnny Mathis would say the volleyball will not start at 3.  The football however should start at 7.
The Bombers volleyball team goes up against Pipestone Area on Court 1.  The football Bombers face Watertown-Mayer.
Caledonia won the first set 25-18 Saturday before Cannon Falls reeled off three straight wins of 25-12, 25-21, 25-21 to advance to their second straight state tournament.
It is no small feat for a team that had to replace it's all-state setter from a year ago.
The football team crushed Plainview-Elgin-Millville 50-6 to avenge last season's loss to PEM in the Section title game.
Talk about a team imposing it's will this game was a great example with senior quarterback Colton Otto scoring 3 times while finishing the game with 74 yards on 9 carries.  Senior Logan Anderson-Rosebear rolled up 135 yards on 16 carries.
Junior Dylan Banks had 82 yards on 6 carries with 2 scores. Senior Colten Black and junior Sam Shepersky each scored.
Cannon falls had 419 yards on the ground with 58 runs and 7 touchdowns.
The Bombers threw 3 passes with 1 completion the entire game.
On defense the Bombers had five different players  get interceptions in the game and held PEM to 76 total yards.
Head Coach Dan Meyers told KDHL Saturday on the Cannon Falls Coaches Show it was a, "Total team effort. Probably the best game we've played all season."
The Watertown-Mayer Royals avenged an earlier season loss to Dassel-Cokato Friday 47-36.  During the regular season they lost 35-25.
The Royals are 10-1 averaging 36.8 points and allowing 16.6 points per game with an excellent passing attack.  They can also run the ball
The Bombers run the Power Triple-T with passing a rarity.  They are averaging 44.5 points and allowing 20.3 per game this season.  Their only loss was to Rochester Lourdes in their stadium 24-22 with a field goal during the final seconds of the game.
The beauty of the Triple-T is the fact there is no one key guy Watertown-Mayer has to stop.
A defense has to be extremely disciplined to effectively control it.
You know the saying, "Defense wins championships."
Which defense will be able to stop the other team's potent offense is the key in this one.
The winner goes to US Bank Stadium on Friday, November 19, 2022 to play at 4:30 p.m.
The State Championship is scheduled for Saturday, December 3, 2022 at 1:00 p.m.
Check out our NEW Minnesota High School Sports Scoreboard! You can quickly and easily check mn sports scores sorted by school, sport, conference, or football district.
For the best experience, download our Free App to check Minnesota State High School Sports Scores on the Go📲
Thursday's football game will be carried on KDHL Radio, 920 AM, 97.9 FM and FREE KDHL app with your's truly on the call.
Unfortunately we will not be able to carry the volleyball on the radio.
Best and Worst Colors to Wear to a Job Interview