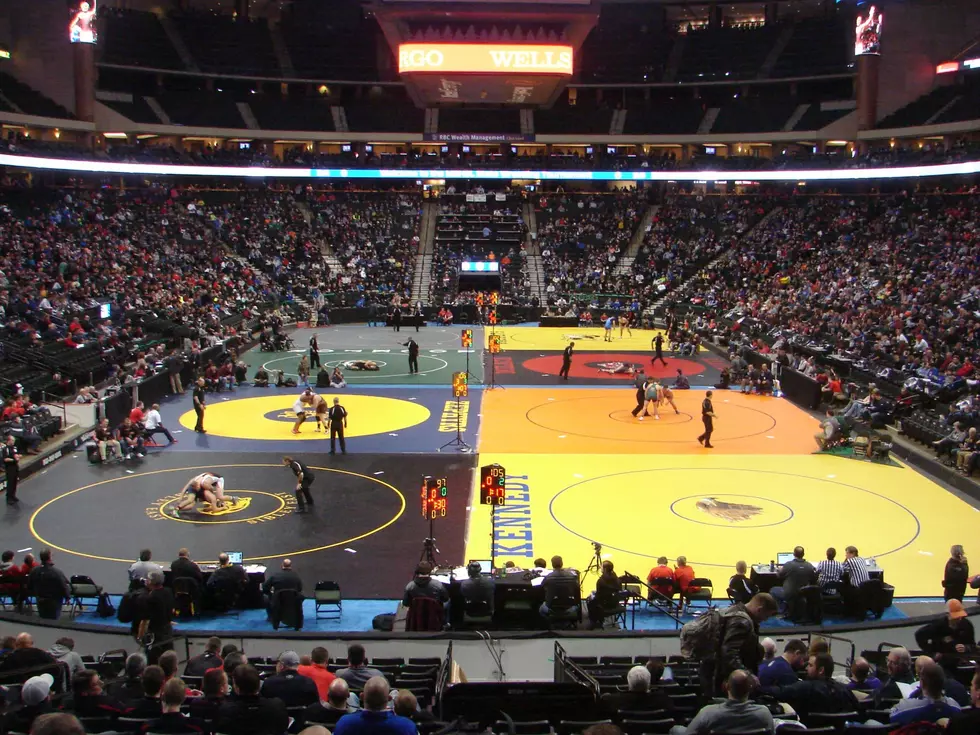 5 Owatonna Wrestlers Qualify for State; Area Schools Send 11
Roy Koenig/Townsquare Media (2017)
Five Owatonna wrestlers punched their ticket to the state tournament with top two finishes in the Section 1AAA Saturday at the Mayo Civic Center in Rochester. Five others finished in third place. The state individual tournament is Friday and Saturday, March 2-3 at Xcel Energy Center in St. Paul. The team tournament is Thursday, March 1.
Top-rated Peyton Robb and Cade King are each unbeaten on the season and each finished as a state runner-up in 2017. Robb (44-0) is a two-time state champion. He finished second at 145 pounds last year. The future Division I wrestler for South Dakota State is at 160 this year. His weight includes three other state place winners from last season. King (40-0) was second at 152 pounds in 2017 and is at 182 this year. His bracket includes Riley Schock (23-0) of Moorhead who was fourth last year at 170 pounds.
Blake West, Parker Westphal and Nick Staska were all second places finishers at the section meet. West could run into Joey Thompson (42-0) but the bracket has no returning place winners. Westphal is at 170 pounds where five previous place winners make for a tough field. Staska is at 195 pounds, where Trey Rogers (42-0) of Hastings is the favorite after a runner-up finish at 182 in 2017.
Third place finishers for the Huskies Saturday included Kaden Nelson, Landen Johnson, Riley Becker, Jerez Autridge and Parker Holton.
The Westfield Razorbacks, the Blooming Prairie-Hayfield coop, send five wrestlers to state. Colton Krell and Morgen Moreno won Section 2A titles on Saturday, while Dylan Nirk, Ethan Arett and Mitchell Oswald took second place. NRHEG has one state qualifier with Tyler Jacobson.
Medford sends three to state. Willie VonRuden and Charley Elwood won section titles. Nate Meixner finished second. Triton's Cole Rasmussen and Hunter Jennings will wrestle at state.