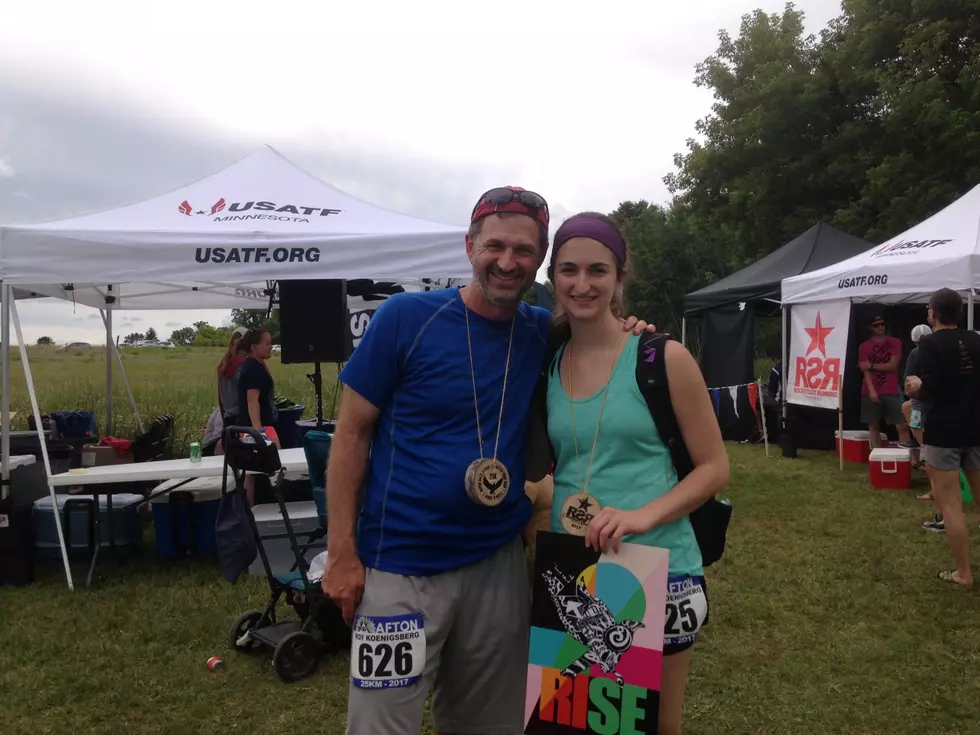 Roy Says Colorado Mountain Climb is Tame Compared with Minnesota Trail Run
Roy Koenig/Townsquare Media
Sometimes its more about the elevation change than the elevation. I have spent a good chunk of July walking, jogging and running hills, trails and mountains.
My wife's family gathers in Colorado most summers, and July Fourth was the designated time this year. Before traveling west, my daughter and I tackled the 25K Afton Trail Run. Cynthia has connected with friends who do these extreme events on a regular basis. I committed to it as a great father-daughter event, though we could have probably found a more leisurely way to spend a Saturday morning together. At one rest stop, an elderly gentleman congratulated us as a husband-wife team. Cynthia quickly corrected him and we have all had a good laugh about it since.
While I trained fairly well for the distance, I was not so prepared for the hills. There were many with some steep inclines both uphill and down, adding up to nearly 5,000 feet of total elevation change. Most participants walked the hills, yet my legs were still aching by the end. Add in the long hill we did a round trip on to get to our campsite, twice, and we covered over 20 total miles. It would be days before I could walk down stairs without holding the railing, or sitting into a chair without simply falling into it. However, during one extended flat stretch toward the end of the course, Cynthia and I were looking forward to a hill so we could walk for a while. We jogged across the finish line, hand-in-hand, held high.
The run was very well organized and a fun experience put together by Rock Steady Running. Multiple aid stations with plenty of food choices and water kept me going along the trail. After crossing the finish line and getting my wooden completion medallion, I proceeded straight to the food line for the unlimited lunch with burgers fresh off the grill. Cynthia's friends found it amusing that food was the first thing on my mind, while several of them needed a little time to gather themselves first. A few of them ran the course twice for 50K.
Then we hopped into the car for the long drive to Colorado. Getting out and in at rest stops was a task of significant discomfort. When we arrived at our destination, we did what people do when they go to the Centennial State, hike mountains. Our climb to the tree line of the West Spanish Peak ends at about 12,000 feet but is a gradual ascent that begins at 11,000 feet and at no point did we try to run. Another hike or two and a one-mile fun run taxed my legs but I made it through the week. I would like to thank my nephew, Chase Norwood, who took many of the pictures that are included in the photo gallery.
Training for the Owatonna Rotary STRIVE Run during the Steele County Fair should be a little easier. My daughter and I are going to enter the lottery for the 10-mile run in association with the Twin Cities Marathon as well.