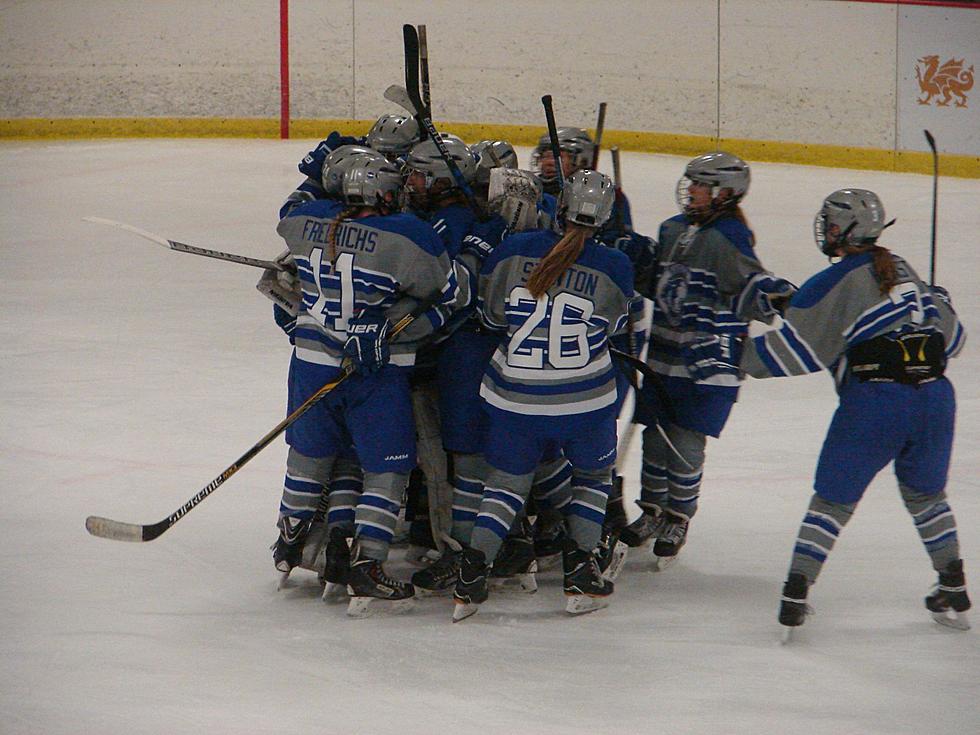 Owatonna Girls Upset Rochester Mayo in Hockey Playoff Opener
Roy Koenig/Townsquare Media
Owatonna's girls' hockey team opened the Section 1AA playoffs with a 3-2 upset win over Rochester Mayo at Graham Arena Wednesday night. The sixth-seeded Huskies never trailed while beating the No. 3 seed Spartans. It was the fourth meeting between the teams this season and Owatonna's second win. In Mayo's two victories they scored late in regulation and won in overtime. The stage was set for a similar finish Wednesday.
OHS senior goalie Laura Ebeling had a great game, making more than 30 saves while getting peppered by the Mayo skaters and that includes several other opportunities that Owatonna's veteran defensive corps disrupted. Senior Margo Achterkirch scored twice after being kept out of the net during the previous three games against Mayo. Her first goal came at 7:04 of the first period off a long stretch pass from senior Jamie Davison that ended with a breakaway.
Rochester Mayo evened the game early in the second period on Devynn Priest's wrap-around goal. The score was tied at 1-1 after two periods despite Mayo out shooting Owatonna 30-11 at that point. Achterkirch broke the tie with a goal at 2:44 of the third. She put the puck on net from close range and Skylee Hughes made the initial save but the puck trickled past her. Chloe Schmidt got the assist. Each of Achterkirch's goal came right after Owatonna finished being on the power play.
The Huskies got a little breathing room when Maylynn Prokopec scored off a great pass from Achterkirch for a 3-1 lead at 13:10. Mayo was killing penalty shortly afterward when Eryn Fjelsted took the puck near the Owatonna blue line and blasted a slapshot past Ebeling to make the score 3-2. Mayo came to full strength in the closing minute and pulled their goalie but didn't get any grade A chance.
Owatonna (16-8) goes to No. 2 seed Lakeville South Saturday, February 10 at 7PM for the semifinals. The Cougars beat Dodge County 6-1. Farmington and Lakeville North meet in the other semifinal. The Tigers buried Rochester Century 14-1 Wednesday and the Panthers edged Northfield 1-0.