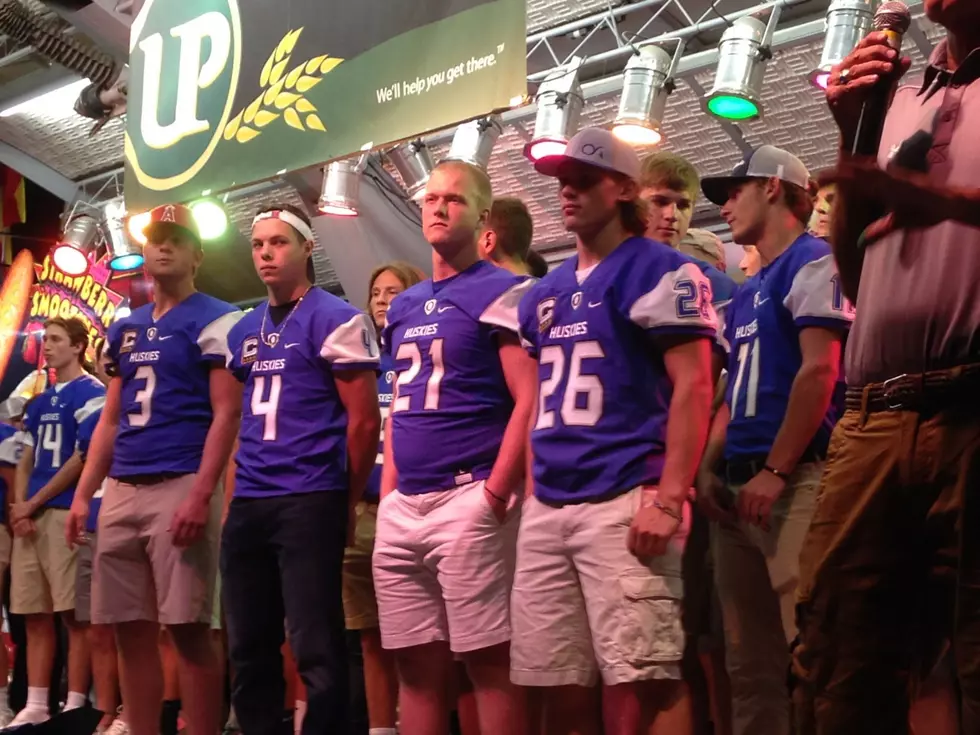 Owatonna Fans Ready for the High School Football Season
Roy Koenig/Townsquare Media
The Owatonna High School football player and cheerleader rally has become the closing event of the Steele County Fair. Huskies coach Jeff Williams told the immense crowd at Fair Square Park on Sunday night that he didn't think the idea would go over big when fair publicity director Todd Hale approached him with it a number of years ago. Standing-room-only turnout would indicate otherwise. Williams is grateful the team has such support from the community.
Sunday's program started with a few cheers and stunts from the cheerleaders following their introduction from coach Mara Oien. Williams proceeded to bring the varsity players on stage by position. He spoke briefly about each player. Many have varsity experience. A couple have taken some time off from the game but have decided to come out again.
One player has taken off weight to become a better player, while many have added pounds of muscle through dedicated weight room work. Owatonna has depth at many positions. The line of wide receivers nearly spilled off the stage, showing how high school football has changed over the years. Many of those receivers were part of a very successful summer of 7-on-7 play, including a title at the Notre Dame passing camp.
The Huskies return their top running back Jason Williamson, their top passer Abe Havelka, and their top four receivers with Noah Budach, Alex Raichle, Dalton Kubista and Williamson. Defensively, OHS brings back three of their top five players with Zach Mensink, Mitch Wiese and Raichle.
Owatonna will scrimmage Lakeville South and Champlin Park on Saturday, August 26, at 9AM at South High School. The season opens Friday, September 1, at home against Faribault. The Huskies lost to the Falcons last season, but rebounded from a 1-2 start to reach the state semifinals at US Bank Stadium. The 2017-18 high school coaches show on KRFO AM 1390 debuts this Saturday at 9AM.