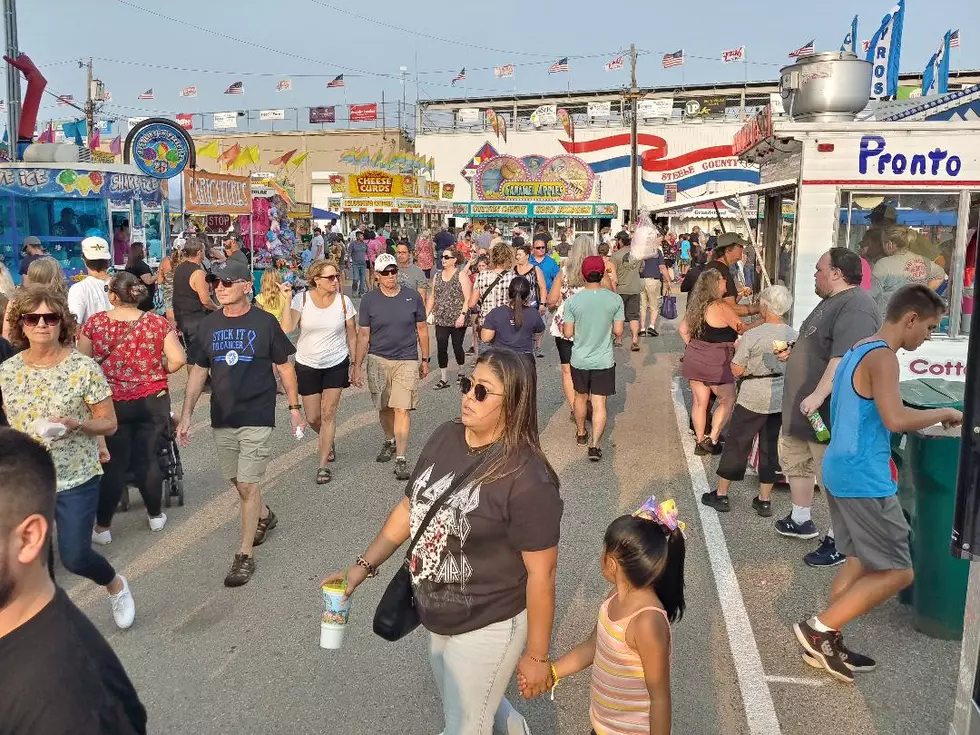 15 Fun Things To Do at the Steele County Fair
Roy Koenig/TSM
Something old. Something new. Something deep-fried. It's 50 days until the Steele County Free Fair in Owatonna as of June 27. The fair runs from August 16 through the 21. Printed materials including the premium book and handy, pocket schedule have been distributed around the county.
It is time to look through the schedule and start to make plans. These 15 things to do only scratch the surface. Listen for fair manager Scott Kozelka on Fair Talk Thursday mornings at 9:40 am on AM 1390 KRFO/94.7 FM each week leading up the fair for more highlights.
ALL-STAR STUNT DOGS
The All-Star Stunt Dog Show has become a fan favorite in the few years it has been part of the Steele County Fair. The dogs perform a series of high jumps, paw stands, and much more. The pooches are all rescue animals.
JURASSIC KINGDOM
The debut year for Jurassic Kingdom at the fair was a smashing success. In this case, it is life-like creatures that thrill audiences of all ages.
4H PROJECTS
4H is the backbone of county fairs. Between all the animal showings and static projects, there are plenty of talented students in the county. Visit the 4H displays.
MADDIE AND TAE
The first of three big musical events in the grandstand features country singers Maddie and Tae. Get your tickets in advance to be ready for the show. They will perform Wednesday. August 17 at 8 pm.
AUTO MUSEUM
The Auto Museum just north of the Four Seasons Centre will feature convertibles from 1978 and older.
MOOGICIAN
Banjo playing and tricks with dairy products make for a fun show for all ages. You'll find his performances at the KRFO Townsquare.
HAIRBALL
A fan favorite, Hairball takes to the grandstand stage Thursday, August 18 at 8 pm. Get your tickets here.
Kozelka says it is important to add new shows to the fair lineup on a regular basis.
MUCKLE FAIR MUSEUM
Learn some history of the Steele County Fair and grab a quick cool down in the air-conditioning.
DEMO DERBY
Watch some folks smash up their cars on purpose on Sunday, August 21. The derby will start at 2 pm.
PETTING ZOO
Feed and pet some cool animals.
JOE NICHOLS
Country music hit-maker Joe Nichols performs Friday, August 19 at 8 pm at the grandstand. Get your tickets here.
HOT GLASS ACADEMY
A new feature in 2022 is Hot Glass Academy, a glass-blowing demonstration that offers education in the longtime art. A number of items will be created right in front of your eyes. Watch glass blowing on their Facebook page.
RIDE THE RIDES
Mega Ride ticket sales begin July 15 to ride all the rides you can handle all week. Daily specials are also offered at the Steele County Fair.
EAT
Over 100 food choices are available. A couple of new items are always featured.
Love the Outdoors? Here's the Top 10 Most Affordable Places to Live According to Realtor.com
If you love throwing on your Patagonia shirt and grabbing your backpacking gear for a hike, you'd probably love living in Aspen or even Colorado Springs. Unfortunately, the price of housing in those outdoor paradises have increased quite a bit and nature lovers aren't able to make the move to their dream home.
Realtor.com
did a survey recently though and found 10 of the top spots that outdoor lovers can actually afford. They looked at the following criteria as they found the best cities for outdoor lovers:
median listing prices in cities and counties
bike-friendliness ratings from the League of American Bicyclists
number of outdoors-related businesses per household
within a four-hour drive of a national park