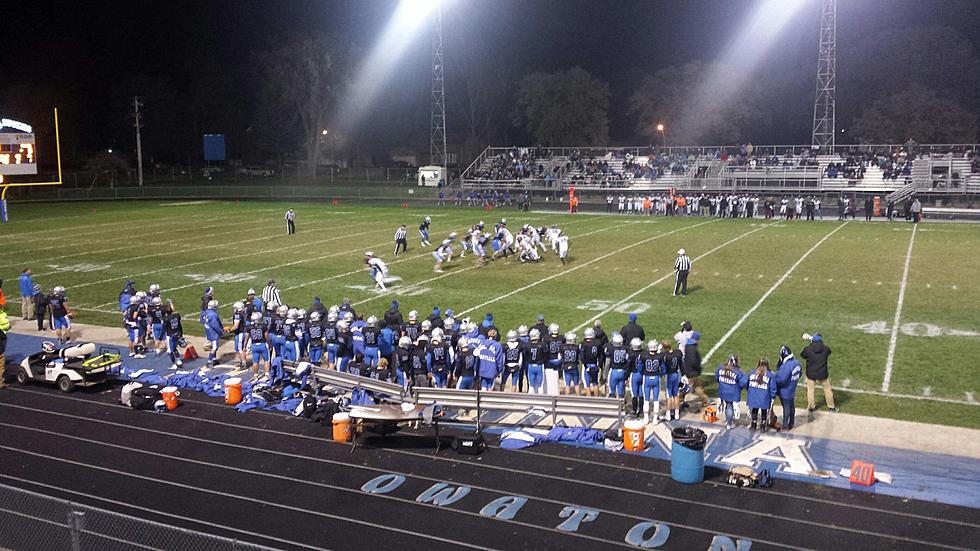 Lewis, Williamson Lead a Dozen Huskies on All-District Team
Rich Will/Townsquare Media
Owatonna seniors Chris Lewis and Jason Williamson lead a dozen Huskies on the All-Southeast District team as the Red Division Lineman of the Year and Offensive Player of the Year, respectively. Coach Jeff Williams was named the Coach of the Year.
Owatonna plays Elk River Friday at 2 pm at US Bank Stadium in the state 5A semifinals with coverage on KRFO AM 1390 and the KRFO app. OHS beat the Elks for the 2017 title.
Four members of the offensive line, senior Joe Edel and juniors Zach Wiese, Isaiah Noeldner and Ethan Rohman, garnered All-District. Senior Joseph Stansky joins Lewis on the team. Linebackers Nick Staska, a senior, and Isaac Gefre and Mason Oland, juniors, are on the team. Secondary players from OHS include senior Jake Miller and junior Isaac Oppegard.
Williams offers the following comments on the players.
Jason Williamson, Red Division Offensive Player of the Year, "While there has been deserved focus on Jason's statistics and accomplishments this season, what is ofter overlooked is Jason's leadership, work ethic, and competitiveness."
Chris Lewis, Red Division, Lineman of the Year, "Lewie does a great job of eating up the blocks of linemen, demanding double teams, and disrupting the core of the offense."
Joe Edel, offensive line, "As our only senior starter in the line, Joe has set an example of work ethic and determination."
Zach Wiese, offensive line, "A returning starter from a year ago, Zach has continued to improve in all aspects of his game."
Isaiah Noeldner, center, "Our third Noeldner starting at center, Isaiah has done a great job of neutralizing nose guards and allowing our offense to operate.:
Ethan Rohman, offensive line honorable mention, "Ethan has seen significant time on both sides of the ball and has been a difference maker whenever he is on the field."
Joseph Stansky, defensive line, "Joseph has been instrumental in limiting the effectiveness of opponents' rushing attacks. He is also consistently in the backfield on pass plays disrupting the quarterback."
Isaac Gefre, linebacker, "Isaac has simply made plays for us this year, from blocking kicks to returning interceptions for touchdowns, to harassing opposing quarterbacks."
Mason Oland, linebacker, "Mason has been a terrific edge defender for us this season. While not particularly large, he uses his athleticism and toughness to set the edge on run plays and makes it difficult for teams to establish anything his way."
Nick Staska, linebacker honorable mention, "Our mike linebacker is the leader of the defense and Nick has elevated to that role nicely."
Jake Miller, defensive back, "Jake has been assigned to cover the best receivers in the conference and has consistently shut them down."
Isaac Oppegard, defensive back honorable mention, "Isaac is a play maker with great hands and a nose for the ball."