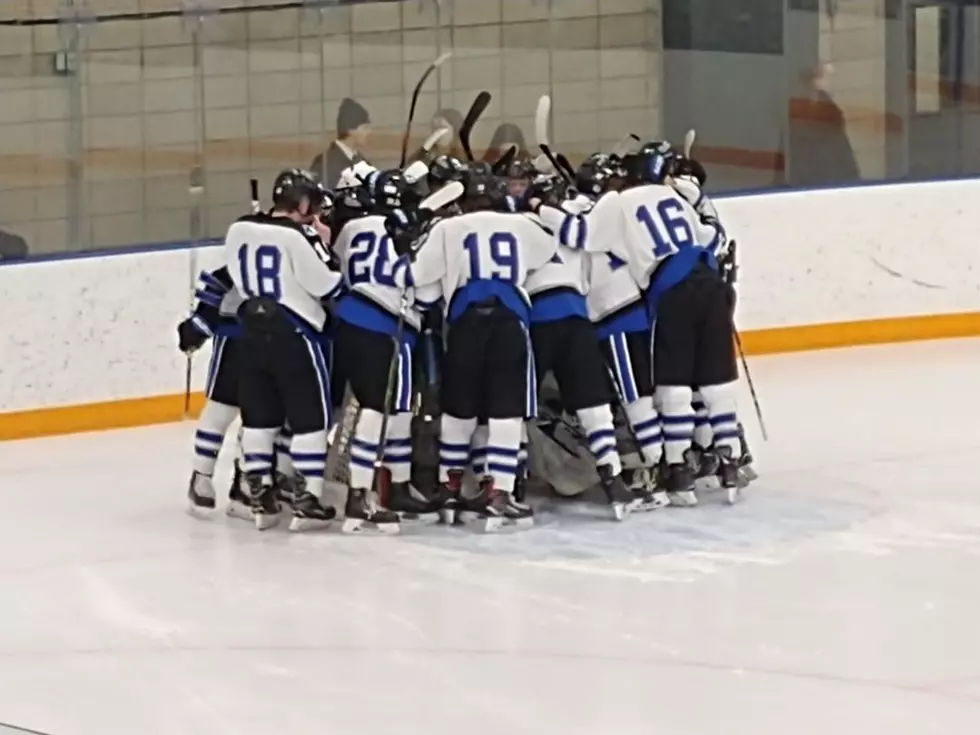 Huskies Looking to Take the Next Step
Roy Koenig/Townsquare Media
The Owatonna High School boys hockey team won 19 games in the 2019-2020 season, the second highest total in school history. They've contended for the Big Nine title right to the final week of the season over the last couple of winters. And had won a section playoff game in three straight years before losing in the quarterfinals last February.
With nearly all of their scoring back from last winter, the Huskies will be seeking their first conference title since the 1992-93 season and their first appearance in the Section 1AA finals since the end of the 1997-98 season when they reached state for their only time.
OHS graduated Austin Mundt, Collin Pederson, and Zach Wiese off the the 2019-20 roster. Pederson and Wiese made the All Big Nine Conference squad. Wiese won 17 games in goal. Pederson was the fourth leading scorer with 14 goals and 15 assists. Both are members of the Rochester Grizzlies of the NA3HL. Wiese was recently named a Star of the Week in the league.
OHS won their opener Saturday with a come-from-behind 4-2 win over Faribault. Several players have already played a number of games this season though, as members of the Steele County Blades Junior Hockey team. Dom Valento went on a scoring tear with the Blades. Zach Kubicek also scored several times. Casey Johnson joined for a short time. Defenseman Wyatt Oldefendt had been with the Blades since the start of their season.
Returning players according to Let's Play Hockey: (player, grade, goals-assists=total points)
Dom Valento, sr (20 goals-22 assists=42 points) All Conference
Zach Kubicek, sr (23-17=40) All Conference
Taylor Bogen, jr (9-20=29) Honorable Mention
Casey Johnson, sr (13-13=26) Honorable Mention
Tanner Stendel, jr (9-8=17)
Wyatt Oldefendt, sr (10-5=15) Honorable Mention
Devon Rousch, jr (3-6=9)
Sam Sampson, sr (5-2=7)
Brody Homan, sr (0-6=6)
Grant Achterkirch, jr (1-4=5)
Aaron Bangs, sr (0-4=4)
Joey Dub, sr (0-4=4)
Sam Knoll, jr (2-2=4)
Casey Pederson, jr (0-2=2)
Levi Kubicek, jr (1-0=1)
Goalies (name, grade, record, goals against, saves percentage)
True Gieseke, sr (1-0, 1.00, .960)
Preston Meier, jr (1-1, 2.50, .889)
Owatonna has registered a winning record in five straight seasons.
2015-16 (15-10-1, third in Big Nine, 0-1 in sections)
2016-17 (15-12, fourth in Big Nine, 1-1 in sections)
2017-18 (13-12-2, third in Big Nine, 1-1 in playoffs)
2018-19 (16-10-1, 2nd in conference, 1-1 in sections)
2019-20 (19-7, 2nd in conference, 0-1 in playoffs)
Enter your number to get our free mobile app
KEEP READING: COFFEE FUN FACTS
Top 10 Fittest States in the Country