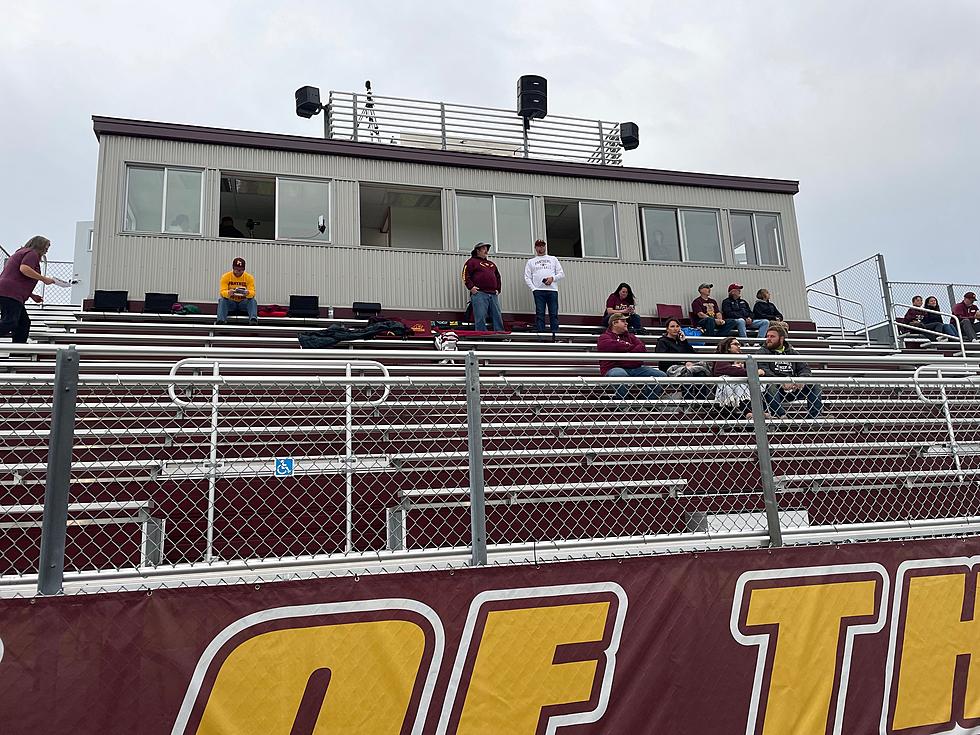 Goodhue & Bethlehem Academy Football Wins Openers
Pine Island Announcer's Stand. Photo by Gordy Kosfeld
The Goodhue Wildcats held on to defeat the Pine Island Panthers 20-14 in the season opener for both teams in Pine Island.  The Faribault Bethlehem Academy Cardinals prevailed 8-0 in a physical game on the road at Lester Prairie.
Both teams in the Pine Island game were ranked by Maxpreps.com in their preseason Minnesota high school football poll.  Goodhue #16 in Class AA.  Pine Island #17 in Class AAA.
The Wildcats had a 14-0 lead after dominating the first half.  The Panthers made some nice adjustments at the half but just couldn't get by the talented Goodhue team.
Goodhue scored with 4:01 to go in the first quarter on a Malakye Parker 24 yard touchdown run down the sideline.  Parker had fumbled on the Wildcats opening drive when it looked like they were going to score after starting a drive on their 28 and moving down the field.
Pine Island recovered the fumble at their own 15 yard line.  Goodhue held them and got the ball at the Pine Island 47 yard line.  A couple plays later the 5'10 180 pound junior motored into the end zone for the first score of the season for the Wildcats.
With 6:47 to go in the half Goodhue scored again.  This time on a pass connection by quarterback, junior Will Opsahl with classmate Adam Poncelat for a 53 yard score.
The Wildcats showed numerous offensive formations and executed out of them well in the first half.
Pine Island had their scoring chances in the first half.  One series they started on the Goodhue 40 yard line, another on the 38 yard line of Goodhue and both ended in Wildcat interceptions.
Dylan Schafer, 5'6, 145 pound senior and Tyson Christensen, 6'1 170 pound senior executed the interceptions.
Pine Island got the ball to start the second half drove down the field,  They scored on a 21 yard pass from quarterback Senior Nick Grande to senior receiver Matthew Horkey.
After a powerful run on the ensuing kick by Parker, Goodhue was starting their first drive of the second half on the Pine Island 47 yard line.
I didn't see who punched in the score and neither did anyone else in the press box with me.
Pine Island got the last score with 56.3 seconds to go in the third quarter when Grande scored on a 3 yard run.  Panthers senior Samuel Johnson kicked both extra points.
Goodhue's sophomore Brayden Kreisler connected on two of three extra point kicks.
Pine Island travels to Zumbrota-Mazeppa Friday, September 10, 2021 for a 7:00 p.m. game.
Goodhue hosts Lewiston-Altura Friday, September 10, 2021 at 7:00 p.m.
The Bethlehem Academy Cardinals  had a happy bus ride home from Lester Prairie.
The Bulldogs were in the Maxpreps.com preseason rankings for Class A high school football at #11.
The only score came on a 20 yard run by senior Brady Strodtman with 4:37 to go in the game.  Aiden Tobin ran in for the two point conversion.
Not a lot of offense in this hard nosed football game.  Lester Prairie finished the night with 133 yards of total offense and Bethlehem Academy had 124.
Cardinals quarterback Elliott Viland was 4 of 8 passing for 38 yards and one interception.
Lester Prairie's Nicholas Guggemos was 4 of 14 for 78 yards.
BA had 86 yards rushing compared to the Bulldogs 55 yards.
Strodtman had 20 carries for 61 yards, Tobin 10 for 30 yards.  Tanner Scheevel led the Bulldogs with 80 yards on 21 carries.
Jax Bokman led the Cardinals receiving corps with 3 catches for 38 yards.
BA's defense was very good holding Lester Prairie to 1 for 13 on third downs and 1 for 6 on 4th down conversions.
The Cardinals had 12 first downs, the Bulldogs 6.
Strodtman led the defense with 9.5 tackles, 2 for loss, 1 sack.
Bethlehem Academy hosts Hayfield Friday, September 10, 2021 at 7:00 p.m. on KDHL Radio, 920 AM, 97.9 FM and worldwide on the KDHL app.  Randy Sobrack will be on the call.
Lester Prairie travels to Blooming Prairie Friday, September 10, 2021 for a 7:00 p.m. game.
Other Thursday night scores include from the area include:
Maple River 35  Jackson County Central  8
Shakopee 45  Anoka 7
Sibley East 39  Belle Plaine  0
Cleveland 41  Wabasha-Kellogg  0
Rosemount 47  Eagan  7
Eden Prairie 46  East Ridge  0
Lakeville North 21  Eastview of Apple Valley 0
Farmington  35  Burnsville  12
Lakeville South  50  Park of Cottage Grove 14
Prior Lake 49  Hopkins  0
Mankato West 61  Rochester John Marshall  0
Lewiston-Altura  41  Zumbrota-Mazeppa  0
Pipestone Area  43  LeSueur-Henderson  0
Do you agree with these?
LOOK: Here are the pets banned in each state
Because the regulation of exotic animals is left to states, some organizations, including The Humane Society of the United States, advocate for federal, standardized legislation that would ban owning large cats, bears, primates, and large poisonous snakes as pets.
Read on to see which pets are banned in your home state, as well as across the nation.
This is fascinating!
LOOK: 30 fascinating facts about sleep in the animal kingdom