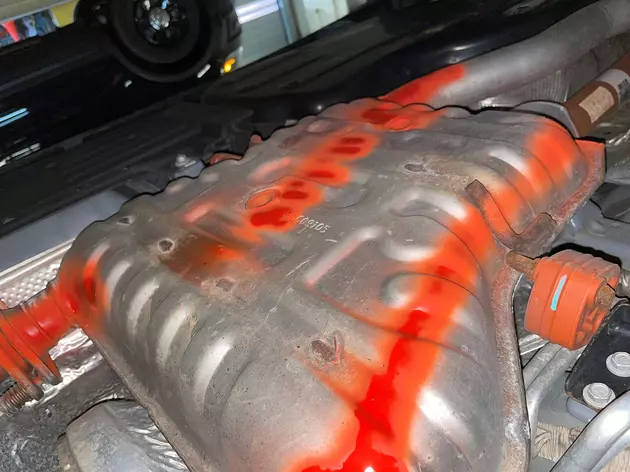 Faribault Police: Catalytic Converter Theft On The Rise, 11 Already in 2022
CatalyticConverter-StPaulPD-Twitter
The most recent Faribault Police publication The Point After Faribault Police pointed out that catalytic converter theft in Faribault is on the rise. So far in 2022, there have been 11 reports of catalytic converter theft, compared to the 21 total reports made in 2021.
In 2021, FPD took 21 reports of catalytic converter thefts, and have already taken 11 reports in 2022.
According to The Point After:
In 2021, FPD took 21 reports of catalytic converter thefts, and have already taken 11 reports in 2022. While the theft takes just minutes to complete, the replacement of a catalytic converter can be an expensive cost to victims.
According to the National Insurance Crime Bureau (NICB) reports the average number of monthly thefts jumped 326% from 2019 to 2020.
The NICB has some tips to help protect you from being a victim of catalytic converter theft.
Install a catalytic converter anti-theft device. These are available from various manufacturers and can provide a level of security from theft.
If parking a fleet truck at a business overnight, consider enclosing the vehicle in a secured area that is well lighted, locked, and alarmed.
For personal vehicles, if possible, park in a garage. If not possible and the vehicle must be parked in a driveway, consider installing motion sensor security lights. While lights may not provide complete security, it may make some thieves think twice, instead opting to leave the area and your car untouched.
Another thing you can do as a vehicle owner is to take your vehicle to a local auto shop and ask the shop to put important details on your converters, like initials or something that you can easily identify your converter in case the thief is caught. If there isn't a mark or information on your converter, it is hard for members of law enforcement to link that person to your theft, or to know if the converters they find are yours or someone else's.
The last thing you can do to assist law enforcement in helping to curb crime is if you see something say something, at that time. If you wait until after the fact, the crime may have already been committed, or that person who is doing the crime may no longer be in the area.
10 Painfully True Phases of Spring in Minnesota
Spring fakes us out every year in Minnesota. It feels like spring and then we get snow dumped on us.
Check Out Former Minnesota Vikings GM Rick Spielman's Home
The Eden Prairie home where former Minnesota Vikings GM Rick Spielman lived is now for sale.