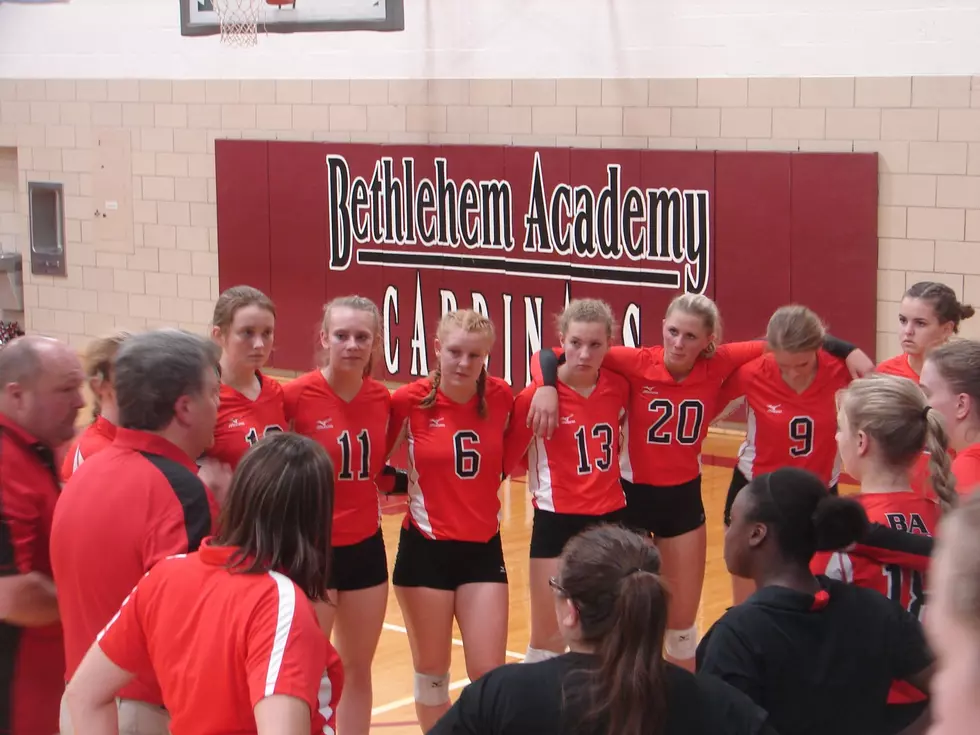 Bethlehem Academy Beats WEM in Battle of Top Ten Ranked Teams
Roy Koenig/Townsquare Media
Faribault Bethlehem Academy outlasted Waterville-Elysian-Morristown 3-1 in a battle of top ten ranked Class A teams. Senior Mary Campbell had a big hand in the Cardinals earning their first win on the season by slamming down approximately 30 kills. No. 4 Bethlehem Academy (1-3) traded blows with No. 9 WEM (2-2) through the first two sets with neither team able to make a big run. BA won the first game 26-24 and WEM took the second set 25-20.
The trend continued to start the third set. But that changed with the score tied at 11-11 and sophomore Laney Donahue stepping to the service line for the Cardinals. She reeled off the next ten points, including a pair of aces, and BA sailed on to a 25-15 win. Donahue made several sliding digs on the night.
WEM led early in the fourth set, but a four-point burst by Bethlehem Academy put them ahead 14-11 and they never trailed again on the way to a 25-21 win. Freshman Toryn Richards led the Buccaneers with about a dozen kills and five aces. Junior Alexis Morsching had nearly ten kills.
The match was the fourth straight against a state ranked team for BA, who plays at a tournament at Shakopee Saturday where they are likely to face similar opposition. WEM hosts an event Saturday in Waterville.
Volleyball scores, Thursday September 7
Bethlehem Academy 3, WEM 1
Blooming Prairie 3, United South Central 1
Byron 3, Triton 0
Kenyon-Wanamingo 3, Cannon Falls
Mankato West 3, Mankato East 2
Medford 3, NRHEG 0
Pine Island 3, Goodhue 2
Zumbrota-Mazeppa 3, Goodhue 2