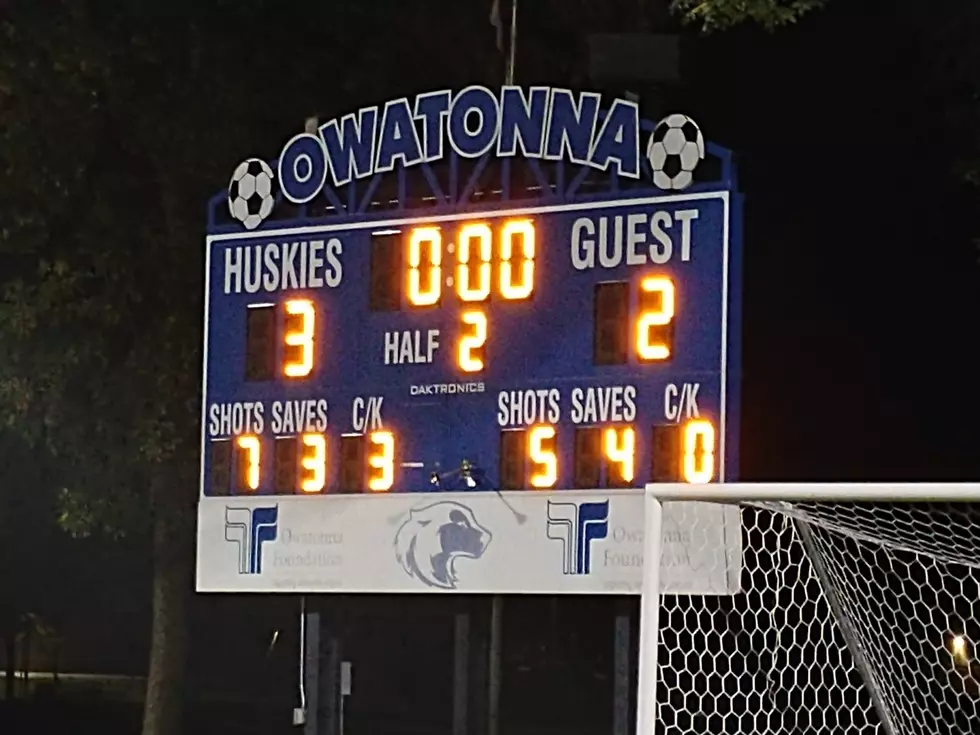 Late Goal Lifts Owatonna Boys Soccer [OHS Sports Roundup]
Roy Koenig/Townsquare Media
At least a little part of Owatonna boys soccer coach Bob Waypa was happy to see his young team face some adversity. The need to come from behind against Rochester Century Thursday led to a memorable finish for a pair of sophomores.
Nolan Burmeister made a wide run that drew the defense and the Panthers goalkeeper, allowing him to cross the ball to Lane Versteeg who scored the winner with 1:53 left for a 3-2 win. The victory boosts Owatonna to 3-0-1 on the season and a 2-0 start in the Big Nine.
Zach Williams and Jack Hanson assisted on each others goals as Owatonna grabbed the initial lead and then rallied from a 2-1 deficit. Waypa said a couple of errors led to the Century goals. The Panthers scored after a steal to make it 1-1 and went ahead 2-1 after a Huskies own-goal.
Waypa said the pitch at the Lincoln Soccer Complex was in great shape despite the five inches of rain that fell on it early in the week.
The OHS girls soccer squad settled for a 1-1 overtime tie at Rochester Century. Jordan Whalen scored in the first half and the Panthers squared the game late. The Owatonna girls and boys will host Minnetonka Saturday, September 8.
Owatonna's volleyball team opened its home schedule with a 3-0 loss to a very experienced, and tall, Mankato West team. The scores went 25-13, 25-17, 25-23. The youthful Huskies led at times in the second set and staged a late rally in the third set. Alyvia Johnson had 11 kills for Owatonna. Kaitlyn Madole and Emily Hagen had about five kills apiece.
Coach Whitney Ordahl said afterward that she wants to see the Huskies increase their energy level. Mankato West had several dominating runs to gain control. OHS plays at Marshall Tournament at Southwest State University this weekend. The Huskies face Prior Lake Friday night. Then they play the winner/loser of St. Michael-Albertville against Andover.
The Owatonna girls swimming and diving team beat Albert Lea 94-69 Thursday night at the middle school pool.