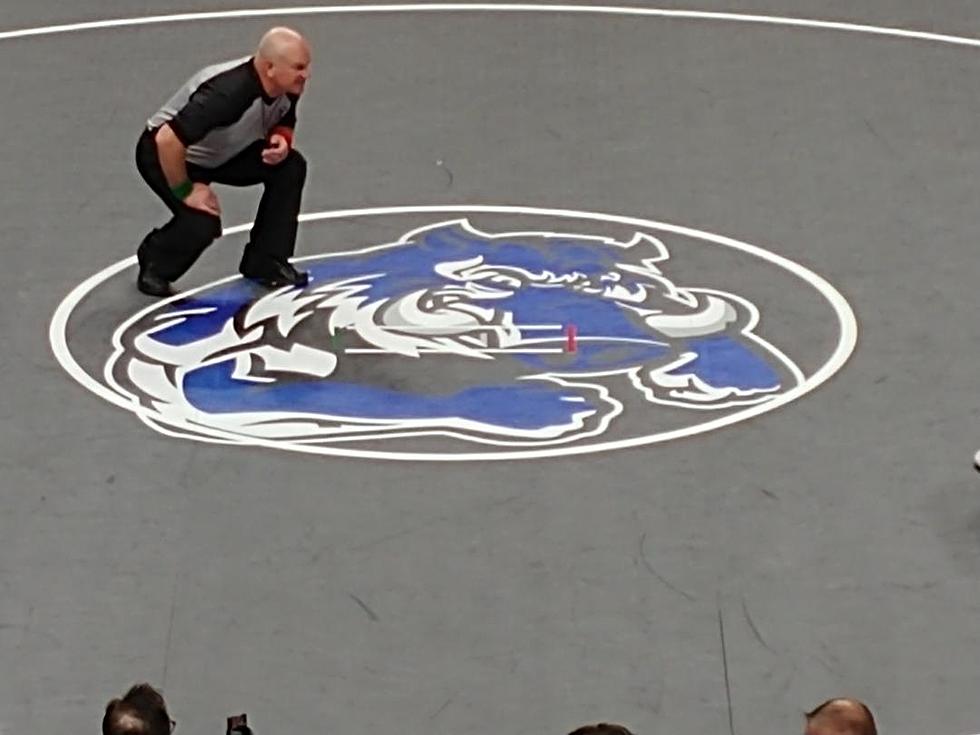 Westfield Makes a Name for Itself at Wrestling Tourney
Roy Koenig/Townsquare Media
If Minnesota wrestling fans weren't familiar with the Westfield Razorbacks at the start of the state tournament at Xcel Energy Center, hopefully they were by the end of it. Westfield's Colton Krell won the state title at 195 pounds. Teammate and fellow senior Dylan Nirk captured fourth place at heavyweight.
Fans may have needed to open their wrestling program when they entered the arena and saw the mat with "Westfield Razorbacks" in large block lettering down each side of the mat and a large horned-hog at its center. They would have found on page 105 that Westfield is "Blooming Prairie includes Hayfield." Ironically, only one time a Westfield wrestler actually compete on the mat during the tournament.
Krell's title is the first for Westfield, which formed just a few years ago. It's also the first for Blooming Prairie in school history. Hayfield has 19 state individual titles plus one as a coop with Dodge Center according to the record book on the high school league's website.
No. 3-rated Krell, who helped anchor Blooming Prairie's state football championships offensive and defensive lines, dominated his way through the tournament. He pinned his opening round opponent Cameron Sneed of GMLOS in the second period. In the quarterfinals he scored a 16-1 tech fall of No. 5 ranked Josh Steffen of Canby.
Krell got another pin in the semifinals, midway through the second period against top-rated and up-to-then unbeaten Tyler VanLuik from Minnewaska Area. In the finals, Krell got a first period take down on top-seed Luke Tweeton of Frazee. Krell led 2-1 after one and 4-2 after two periods. He escaped to start the third and added a take down for a 7-3 win in the championship bout.
Krell had told a local wrestling fan early this season that he wanted to be like his brother and be a state champ. Dalton Henderson won a state title in 2010 while wrestling for Owatonna.
No. 5 rated Nirk started his run through the 285-pound bracket with consecutive pins, beating Jude Olson from Fertile-Beltrami in 1:00 and Cian Buehler of Ottertail County at 4:39. Then Nirk face top-seed, and nationally ranked Craig Orlando of Bertha Hewitt-Verndale/Parkers Prairie. The first period was 0-0. Nirk couldn't get out in the second period and couldn't keep Orlando down in the third and lost 1-0. Orlando went on the win the title with a first-period pin. Nirk was the only wrestler Orlando didn't pin at state.
Nirk battled back to beat ninth-rated Alec Francis from Caledonia-Houston. Nirk lost a rematch with Buehler and ended up in the fourth place, his first time placing in his third appearance at state.
The question I have is whether the new Westfield mat will be used at the Blooming Prairie or Hayfield gym, as they share home meets for the Razorbacks.