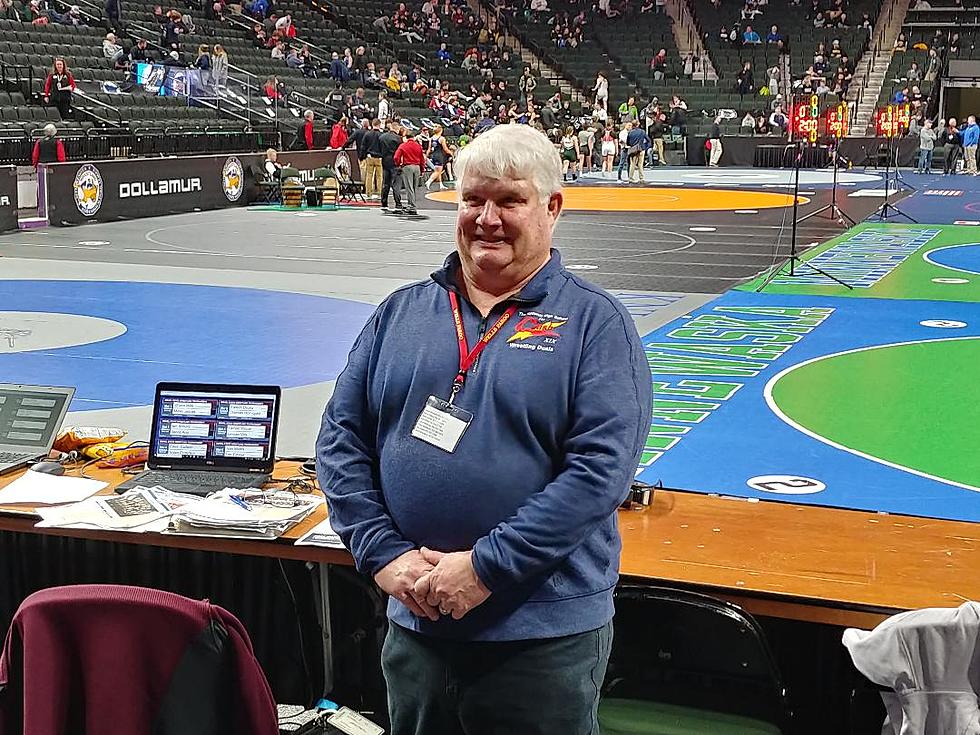 Voice of Owatonna Wrestling Takes Center Stage at State Tourney
Roy Koenig/TSM
Short of his trademarked exclamation, "Takedown! Owatonna!" longtime KRFO radio voice of the Owatonna High School wrestling program still brought his enthusiasm and excitement to throngs of fans this weekend. Dale Benjamin made his debut as arena announcer for the Minnesota State High School League wrestling tournament.
As I was setting up for our radio coverage this year, I heard to unmistakable golden tones of Benjamin over the speakers.
He had a front-row seat for the action on eight mats on the floor of Xcel Energy Center in downtown St. Paul. Benjamin stayed on top of close matches to draw fans' attention to certain matches at critical times.
"That was the idea bringing a new guy in, to add some energy...get the crowd more hyped up. So that's what we've been trying to do."
He was nominated for the role and was all too happy to accept the opportunity. It's been a few years since Benjamin called matches on KRFO radio but has been the public address announcer for many events including The Clash National Wrestling Duals, usually held in Rochester.
"It's been a fantastic experience. The first day we had all the single-A [teams] and Dover-Eyota from our area...every match came down to heavyweight for them. Just a lot of exciting matches."
But he has to stop himself from calling the move-by-move action, "Totally different. Plus I don't have Larry," Benjamin laughed, referring to longtime announcing partner Larry Hovden.
Introducing an Owatonna wrestler may still bring some extra emotion, "Somebody come and rub my shoulders a couple times when I introduced Landen [Johnson] and Cael Robb."
The public address duties are a tag-team event at state. Benjamin's partner was also filled with excitement for his introductions, including the session-opening line, "Load the mats!" delivered in NASCAR-style.
Benjamin is happy to see girls wrestling get its own bracket, "It has a lot of momentum. I think, maybe behind trap shooting, the fast-growing sport in the nation. So, yeah. It's due. It's time. The Olympics, I think, inspired a lot of young girls."
Benjamin said, "This is quite an honor...and gosh I got a free parking pass."
These Are the 20 Safest Cities in Minnesota in 2021
SCARY: 10 of The Most Haunted Places In Minnesota
Minnesota may not be the most frightening place on earth, BUT there are some scary places that you may want to visit if you are ever looking for that "haunted" experience. Check out the list of some of the most haunted places in Minnesota below!