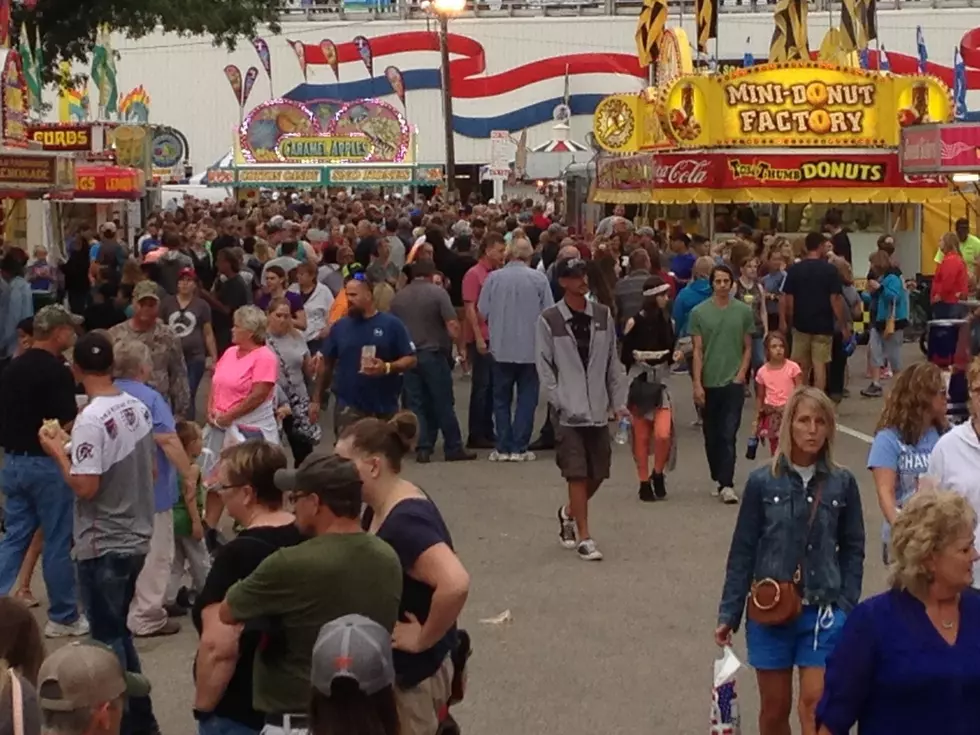 Steele County Fair is Off to a Great Start [PHOTOS]
Roy Koenig/Townsquare Media (2017)
Opening day of the Steele County Free Fair in Owatonna featured hall of fame inductions, a flag-raising ceremony, 4-H students busy with their projects and plenty of eating. Overcast conditions greeted fairgoers in Owatonna on Tuesday, but umbrellas were never needed. Forecasters would recommend you bring rain gear Wednesday.
Tuesday's activities began several hours before the official opening of the fair with the Equine Hall of Fame induction of Daniel C. Gainey and Jody Teeters Eckhardt. The Livestock Hall of Fame added Gail Demmer and Eugene Kruckeberg. Other award winners included American FFA Degree honorees Megan Andrist, Leah Rieck and Sarah Manderfeld. State FFA Proficiency Awards were presented to Holly Larson and Michael Kanne. Pete and Karen Kasper picked up their Steele County Farm Family of the Year Award.
Fraternal organizations were represented during the KRFO watermelon seed spitting competition. Nick Matejcek of the Knights of the Columbus won the daily honor with a launch of 24 feet, 4 inches. Habitat for Humanity, Steele-Waseca area members attacked the board for the "Ladies Nail Driving" contest. Pat Heydon won the daily prize by pounding in all five nails in under 25 seconds.
The flag-raising ceremony in Fair Square Park signaled the official opening of the fair. The Knights of Columbus men's choir joined Keith Stark for the national anthem.
First-time fair performer The Moogician had nice sized crowds for his shows on the Elmer Reseland Stage, as did the lumberjacks during a chainsaw-cutting demonstration. Large crowds filled the midway, taking in the rides, games and the Human Cannonball David Smith Jr. for the first two of his shots over the midway.
4-H students dressed up for judging, checked the state fair lineup board, reconnected with their friends and, in a few cases, took a nap with their animals. FFA students hosted fair goers in the FFA Storybook Farm. A variety of musical performers offered a wide-ranging genre of music.
The fun continues for five more days in Owatonna.