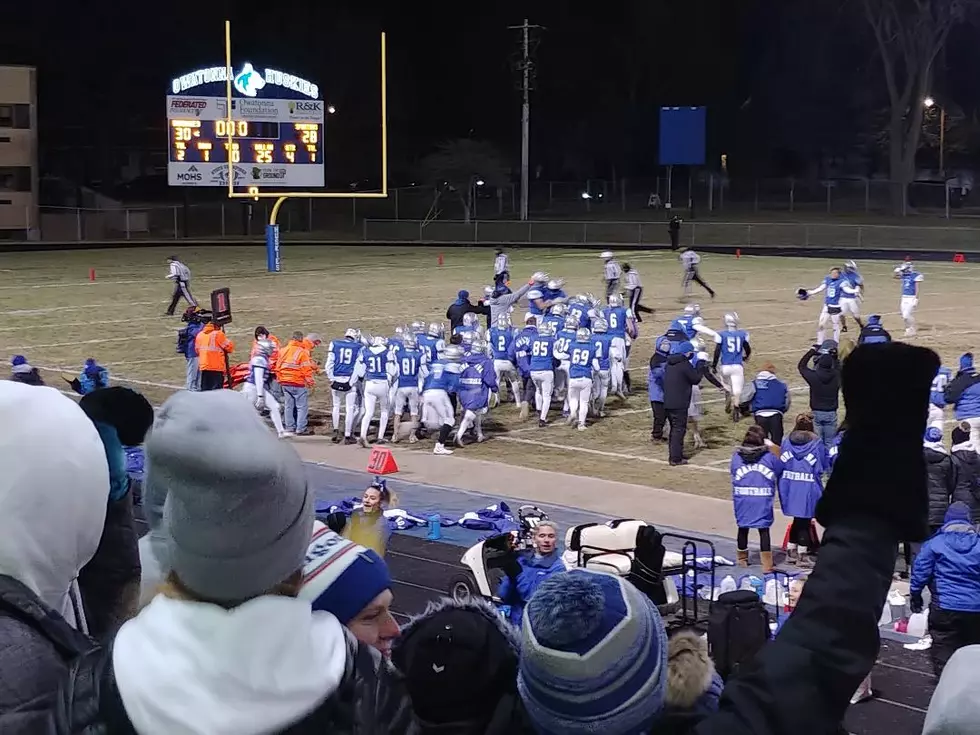 Pandemic Playoff: Huskies Win 5th Straight Title
Roy Koenig/TSM
Owatonna won its fifth straight section football championship Tuesday 30-28 over Rochester Mayo in the pandemic-influenced, one-day playoff format. The game featured all the elements you could hope for in a title clash. There were multiple lead changes and ties, a successful onside kick, highlight reel plays, injured players being carried off the field only to return and deliver big plays, and a defensive score that proved to be the deciding factor.
Enter your number to get our free mobile app
With four of the six teams in the section unable to continue past Tuesday, section officials came up with a one-day concept for Section 1-5A. Owatonna and Mayo were the top two seeds. Century (No. 3 seed) came from behind to beat JM (No. 4) 28-26. Northfield (No. 6) pulled off a 17-0 upset at Austin (No. 5).
OHS led 14-0 before Mayo ran a play from scrimmage. Just when it looked like the Huskies were about to go ahead by three touchdowns, Mayo's Cayden Holcomb made an incredible interception while dueling with the Huskies' Payton Beyer in the end zone. Mayo went on a three-touchdown run, all fueled by Owatonna turnovers.
Back to the beginning, Owatonna marched the opening drive 10 plays and 68 yards, ending with Brayden Truelson connecting with Beyer for a 17-yard TD pass. OHS executed an onside kick from senior Aaron Bangs' foot and took that 53 yards in 11 plays for a 14-0 lead on Truelson's one-yard keeper.
Mayo's first possession was a quick three-and-out. OHS marched down the field but the interception turned the tide, the first of several momentum-switching plays. Mayo scored on a pair of Bennett Ellsworth-to-Carter Holcomb passes and a strong run from back up running back Tore Pappenfus for a 21-14 lead.
With 1:34 to go in the second quarter, OHS moved down the field and scored when Truelson's pass was tipped by a defender and caught by Connor Budach who was lying on his back in the end zone. Lane Versteeg connected for the PAT and a 21-21 deadlock at halftime.
Mayo took the opening possession of the second half on a quick three-play scoring drive when Ellsworth found a wide open DeMonte Simmons on a screen and he raced/waltzed into the end zone for a 55-yard play. Simmons had to be helped off the field at least once, but kept coming back to deliver big plays. The same thing happened in the season-opening game at OHS, which the Huskies won 35-28.
Owatonna responded with an 11-play, five-and-a-half minute, 68-yard drive that was all running plays and ended with Truelson pushing his way in for the score. The Versteeg kick tied the game at 28-28.
A great kick off by Bangs left the Spartans at their ten yard line. A sack by Eli Spurgeon forced Mayo to punt from their end zone. A high snap rolled to the back line and resulted in a safety and a 30-28 OHS lead.
Mayo had the ball three times after that. They punted twice. On their final drive, while moving deeper into Huskies' territory, Simmons was separated from the ball by Grant Achterkirch on a run and the loose ball was recovered by Budach. The Huskies took a knee once to end the game.
It is Owatonna's tenth section title. OHS also won titles in 1982, 1998, 1999, 2012, 2013, 2016, 2017, 2018, and 2019. Three of those ended in state titles ('13, '17, '18). Three others ended in Prep Bowl appearances and runner-up finishes ('81, '98, '12).
This year, the section title ends the season at 5-2 for the Huskies.
11 Things You'll Only Hear at a Minnesota Thanksgiving
Owatonna Homecoming: Cruise Main
CHECK THESE OUT: Incredible Cake Creations From Young Life Auction