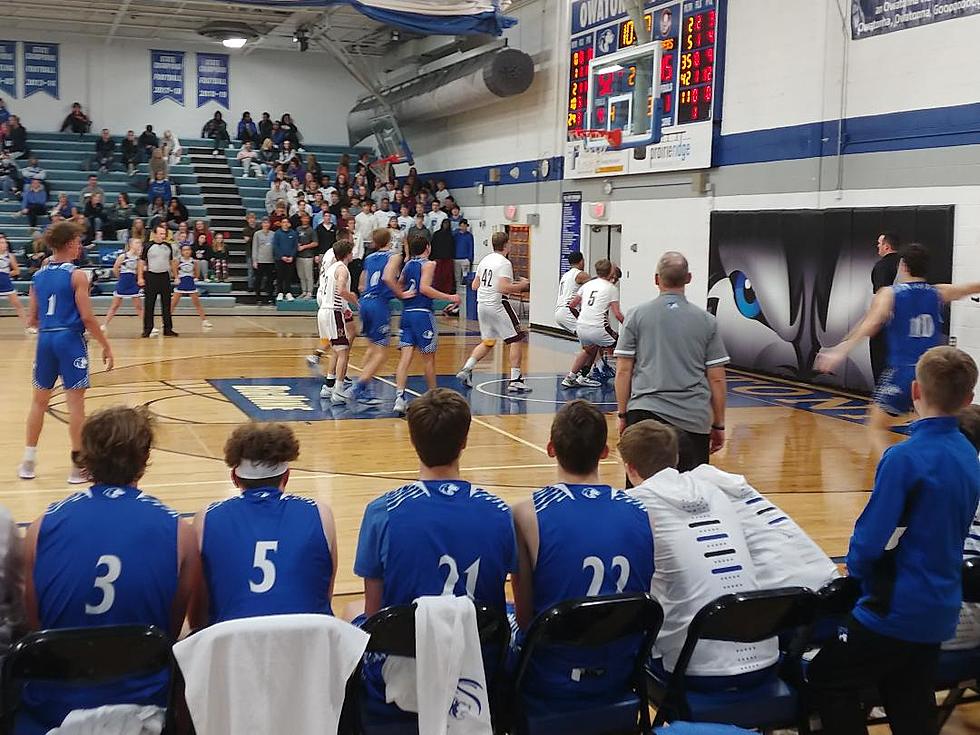 Owatonna Basketball Shines on Monday Night, Collects Win over Northfield
Roy Koenig/TSM
The Owatonna boys basketball team opened the week with a 72-56 win over Northfield at the OHS gym. Despite a certain purple team playing in Monday Night Football, a great crowd attended the parents' night game. Owatonna's score sheet was dominated by Brayden Williams (27 points), Evan Dushek (21) and Ty Creger (18).
OHS cleaned up the glass by about a 2-to-1 margin over the Raiders. Dushek collected more than 15 rebounds. Williams and Creger each had almost ten. The Huskies (3-0) are off until a holiday tournament December 29 and 30 at Concordia-St. Paul against Robbinsdale Armstrong and Osseo.
Up just 17-16, the Huskies went on a 10-0 run. The highlight was a 3-on-1 fast break that ended with a behind-the-back assist from Williams to Dushek. Late in the first half Collin Vick made a pretty pass to Avery Hartman for a basket. The Huskies led 41-30 at halftime.
The Raiders pulled within eight points with about 11 minutes to go in the second half. The Huskies roared ahead with 14-0 run that included a Dushek three-point play and put back basket. Creger hit a few free throws during the stretch. Williams knocked down a couple of jump shots.
Owatonna junior varsity won 6-23. The b-squad won 53-30. And the ninth-graders prevailed 63-37 for a sweep.
JJ Gustina led Northfield with 15. Tate Sand added 13 points. Soren Richardson scored 11. Austin Koep contributed nine off the bench.
OHS and Mankato West are the only Big Nine teams without a conference loss.
Enter your number to get our free mobile app
The OHS Activities Office announced their nominees for the Minnesota State High School League's Triple-A "Academics, Arts, Athletics" Award: Arianna Shornock and Connor Ginskey.
10 Best Colleges in Minnesota Ranked by Campus Food
There are many factors that go into deciding on the perfect college for you, and one of those factors may be the quality of food on campus. Here are the 10 best colleges in Minnesota ranked by the quality of the campus food.