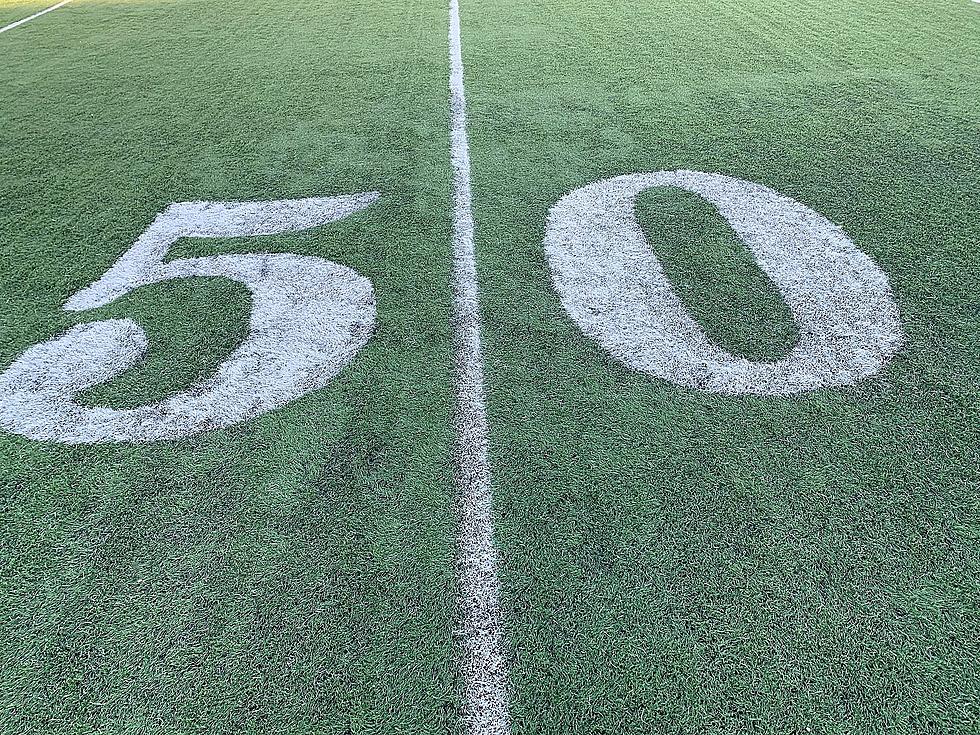 Minnesota AP All-State Football Team has Some Omissions
Football Field 50 Yard Line. Photo by Gordy Kosfeld
The Minnesota Associated Press announced their choices for All-State in football including their choice for Player of the Year.  SMB Wolfpack quarterback Jalen Suggs received the POY award.  SMB lost in the Class 4A title game to Rocori in overtime 22-21.  SMB is a cooperative of St. Paul Academy, Minnehaha Academy and Blake.
Suggs is an outstanding guard for Minnehaha Academy and has received a number of Division One offers in that sport.  He more than likely will be the second consecutive quarterback chosen player of the year to play a sport other than football in college.
Last season Owatonna running back Jason Williamson was named Player of the Year and is at the University of Minnesota on a football scholarship.  He was injured last spring.
In 2017 Caledonia quarterback Owen King was named Player of the Year and is currently playing basketball at Augustana University in Sioux Falls, South Dakota.
People in this area will remember the 1995 Player of the Year was Triton quarterback Kirk Midthun who went on to have a stellar career as a defensive back for the Bethel Royals.
Of the 24 selections for the AP Player of the Year in football 8 have been quarterbacks, 11 running backs, 1 linebacker, 1 wide receiver named in back to back seasons, 1 defensive back and an offensive lineman.
Wide Receiver Michael Floyd of Cretin-Derham Hall captured the award in 2006 and 2007 before going to Notre Dame and then the NFL.
In 2009 offensive lineman Seantrel  Henderson of Cretin-Derham Hall became the first and only lineman to receive the award.
In 1999 Dominique Sims of DeLaSalle received Player of the Year at defensive back.
Cretin-Derham Hall has had 4 Player of the Year selections to head the list starting with Joe Mauer in 2000.  He obviously went on to a pretty good baseball career with the Minnesota Twins.
Eden Prarie and Mankato West have each had two selections.
There were three All-State teams named by the Associated Press and I find it hard to believe they couldn't make room for some very deserving players in our listening area.
Randolph Rockets quarterback Nick Drinken finished second in the state this year in touchdown passes with 25, second in yards with 2,310 and was fourth in completions with 130.  He is not on any of the three teams.  One of just two quarterbacks in the state to throw for over 2,000 yards this past season.
Do you know how hard that is to do in high school football?  If you get to a state title game typically you will play 14 games.
Drinken's favorite target at Randolph Isaac Stoez was 4th in the state in touchdowns with 12, second in receiving yards with 1,068 and one of only a couple guys in the state to surpass a thousand yards receiving.  He had 43 catches which was tied for 14th in the state.
Cannon Falls running back Trenton Matthies averaged almost 11 yards a carry for the Bombers helping to lead the team to the state tournament.  1,156 yards for the season ranked 14th in the state and his 14 TD's were tied for 17th but what he did in prime time should have been enough in my opinion to make at least the third All-State team.  Matthies darted for 179 yards in the section final against Breck and rolled up 233 yards against Dassel-Cokato in the State Tournament game in Burnsville.
Dassel-Cokato went on to play in the Prep Bowl.
Owatonna had another terrific year.  The Huskies ended up just a couple games from a possible threepeat.  Not a single Owatonna player was named to any of the three Associated Press All-State teams.  Those teams are listed below.
First Team Associated Press Football All-State: Only a couple of outstate players were named to this team.
Quarterback- Jalen Suggs- SMB (also 2019 AP Minnesota Player of the Year)
RB- Christian Vasser- Wayzata
RB- Jonathan Kieren- St. Anthony
RB- T.K. Marshall- Minneapolis Southwest
WR/TE- Jonathan Mann- Rosemount
WR/TE- Gabe Hagen- Blooming Prairie
WR/TE- Terry Lockett- SMB
OL- Riley Mahlman- Lakeville South
OL- Jalen Travis- DeLaSalle
OL- Noah Pappas- Robbinsdale Armstrong
OL- Jackson Smith- St. Thomas Academy
OL- Will Lemire- White Bear Lake
DL- Landon Carter- Lakeville North
DL-Aaron Witt- Winona
DL- Joe Demro- Wayzata
DL- Randy Keumogne- Tartan
LB- Kaden Johnson- SMB
LB- Obi Evuleocha- Champlin Park
LB- Cole Smutny- Woodbury
LB- Loshiaka Roques- Wayzata
DB- Sam Robertson- Wayzata
DB- Jake Ratzlaff- Rosemount
DB- Kaleb Blaha- Fridley
DB- Connor Raines- Shakopee
All-purpose- RaJa Nelson- Lakeville North
Kicker/Punter- Noah Kiani- Irondale
Second Team Associated Press All-State Football:
QB- Aidan Bouman- Buffalo
RB- Terrance Kamara- Minneapolis North
RB- Johnny Shabaz- Lakeville South
RB- Joe Nordstrom- Elk River
WR/TE- Russell Corrigan- Hutchinson
WR/TE- Micahael Tweten- Buffalo
WR/TE- Thai Bowman- Robbinsdale Armstrong
OL- Joe Salonek- Wayzata
OL- Cody Newhouse- Elk River
OL- Bastian Swinney- Edina
OL- Elijah Brown- Benilde-St. Margaret's
OL- Yahya Black- Marshall
DL- Quientrail Jamison-Travis- Minneapolis North
DL- Garrison Solliday- St. Thomas Academy
DL- Oliver Andersen- Austin
DL- Pierce Oppong- Bloomington Jefferson
LB- Dacion Francis- Robbinsdale Armstrong
LB- Anthony Gipson- Maple Grove
LB- Marcus Holasek- Chanhassen
LB- Jonathan Bunce- Edina
DB- Jordan Sagedahl- BOLD
DB- Kale Hoselton- St. Michael-Albertville
DB- Anthony Ukofia- Wayzata
DB- Stephen Betts- St. Thomas Academy
All-purpose- Dorian Singer- Tartan
Kicker/Punter- Nathan Whiting- Rosemount
Third Team Associated Press All-State Football:
QB- Noah King- Caledonia
RB- Josh Buri- Stewartville
RB- Zach Niebuhr- United South Central
RB- Matthias Algarin- Pierz
WR/TE- Ryan Samuelson- Jordan
WR/TE- Dylan DeChampeau- Greenway/Nashwak-Keewatin
WR/TE- Wyatt Schroeder- St. Francis
OL- Ethan Prodzinski- Winona
OL- Deontae Veney- Rochester John Marshall
OL- Max Lommel- Chaska
OL- Jake Raines- Woodbury
OL- Noah Layton- Benilde-St. Margaret's
OL- Mason Miller- Ada-Borup
DL- Isaiah Green- St. Cloud Tech
DL- Seth Anderson- Moorhead
DL- A.J. Hunt- Mounds View
DL- Justice Sullivan- Eden Prairie
DL- Danny Striggow- Orono
LB- Cody Lindenberg- Anoka
LB- Chance Backer- Chatfield
LB- Garret Strating- Centennial
LB- Hunter Zenzen- Barnesville
DB- Logan Molacek- Milaca
DB- Carter Patterson- Lakeville North
DB- George Brekke- Lakeville South
DB- Jack Fisher- Rochester Century
All-purpose- Myles Taylor- Coon Rapids
Kicker/Punter- Abraham Stoesz- Mountain Lake
Enter your number to get our free mobile app