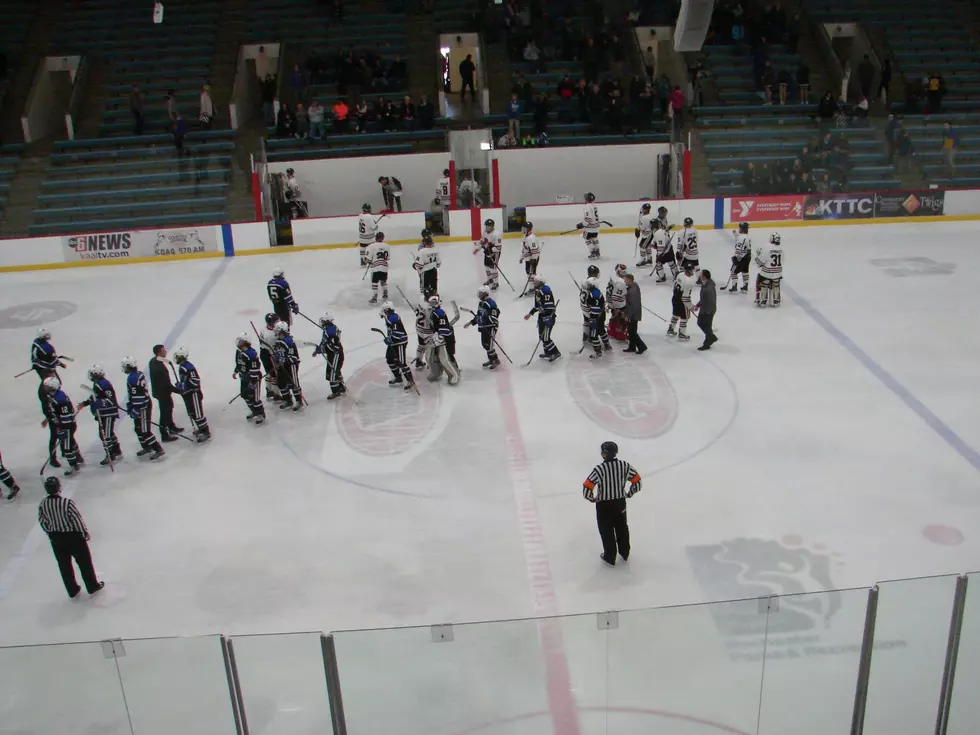 Lakeville North Knocks Owatonna Boys Hockey from Section Playoffs
Roy Koenig/Townsquare Media
No. 6 ranked Lakeville North flexed their offensive muscle early in a 10-2 victory over Owatonna is the Section 1AA semifinals at the Rec Center in Rochester on Saturday.
The Panthers jumped out to a 5-0 lead after the opening period while out-shooting the Huskies 19-2. Future St. Cloud State player Henry Enebak started his second straight playoff hat trick with a goal late in the first period.
Owatonna broke through early in the second period when Nick Smith stole the puck near the North goal and pushed it past the Panthers' net minder. Braeden Meier helped cause the turnover, but did not get an official assist. Late in the second, Kodey Kiel fired a shot in from the blue line on an Owatonna power play to make the scored 6-2. John Swenson assisted.
North added four in the third for the 10-2 final. The final shot count was 48-9. Lakeville North plays Lakeville South in the 1AA final Thursday night at 7PM at the Rec Center in Rochester. South topped Farmington 6-2.
Owatonna finishes the season at 15-12. The Huskies were fourth in the Big Nine standings at 11-5. Northfield won the conference crown for the second straight year with Red Wing second and Mankato West third. The Raiders and Wingers square off Wednesday at 7PM at the Rec Center for the Section 1A title. Each team won in overtime Saturday to advance.
Seniors on the Owatonna roster include Cameron Trout, John Swenson, Carter Broton, Kodey Kiel, Mitchell Mayer, Adam Rehman, Joey Howell and Blake Pfieffer. The team will hold their awards banquet March 14.