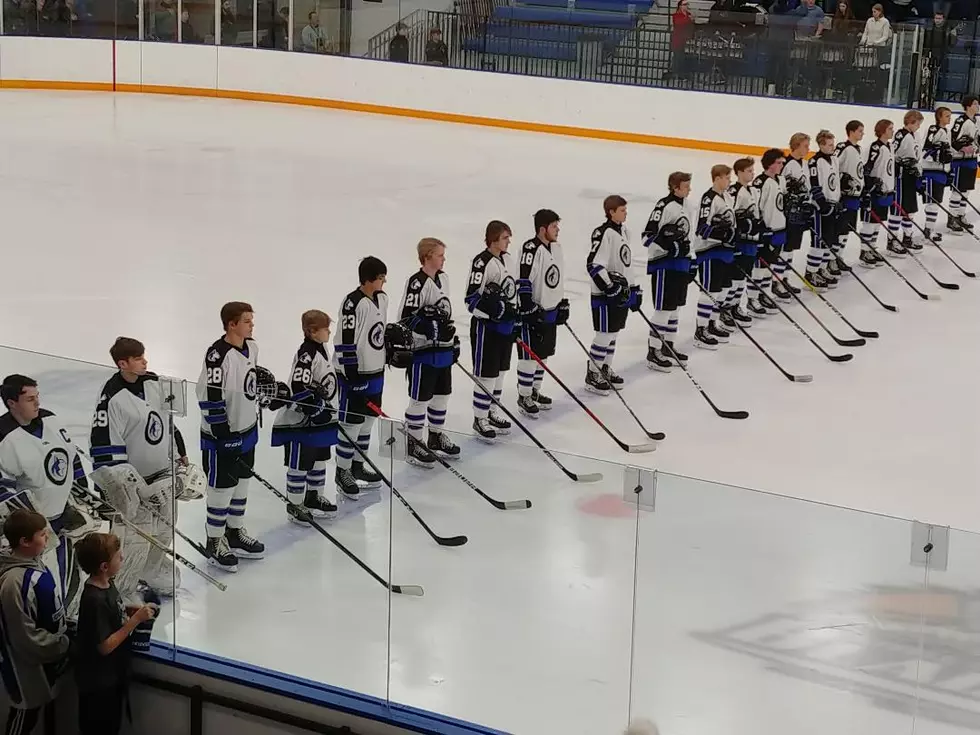 Huskies Earn Huge Section Win
Roy Koenig/Townsquare Media
Home playoff games are a premium in Section 1AA for boys hockey. The Huskies were Big Nine runners up last winter and still opened the playoffs on the road, granted they won that game over conference champ Rochester Century. Owatonna took a solid step toward earning a home section game with a 4-1 win over Farmington on Dudley Otto Rink Tuesday night.
Zach Kubicek had a hat trick, scoring an even strength, power play, and shorthanded goal. Dom Valento added an unassisted goal. Zach Wiese stopped 15 of the 16 shots he saw. OHS kept the Tigers off the board until there was less than five minutes left in the game.
Kubicek scored 33 seconds into the game with assists from Casey Johnson and Tanner Stendel. Midway through the first Kubicek notched a power play goal with Johnson on the assist.
Valento scored in the opening minute of the second period. Kubicek got his hat trick marker midway through the third. Farmington out shot the Huskies 16-15 according to the Hockey Hub website.
In the Section 1AA QRF standings, Lakeville North, Lakeville South, and Hastings hold down the top three spots. Farmington is listed fourth with a win over Rochester Century while the Huskies lost to Century. OHS still has a rematch with the Panthers and a game against Hastings later this season.
Owatonna (11-3, 5-1 Big Nine) plays at Red Wing Thursday, January 16 at 7 pm on Kat Kountry 105FM and the free Kat Kountry 105 app. Saturday, January 18 is Hockey Day Minnesota and the Huskies will host Faribault at 3 pm at Four Seasons Centre in Owatonna. Coverage can heard on The Mighty 920 KDHL and on the KDHL app.
The Owatonna girls hockey squad won at Mankato East/Loyola Tuesday 9-0 with nine different goal scorers. Sydney Hunst opened the scoring 36 seconds into the contest.
Grace Wolfe, Samantha Bogen, Anna Herzog, Calbey Podien, and Olivia Herzog all scored in a five-goal second period. Abby Vetsch, Ezra Oien, and Molly Achterkirch scored in the third. Asia Buryska stopped ten shots for her fifth shutout of the season. Owatonna had 54 shots on net.
Vetsch, Oien, Hunst, Anna Herzog, and Chloe Schmidt each had two assists. The Huskies went 3-for-3 on the power play and killed off two penalties. OHS (11-5-1, 11-1 Big Nine) hosts Red Wing Thursday, January 16 at 7 pm at Four Seasons. On Saturday, Owatonna plays at Faribault at 7 pm with AM 920 KDHL on the play-by-play.