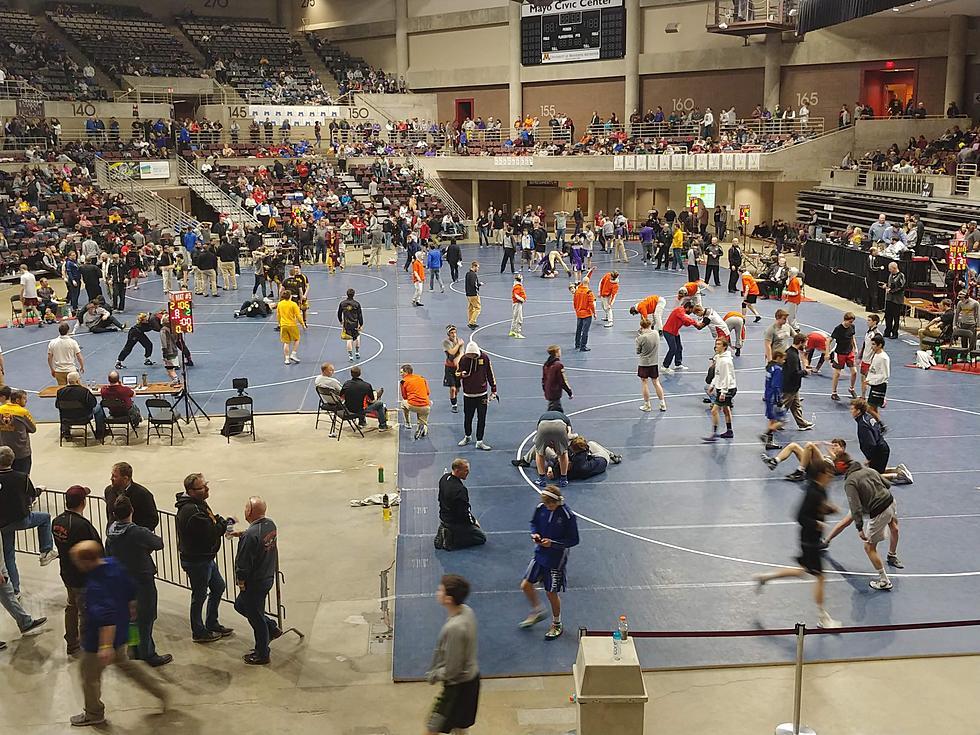 How Can You Wrestle During a Pandemic?
Roy Koenig/Townsquare Media
Coaches, student-athletes, parents and fans (media members too) are getting excited about the start of in-person practice on January 4, 2021. The Minnesota State High School League (MSHSL) announced this week that events and games can start as early as January 14. All sports/activities will certainly have a different look and feel.
Wrestling faces some unique challenges. From multi-team events, to enormous individual tournaments, and hundreds of grapplers packed together for post-season sections, the sport faces some additional questions.
Some states started their season with outdoor meets. Other states are limiting the number of teams at events and the travel distance of opponents. The website Track Wrestling recently reported how some states are handling the season. At least of couple of states are planning to require wrestlers to wear masks. Owatonna High School coach Adam Woitalla questioned how viable that would be during a recent interview on the AM 1390 KRFO Coaches Show.
The MSHSL confirmed that face coverings will be required for several sports, even during play. Basketball and hockey fall into this category. Wrestling won't require masks during contact, but athletes and others will be wearing them otherwise.
Woitalla said extra cleaning of mats will likely be part of the nightly routine, "It will look a little different. It will certainly take a little more time...We're going to have to clean the mats after each dual, the bench will be spread apart, just like this fall there's not going to be a handshake...Minnesota has not passed a mask mandate for the sport, which is great. For the life of me, I can't figure out how Michigan is going to keep those masks on their wrestlers when they're competing."
Wrestling teams will be allowed up to 16 events and 32 matches with nothing bigger than a triangular. Woitalla said, "It's still enough matches to get good competition...We're not going to see the variety of competition that we normally have."
He says plans include a section tournament and state tournament with modifications to reduce the number of wrestlers at one place at one time.
New Westfield coach David Lassahn said the new health protocols are "going to be challenging. It seems like week-to-week things are coming out that you hear across the board. I feel like they are making changes leading up into the season. I don't even know if we know what it's going to look like come January 4."
Several activities directors and coaches say they are tentatively planning for a spectator policy similar to the one used for volleyball or two fans per athlete. That has not been confirmed yet by the high school league or other health officials.
OHS Activities Director Marc Achterkirch says even a policy like that is going to make it difficult for the Huskies gymnastics team to allow fans into their tight facility. Achterkirch says boys swimming and diving will likely have a couple of in-person meets, which the girls were not able to do their regular season in the fall.
Despite the restrictions and question marks that remain, all the coaches that have appeared on air have expressed excitement and appreciation for the opportunity to get the season started. The High School Coaches Show airs each Saturday morning at 9 am on AM 1390 KRFO with coaches from Owatonna, Blooming Prairie, NRHEG, Medford and Triton.
Enter your number to get our free mobile app
KEEP READING: 10 Safest Neighborhoods in the Faribault/Owatonna Area
Ho Ho Ho: Christmas Lights in Owatonna's Central Park