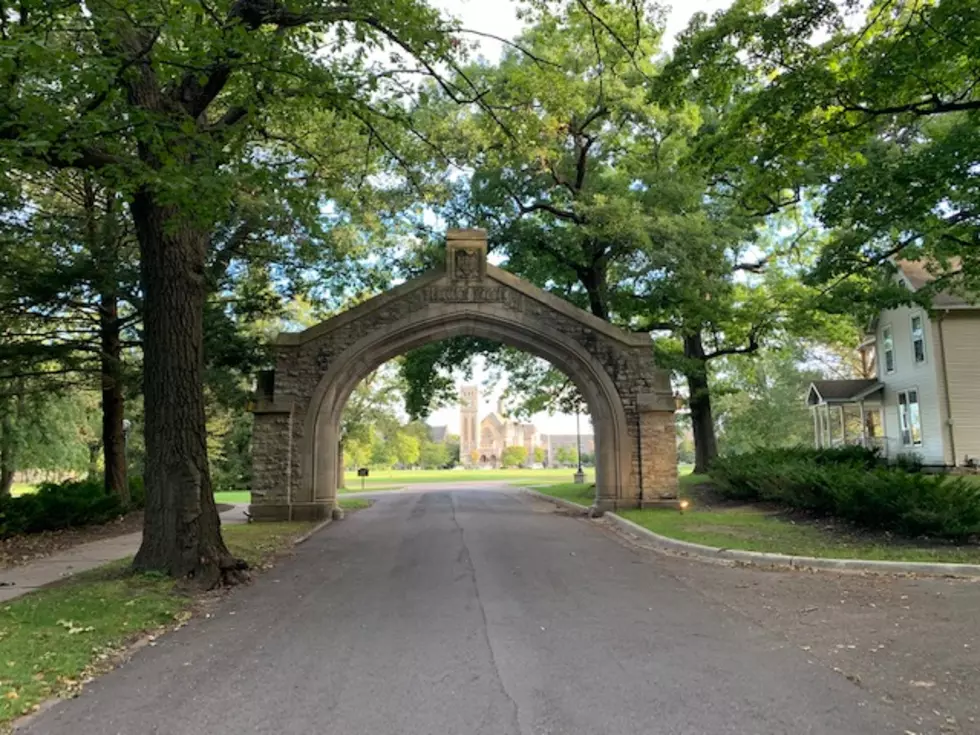 Gentry Academy is Not Like Shattuck-St. Mary's
Shattuck School Arch Faribault. Photo by Gordy Kosfeld
Some reporters when talking about Gentry Academy of Vadnais Heights during the boys and girls state high school hockey tournaments did a comparison to Shattuck-St. Mary's Academy in Faribault.
The only real similarity is both schools are excelling at different levels in hockey. Gentry at the state and Shattuck-St. Mary's on the national and international level.
According to their website Shattuck's first hockey team started in 1925 on a small pond where currently a dormitory stands.  Their first indoor rink was constructed in 1968.  I did a few hockey broadcasts there for Faribault High School because that's where they played before the community built it's own rink.  It was cold and I sat on top of some scaffolding to see what was happening.
In fact in the late 1980's when I arrived in Faribault Shattuck was doing a cooperative with Faribault High School in boys hockey.  In 1989 Shattuck was down to two players on the FHS team.
Leaders in the College Prepatory School decided they were going to start their own hockey program beginning in 1990.  They recruited players from all over the nation.  By the second year they had enough players for a second team.  A number of Canadians have been in the program.
In 1993 Shattuck-St. Mary's decided to leave the MSHSL to play a 55 to 60 game schedule across the U.S.A. and Canada.  They have also traveled abroad to play in the past.
The boys program now has 5 teams.  In 1996 a girls hockey program was started.
The boys prep team captured their first National Championship in 1999.  They have had multiple titles since.
The girls were National Champions in 2005, 2006 and 2007 according to the Shattuck website.
The list of National Hockey League players that played at Shattuck-St. Mary's is very impressive.  85 NHL draft picks including Sidney Crosby, Zach Parise, Jonathan Toews, Kyle Okposo, Patrick Eaves and so many playerss in the NHL.
Gentry Academy started as a Middle School.  In their first year competing in Minnesota high school hockey the Stars boys team won the Class A title game 8-1 over first year entrant Dodge County over the weekend.  Eight different players scored for Gentry.
The Stars finished their season 19-0.  Dodge County was 19-3-1.
In the Class 2A boys hockey title game Eden Prarie edged Lakeville South 2-1 in overtime.  The Eagles end their year 21-1-2 while the Cougars finished 20-1-2.
The Gentry Academy girls also went to the title game but lost to Proctor/Hermantown 3-2 in a double overtime thriller.  The Stars ended their season 19-3 while Proctor/Hermantown was 21-0.
Gentry Academy has kids who live primarily throughout the Twin Cities metropolitan area.  There are some kids on this year's team from Wisconsin according to school officials.
The "Leadership Academy" has petitioned the MSHSL to bump up to Class 2A in girls and boys hockey next season.
In the Class 2A girls title game Edina defeated Andover 2-1.  The Hornets finished an unblemished season 22-0 while the Huskies were 22-1.
Check it out!  Do you agree with these?
LOOK: The least obedient dog breeds