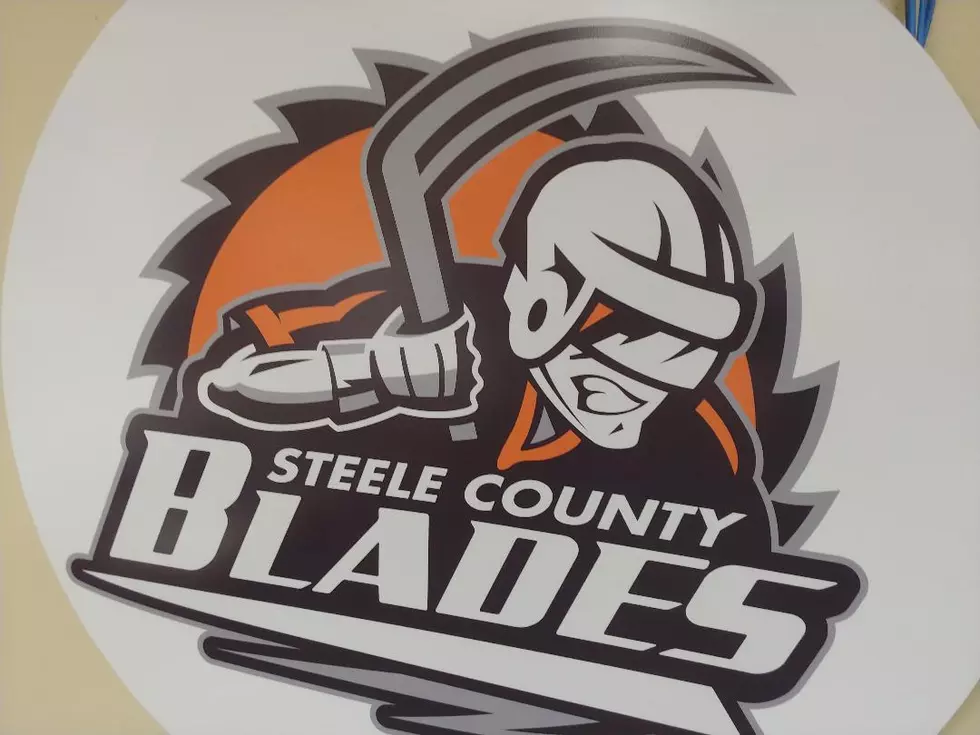 First Goal for Blades Hockey Players; Keepsake or Not
Roy Koenig/TSM
Steele County Blades hockey coach Nick Adamek has several ceremonial pucks displayed on a shelf in his office. Forward Brody Ward has the puck that represents his first junior goal in his room. Defenseman Dylan McCloskey tossed the puck from his first goal back into the practice bucket. And the one from his first-ever goal in youth hockey, "I don't have the puck for that either."
Both players are in their first year with the Blades junior hockey team. Ward, who is from Annandale and played high school hockey last winter at Buffalo, MN, scored his first goal during a season-opening four-point game at the Minnesota Blue Ox, registering two goals and two assists, "Got puck luck and things were going good for me."
He's adjusting quickly to junior hockey, "Work out more, practice harder, and just give it your all every shift." While he has a former high school teammate on the club (goalie Levi Preugschas) he's also learning about what life's like on the other side of the world with a roommate who hails from Russia, "It's mostly the same, but what's he's told me there's some different things I did not know."
Ward said his roommate started playing junior hockey in his home country around the age of 13, whereas Ward is just getting used to being away from home now after graduating from high school.
McCloskey, who has played hockey in New York, Florida, and out west, scored his milestone goal against first-place Chicago in the recent Midwest Showcase event in Blaine, but takes the win in stride, "Just another game. We know how we play, we can beat any team. So, just hope to keep the momentum rolling."
Joey Bunton had a four-point game in the win over Chicago and assisted on McCloskey's goal, "Joey's a great player. He definitely knows his role. He's a grinder and when he plays his game, he's unstoppable."
"I love the team. The coaches definitely know what they're talking about. You can see they have a lot of passion in what they're doing. So, I love that. The boys are amazing as always. And the community, it's a nice little small town." He's looking forward to playing pond hockey this winter after spending a season in Florida.
[Hear more from McCloskey and Ward by clicking on their names below.]
Steele County player Brody Ward
Steele County hosts the Dells Ducks on Friday, November 4 at 7 pm at the Four Seasons Centre in Owatonna. The Blades play at the Minnesota Moose in Blaine on Saturday, November 5 at 7:05 pm. Steele County is home for games on Friday, November 11, and Saturday, November 12 as their only other home games this month.
38 Guests Can Spend The Night In This Wisconsin Cabin and it's For Sale
A whopping 38 people can sleep in this 'cabin' that's for sale over in Birchwood, Wisconsin. Of course, it's listed for millions of dollars.