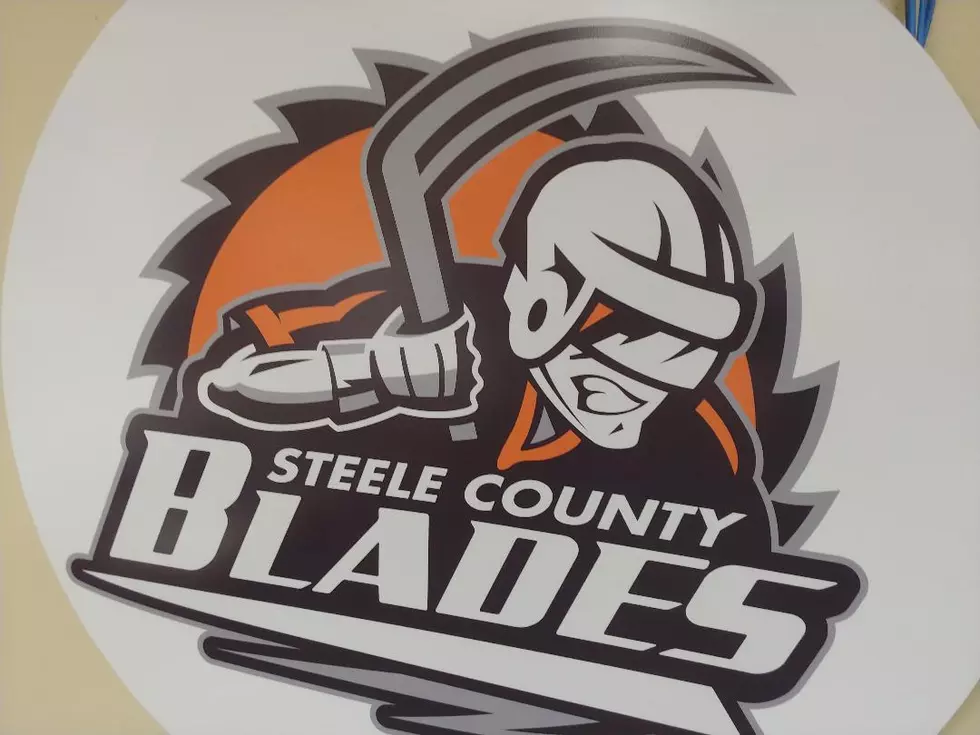 Blades Hockey Skates into the New Year
Roy Koenig/TSM
As the calendar switches to 2023 the Steele County Blades junior hockey team looks to make a push up the division rankings. With just six home regular season games remaining, the Blades will have to climb a rung in the standings in order to host a playoff series at the Four Seasons Centre in Owatonna.
Steele County has shown the ability to skate with the top teams in the USPHL Midwest West Division. They've split games this season with the high-scoring Minnesota Squatch who come to Owatonna Friday, December 30 for a 7 pm faceoff.
Defenseman Trent Daly (Roseville, MN) says it's important to stick with team systems against a team like the Squatch, "They love to use the zone. They know to get time and space. So, we just have to stick to the defensive zones that we learned. Just stay on our game. Because once we get off our game, they just eat at you."
Andrei Moskvitin, a defenseman from Russia, says it took a little while for the team to develop its groove early in the season, "It started kind of rough. We lost a lot of games. And I didn't get points until like [eighth] game. But then we started to win. We were on a [four-game] win streak...I think we just got chemistry between each other. It was kind of difficult [early] because we are from all around the world, but now it's alright."
Jackson Stiles (Granite Bay, CA) indicates attitude is vital, "If you look at it as you're behind them, you're trying to pull up to them. Always look at it as if you're ahead or equal because then you're just trying to pull away."
Goalie Elliot Wrigley (Littleton, CO) is in his third year with the Blades and loves coming back to Owatonna every season, "It's like having 25 best friends, at this point brothers. You get to spend every day with them. It's definitely special. We spend so much time together, we can't not be that close."
Remaining home games for the Blades (regular season) at the Four Seasons Centre in Owatonna, all at 7 pm:
Friday, December 30 vs Minnesota Squatch
Saturday, January 14 vs Minnesota Moose
Friday, January 27 vs Hudson
Saturday, January 28 vs Squatch
Friday, February 3 vs Isanti
Friday, February 10 vs Minnesota Blue Ox
Standings in USPHL Midwest West Division, as of December 30:
Hudson, 41 points
Squatch, 38 points
Moose, 35 points
Outlaws, 35 points
Blades, 28 points
Blue Ox, 27 points
RiverKings, 27 points
Ducks, 19 points
Mullets, 13 points
(Top four teams will host a first-round playoff series.)
Get the know other Blades players from previous stories.
BRRRR: The 15 Coldest Cities in America
The list below is from
Niche
. They put together their list of the coldest cities in the county by looking at which ones had "the coldest average low temperatures during the winter months." Keep scrolling to see the 15 coldest cities in the United States.