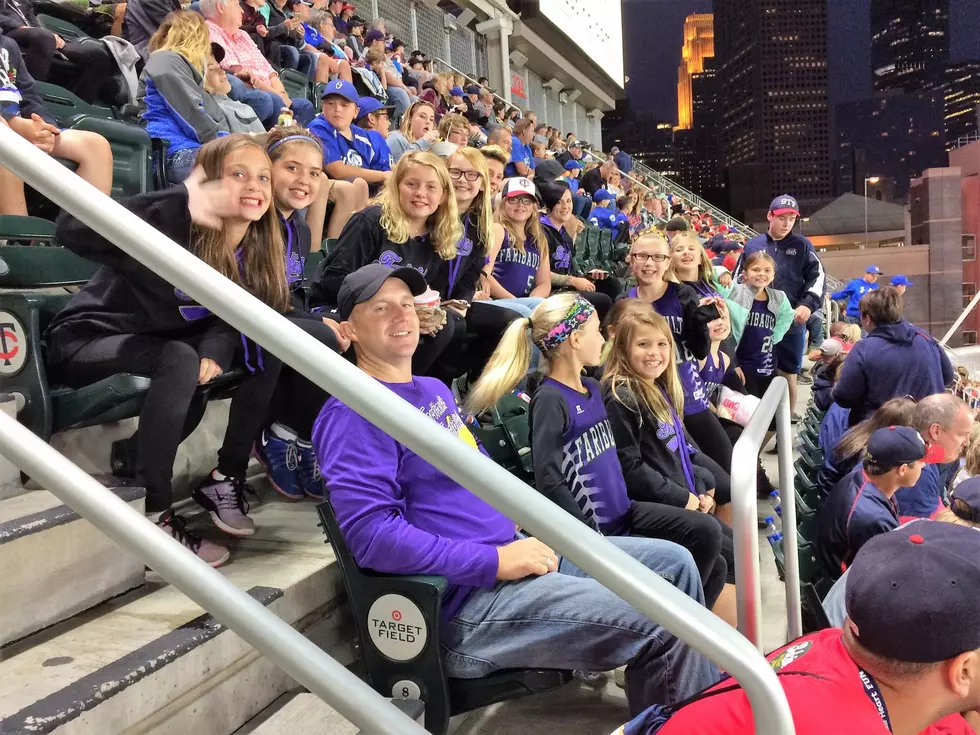 Faribault, Owatonna Teams Get Special Treatment at Twins' Games
Submitted by Youth 1st
Owatonna and Faribault youth baseball and softball teams were among those that got an opportunity to parade around Target Field before a Twins game early this month. Approximately 190 teams from across southern Minnesota and south metro communities were recognized over two days for their good sportsmanship over the summer by the Youth 1st organization in Owatonna. Tickets to games were provided by the Twins Community Fund.
Youth 1st emphasizes conduct, character and community, with a focus on sportsmanship. Founder Mark Arjes states in a media release, "The most important thing that can come out of the youth baseball and softball experience is the life lessons, values and character that these young players develop through the process." Arjes adds, "There is an over-emphasis on winning and performance in youth sports today."
Teams were ranked over the summer during league and tournament events on their conduct and how they observed the Youth 1st sportsmanship guidelines. Players, coaches, parents and fans are part of the whole picture.
Participating organizations hail from Faribault, Owatonna, Medford, Austin, Waseca and Mankato, among others. Sponsors include the Walser Foundation, Federated Insurance, Pearson, Jostens, Cashwise Foods, Bennerotte & Associates and the Minnesota Twins and the Twins Community Fund.
Youth 1st and Cashwise are hosting the annual Pigskin and Pork fundraiser Thursday and Friday September 21-22 from 11AM-7PM at Cashwise Foods in Owatonna. The event features ribs and benefits the Youth 1st team awards program. Prizes to be given away include a gas grill and Cashwise meat gift card, in addition to Minnesota Vikings prizes and Minnesota State University-Mankato football tickets. A remote broadcast from Cashwise will air on Power 96 radio on Friday afternoon.